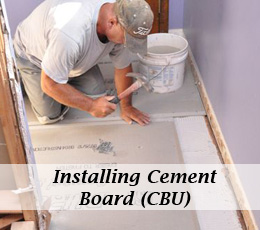 Installing Cement Board (CBU)
Cement board replaces the old plaster and lathe underlayment for tile. It's a lot easier to work with preformed cement board rather than laying a bed of mortar on the job site, and it still carries the same great qualities. Cement board is moisture and mold resistant, and it doesn't deteriorate or warp in the presence of water. For these reasons, and because it bonds so well with mortar, cement board is the preferred underlayment for tile.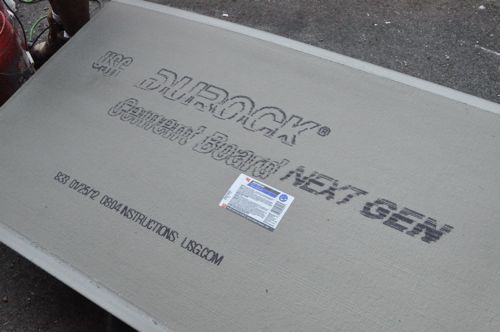 I've been working with Jim and Rich from Diamond Tile here in Maryland to produce this series of articles. Jim and Rich have been installing tile for nearly three decades, and they are very knowledgable. It's been great to learn the tricks of the trade from them.
Tools & Materials
Cement board – usually 1/2″
Mapei Ultraflex 2 – a polymer modified thinset
1/4″ square-notched trowel
Galvanized roofing nails or cement board screws
Grinder with diamond blade
Alkali-resistent mesh tape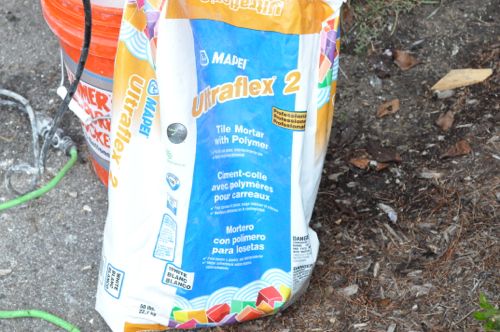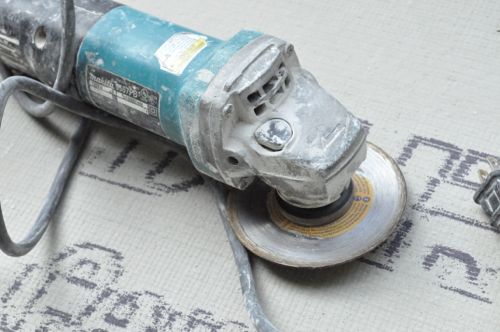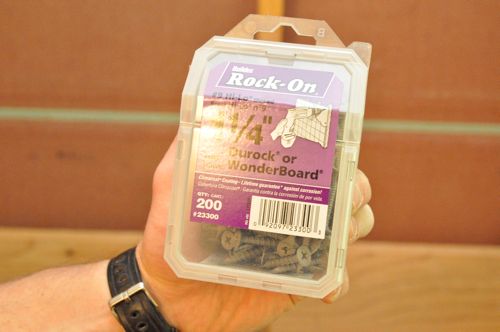 Step 1: Plan Layout
There are a few requirements to keep in mind when installing cement board so Jim and Rich always plan the layout a bit. They staggered joints so that four corners never meet, and panels were offset about 8″ from the subfloor joints. Also, the guys maintained a 1/4″ gap around the perimeter walls.
Pro-Tip: Cement board features a smooth side and a textured side, and the textured side provides a better surface for bonding tile.
Step 2: Clean Subfloor
Jim and Rich always clean the subfloor with a foxtail brush. As they cleaned, they inspected the subfloor looking for signs of damage especially around toilet flanges. If the OSB or plywood was flaking, they cut away any loose pieces.
Step 3: Dry Fit
The guys dry fit each piece of cement board before installing, and they placed cut edges around the perimeter, butting factory edges together. Each panel had about 1/16″ gap between adjacent pieces. To cut panels to size or create cutouts for pipes, toilet flanges, etc., the guys used a grinder with a diamond blade. However, a circular saw, jig saw or even a utility knife can be used as well.
Pro-Tip: Cutting cement board with power tools creates a lot of silica dust so make cuts outside if possible.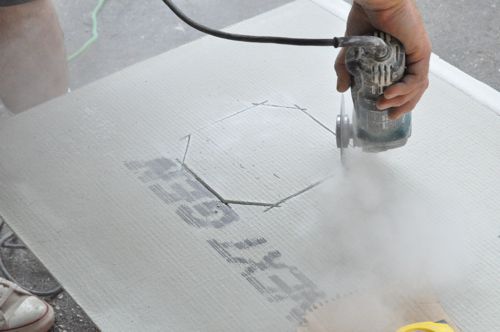 Step 4: Mix Mortar
Rich mixed up a 5 gallon bucket of mortar. As usual, he let the mortar slake before re-mixing and taking it inside.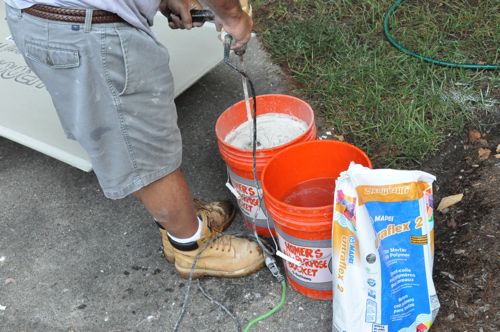 Step 5: Spread Mortar
It's a common mistake to install cement board and skip over laying a bed of mortar. Jim used a 1/4″ square-notched trowel to comb out the mortar, and he spread just enough to lay one row of cement board at a time.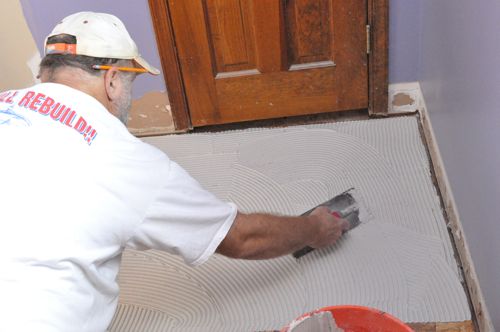 Step 6: Fasten Cement Board
With the mortar in place, the cement board goes down overtop, and it's fine to immediately walk on it. Rich hammers galvanized roofing nails every 6″ around the perimeter of the panel and throughout the field. The nails ensure good adhesion between the cement board and the mortar. However, the mortar is what holds the cement board in place long-term.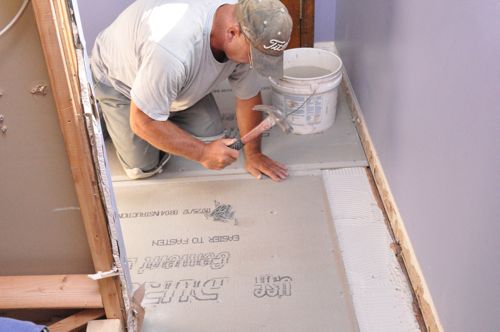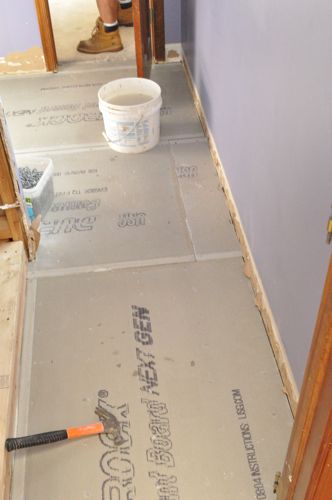 Step 7: Tape Joints
Lastly, the guys use an alkali-resistent mesh tape and mortar to cover all the joints. This locks all the cement panels together, and they act as one, large sheet.