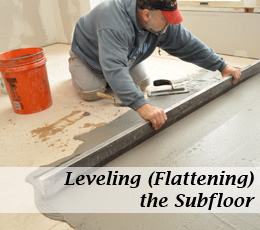 Leveling (Flattening) the Subfloor
Before laying tile or installing a tile underlayment like Schluter DITRA, it's important to check the subfloor to ensure a flat, even surface. At its worst, a very uneven floor will result in broken or loose tiles and cracked grout joints. Slightly uneven floors can cause tile corners to protrude, especially on larger sized tiles (18″ x 18″ or larger). Professional installers with whom I've spoken estimate that 90% of all remodel projects require evening out a subfloor. They stress that failing to properly prepare a subfloor is the most common mistake beginners make when laying tile.
Keep in mind that the goal is not a perfectly level floor. Instead, the goal is to eliminate peaks and valleys (called "evening" or "flattening", or commonly "leveling", although the latter term isn't 100% right). This is achieved by spreading a thin layer of mortar over the floor to fill in the valleys. In the pictures below you'll see this project is taking place in a basement. However, the method I describe here is suitable for any level of a house and over a variety of subfloors including concrete slab, gypsum, plywood and oriented strand board (OSB).
Pro-Talk: Among tile contractors, "flashing the floor" means to flatten the floor by filling in valleys with a leveling compound.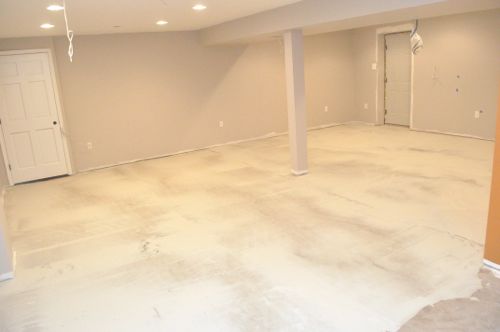 This article was produced with the help of Jim and Rich from Diamond Tile located here in Baltimore, Maryland. Jim and Rich are professional tile installers with decades of experience. They take a lot of pride in a job well done.
Tools and Materials to Level a Concrete Slab
You won't find these materials at your local DIY center. Instead, head to a local tile supply shop. If you're not a contractor, call to make sure that they will sell to directly to consumers before making the trip. You can find links for product info and availability in the Related Content section at the end of this article.
Mapei Kerabond mortar
Mapei Keralastic latex additive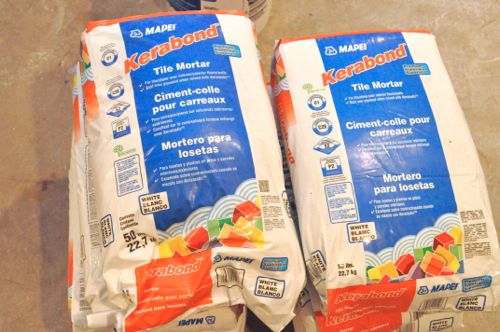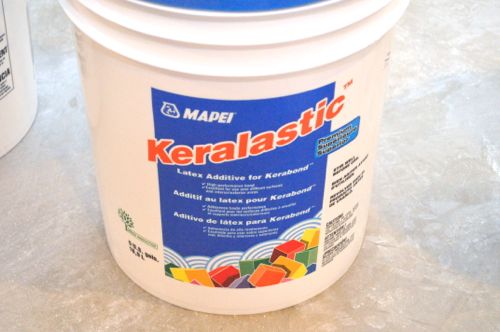 Pro-Talk: Latex additive is often called "milk" because that's what it looks like.
Contractor line or chalk line
Scraper
Foxtail brush
Sponge
Buckets (for water and mortar)
Corded drill & mixing paddle
Square notched trowel (1/8″)
Screed
Step 1: Check Floor for Flatness
With over 27 years of experience each, Jim and Rich can often walk a floor and feel high or low places. To know where to expect problems, they assessed the floor in a few different ways.
For smaller jobs, the guys will often setup a straight edge (i.e. screed or level) in various locations. If the straight edge rocks back and forth, that indicates a peak in the floor. If there's any gap underneath, that indicates a valley. Pictured below is a simple iron straight edge.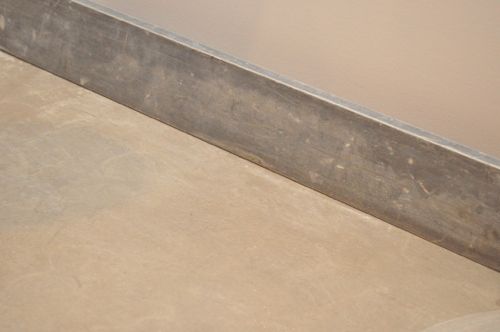 For larger jobs the guys run a taut string or chalk line across the floor and look for variations in floor height.
Pro-Tip: Sometimes it's useful to hold a spacer (like a contractor pencil) between the floor and the line on both sides so that peaks don't interfere.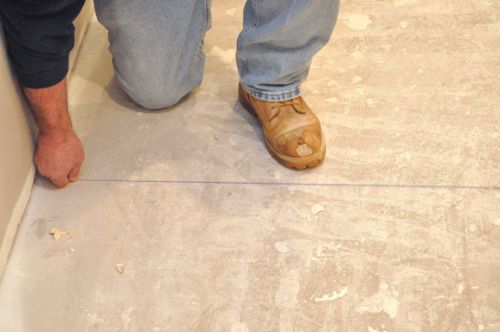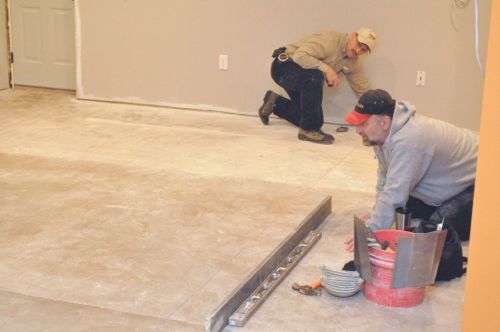 The Bosch GSL-2 Surface Laser is a handy tool for scanning a floor. The GSL-2 emits two lasers and where they overlap, the floor is level and even (relative to where the GSL-2 is set up). If the lasers diverge, the floor is uneven.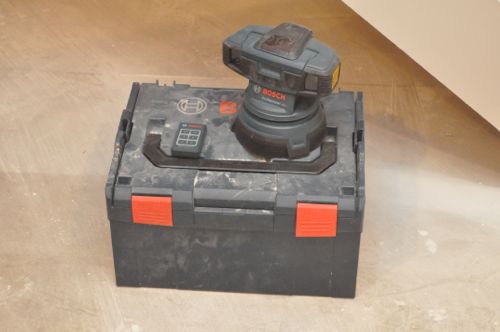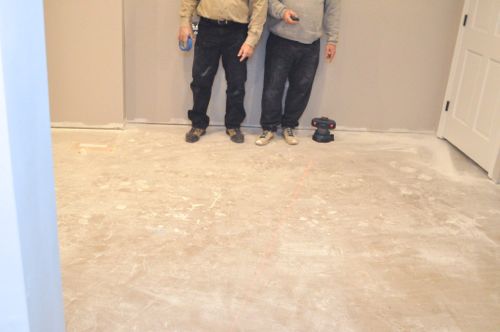 Step 2: Scrape Away Dirt, Debris
It's important that the subfloor is free of dirt, debris, paint, drywall compound, etc. Jim and Rich meticulously went over the floor with a scraper and brush. If this had been a plywood or OSB subfloor, the guys would have been on the lookout for protruding screws, nails or staples too.
Pro-Tip: The guys recommend using a foxtail brush to sweep fine particles that would escape a push-broom.
Pro-Tip: Paint must be removed from the floor because it can prevent the mortar from creating a strong bond with the subfloor. Paint can be scraped or ground away, or it can be removed with chemicals. Scraping paint off a floor is labor intensive. However, paint should be tested for lead before grinding and chemicals often require a cleaning solution afterward.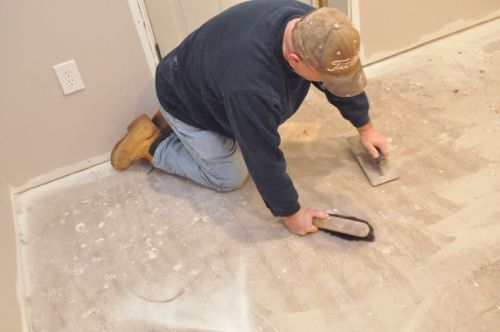 Step 3: Sponge Clean
Next, the guys sponged the entire floor to further eliminate any dust!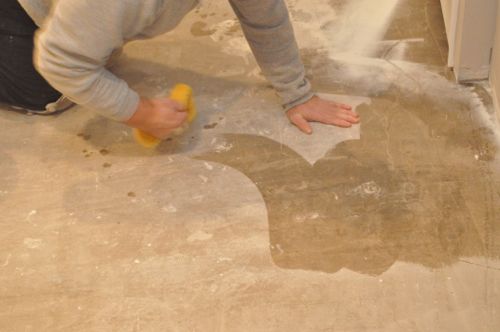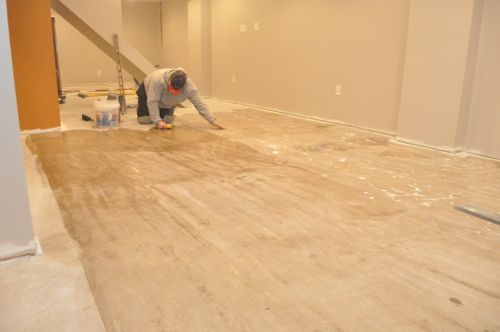 Step 4: Mix Mortar
To flash the floor, the guys are using Kerabond mortar with Keralastic latex additive because it bonds so well. The mortar has an open time (work-able time) of about 1 hour.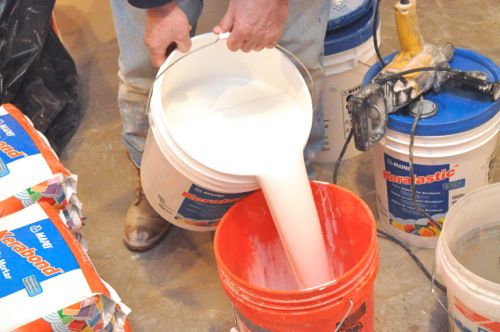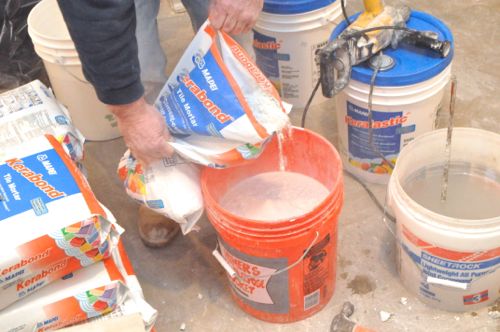 Rich mixed up a 5 gallon bucket according to the directions and let it slake for 5 minutes before mixing it again.
Pro-Talk: Slaking is the process of leaving the mortar undisturbed to allow the latex to completely penetrate the dry ingredients.
Step 5: Spread Mortar
Jim used a 6′ screed board so he divided up the room into 6′ (or less) sections. Starting in the middle of the room, he quickly rechecked the floor to be sure where the peaks and valleys were located.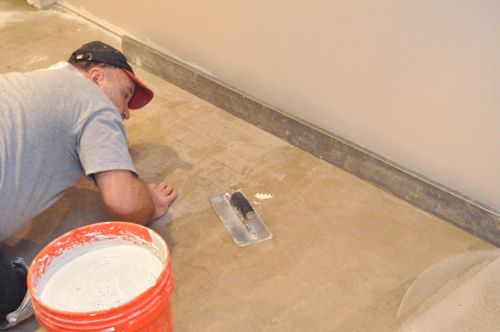 Jim spread a small portion of mortar over the floor using a small notched (1/8″) trowel.
Step 6: Screed Floor
Next, Jim moved the screed over the floor, often making more than one pass. If there was an area the screed didn't touch (meaning the mortar wasn't high enough), Jim would go back and add more mortar and repeat the process.
Jim and Rich advised that the mortar can only be applied about 3/8″ thick. If an area needed to be built up more than that, the guys flashed the area, let it dry overnight and then re-flashed the area again.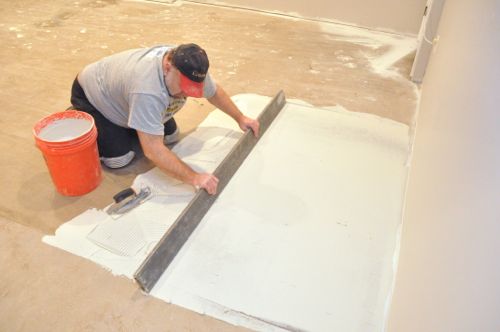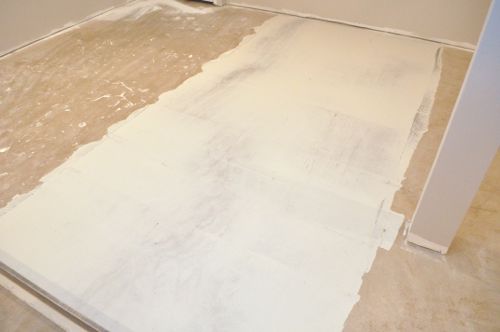 Jim overlapped adjacent areas, and you can see where the mortar was thicker or thinner depending on the contours of the floor.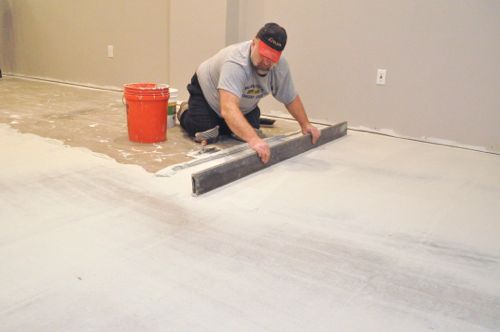 Step 7: Clean and Repeat
Periodically Jim would clean off the screed, and that little bit of water made it easier to achieve a smooth finish.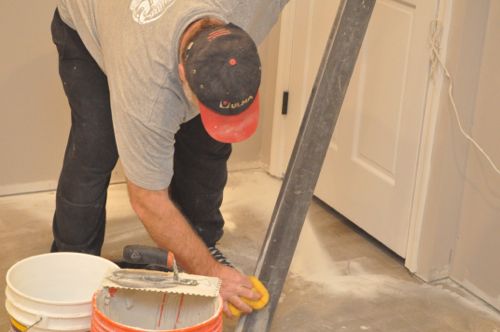 The main area of the basement was flashed in four, parallel runs.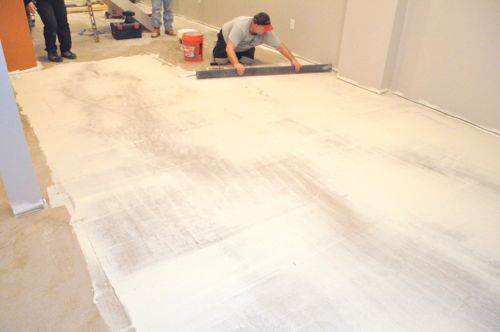 Step 8: End of Run / Tight Corners
At the end of a run or in tight spaces, it was difficult to maneuver the screed. In these areas, Jim would use a flat trowel to smooth the mortar.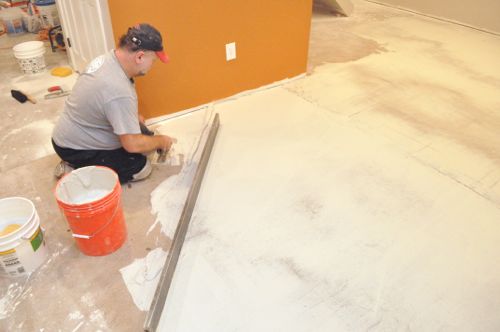 He would often add a little extra water to make it easier to trowel the mortar.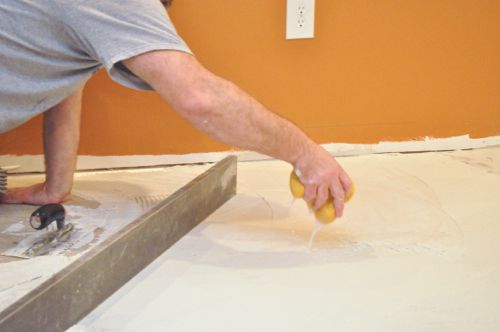 Finished
Jim and Rich completed the flashing in two days, and you could walk on the floor after about 24 hours (depending on temperature and humidity). When everything was dry, they setup the Bosch laser and rechecked the floor, and everything looked good.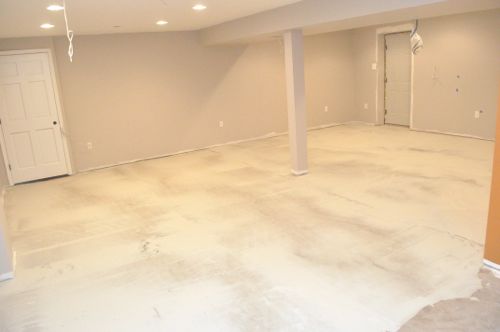 What About Self-Leveling Mortar (SLM)?
SLM is a viable option for leveling a floor. In fact, this basement floor has radiant heating element embedded in self-leveler, and you can see how to pour self-leveling mortar at that link. However, self-leveler is most effective when the entire floor is covered with at least 1/2″ of product, and that can be expensive for a large area like this basement. The method described in this article is much more cost effective for flattening a floor in preparation for tile.