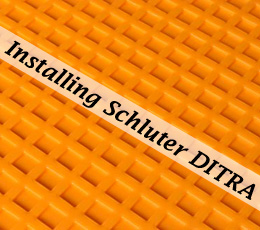 Installing Schluter DITRA
Even a perfectly level subfloor won't guarantee a beautiful, long-lasting tile floor. Stresses between the concrete or wood subfloor can still cause tiles to crack and delaminate and for grout joints to crumble. For example, wood expands and contracts with seasonal changes. The tile assembly needs to be able to handle that which is why it's important to incorporate an uncoupling membrane that allows for in-plane movement.
What is DITRA?
Schluter DITRA underlayment is an uncoupling membrane that allows the tile floor to move (in-plane) relative to the substrate, eliminating the major causes for cracked and delaminated tile. DITRA is composed of a polyethylene (plastic) grid of square cavities, each with angled, dovetail cut-backs, and an anchoring mesh laminated to the backside. It comes in long rolls (i.e. 1 m x 30 m), and it's lightweight and easy to cut.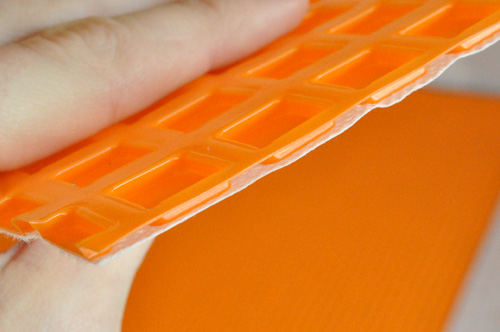 DITRA is approved for use with ceramic, porcelain, and natural stone tile. It can be installed over a variety of substrates including plywood, OSB, existing vinyl, structural planks, and concrete. For this project, the DITRA is being installed over radiant-heating element embedded in self-leveling mortar.
DITRA is a versatile product and can do more than just provide an uncoupling membrane. DITRA can be used as a waterproofing membrane for vapor and moisture management, and to support / distribute heavy loads. Check out the installation handbook for even more information and certifications.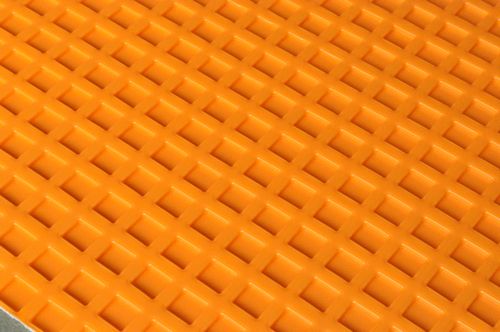 This article was produced with the help of Jim and Rich from Diamond Tile located here in Baltimore, Maryland. Jim and Rich are professional tile contractors with decades of experience. They've used DITRA extensively on many jobs and highly recommend it, especially over cracked concrete.
Note: Schluter and Bostik generously donated the DITRA and the Ditra-Set Mortar for this project, enabling the development of this Pro-Follow guide.
Tools & Materials
Here are the tools and materials needed to complete this phase of the project. Look for more details in the Related Content section at the end of this article.
Schluter DITRA or DITRA-XL
Ditra-Set Mortar
The type of thin-set mortar (modified vs. unmodified) used to install DITRA depends on the substrate.  For instance, to install DITRA over plywood, a modified thinset mortar should be used. However, over concrete Schluter recommends an unmodified thinset mortar like the Ditra-Set shown here.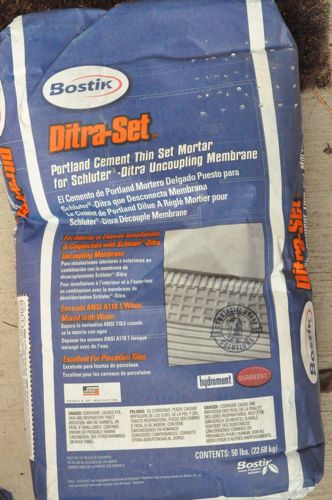 Foxtail brush
Utility knife
Chalk line
1/8″ notched trowel
Flat trowel
Grout float
Buckets (for mortar)
Corded drill & mixing paddle
How to Install DITRA
At this point, the subfloor has been flashed (flattened) to eliminate any high or low places, and Jim and Rich are ready to install the DITRA.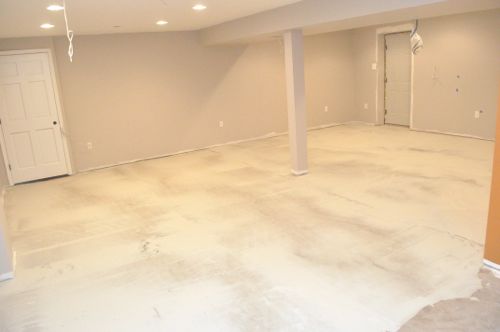 Step 1: Check and Clean Floor
The guys got started by sweeping the floor with foxtail brushes to ensure a clean surface. They also scraped away excess mortar that oozed underneath the drywall.
Step 2: Layout DITRA
Jim and Rich unrolled sections of DITRA, cutting it to length with a utility knife. They laid it out keeping about 1/2″ margin around the perimeter.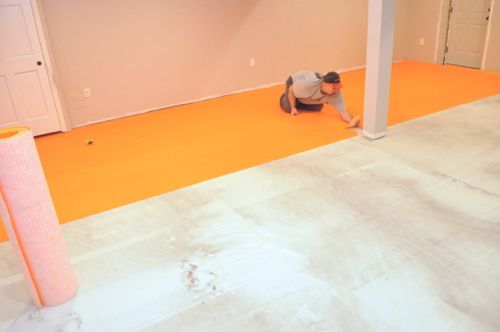 Pro-Tip: Precutting and laying out all the DITRA gives it a chance to flatten out.
The guys also cut around the support posts, door jambs and threshold.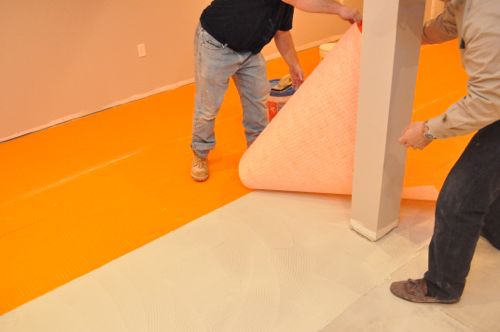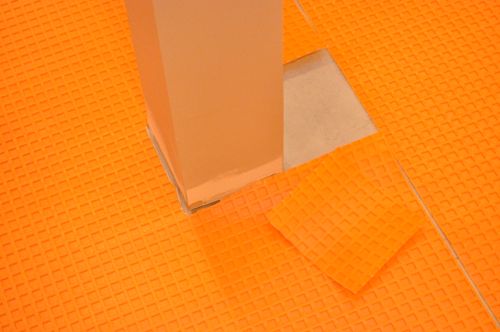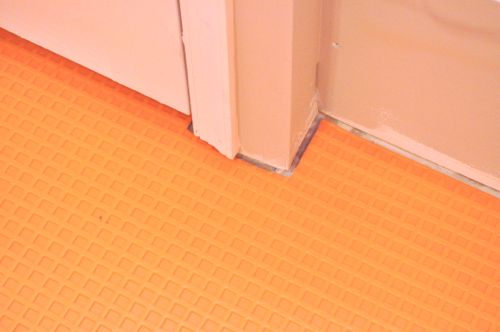 Part of the beauty of DITRA is that it's easy to cut, and there's no minimum size requirement.
Pro-Tip: It's easier to cut DITRA from the backside.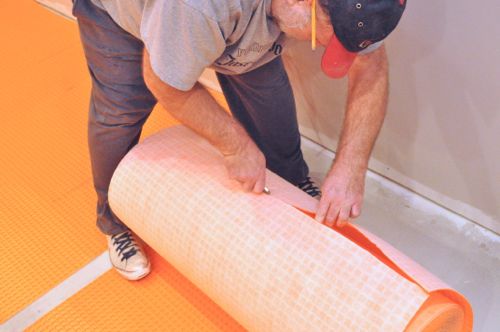 Step 3: Mark Spread Lines
After the guys had laid out the DITRA, they used pencils and chalk to mark spread lines along each joint.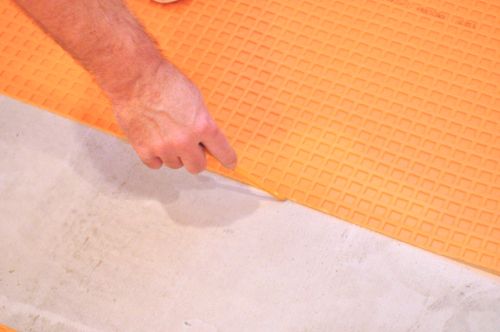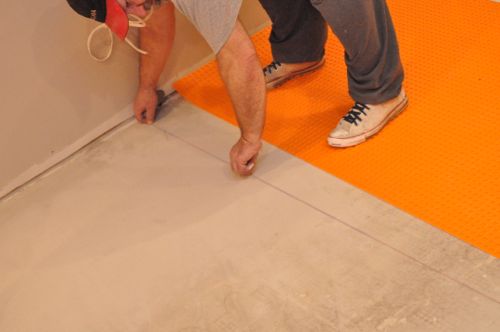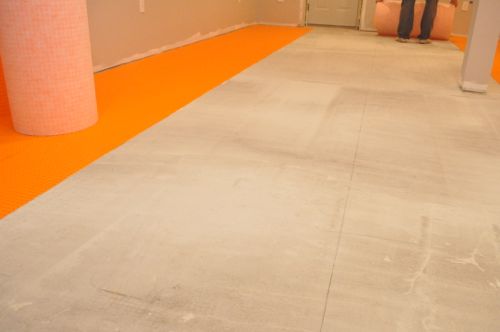 Step 4: Mix Ditra-Set
Rich mixed the Ditra-Set with water using a mixing paddle, and he let it slake for 15 minutes before remixing. Schluter recommends mixing the thinset to a "fairly fluid consistency (but still able to hold a notch)."
Pro-Talk: Slaking is the process of leaving the thinset undisturbed to allow the water to completely penetrate the dry ingredients.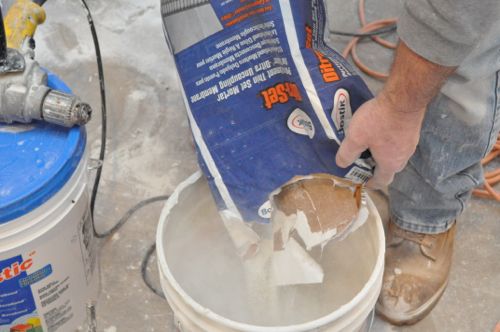 Open time for Ditra-Set is about 20-30 min so the guys only mixed what they could use in that timeframe.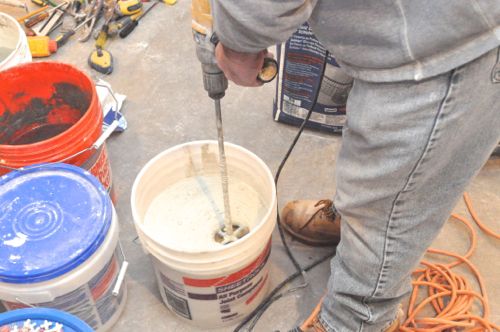 Step 5: Spread Ditra-Set
Using the spread lines, Jim troweled the Ditra-Set over half a section. Jim and Rich advise against spreading too much Ditra-Set at one time to prevent it from drying too quickly and because it's easier to keep the DITRA lined up.
Pro-Tip: Ensure the Ditra-Set is spread evenly to avoid lumps.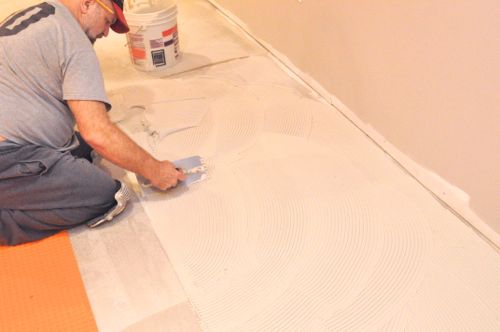 Pro-Tip: A small v-notch trowel is also acceptable.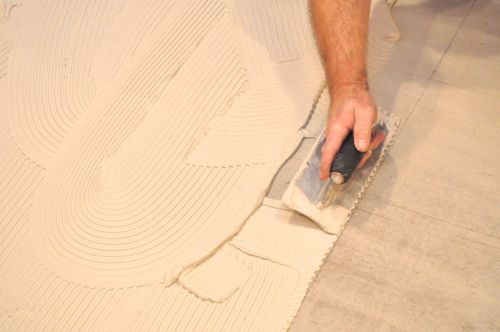 Pro-Tip: Expect to use one 50 lb. bag of mortar per 150 – 200 sq. ft. of substrate.
Step 6: Unroll DITRA
Next, the guys would unroll the DITRA over the Ditra-Set. Adjacent pieces of DITRA were butted against each other, and Jim and Rich were careful to avoid overlap (thereby creating a height difference).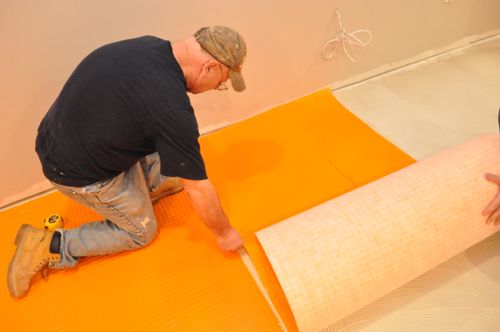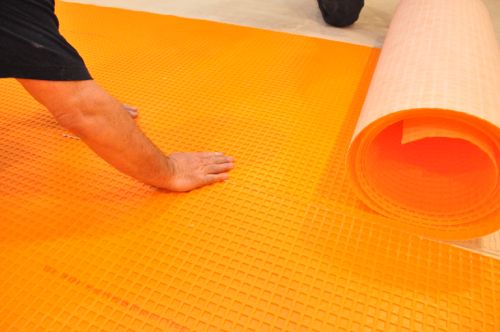 Step 7: Embed DITRA
After the DITRA was in place, Rich used a grout float to firmly press the DITRA into the mortar, and the guys paid special attention to the  edges. The goal was to make full contact between the fleece matting and the mortar.
Pro-Tip: Rich always began working the grout float in the middle of a section to stretch and press wrinkles outward.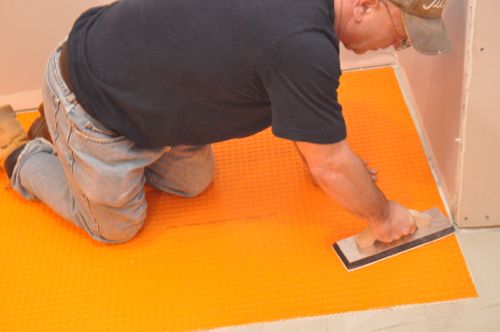 Pro-Tip: The guys say that the most likely mistake when installing DITRA is failing to fully seat the matting in the mortar.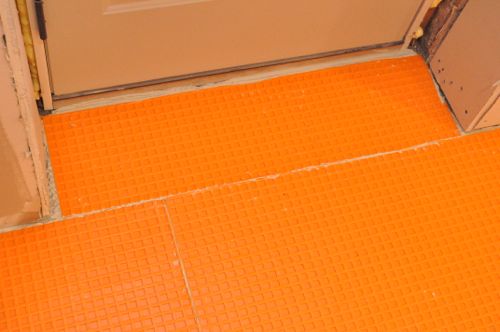 Pro-Tip: DITRA can be walked on immediately after; there's no need to wait for the mortar to cure.
Step 8: Mix More Ditra-Set
After the DITRA was laid out, the guys mixed more Ditra-Set, and again, they let the mortar slake for about 15 minutes.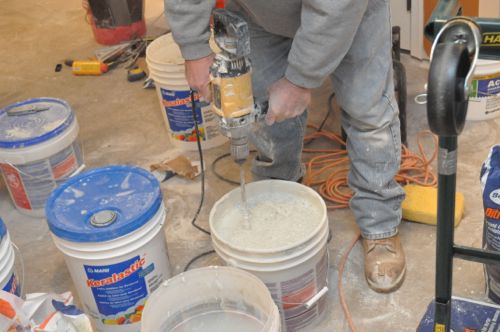 What about using a latex-modified thinset?
Schluter does not recommend using a latex-modified thinset for the next steps because it cures differently than unmodified thinset. Modified thinset must air-dry, and that can be a lengthy time-period because the mortar is sandwiched between impervious materials (the DITRA and the tile). Subsequently, drying takes place only through the tile joints. Unmodified thinset is a mixture of Portland cement which actually requires moisture to form a strong bond and achieves final set usually within 24 hours.
Step 9: Fill DITRA Cavities
Using a flat trowel, Jim and Rich filled all the cut-back cavities with Ditra-Set. They worked carefully to completely fill all the space and avoid leaving ridges on the surface.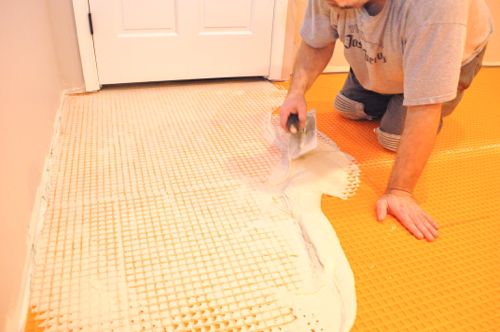 Schluter advises that at this point it's perfectly acceptable to begin laying tile with an unmodified thinset. However, Jim and Rich opted to fill the cavities, let it dry, and begin laying tile another day. They do this because it's difficult to snap chalk lines over DITRA even though it takes longer to complete the job.
If they had begun laying tile, Jim and Rich would have filled a small section of cut-back cavities and then combed additional mortar over the DITRA. Next, they would have set the tile in the typical manner.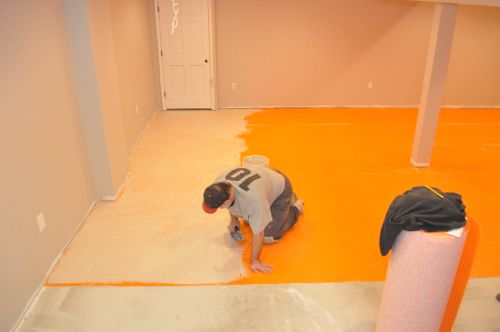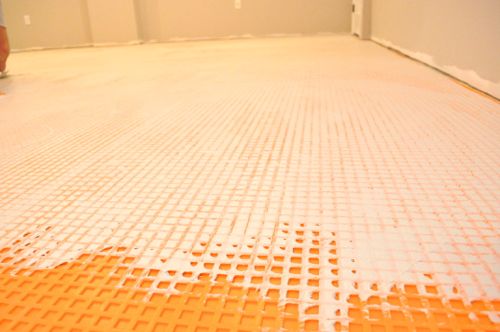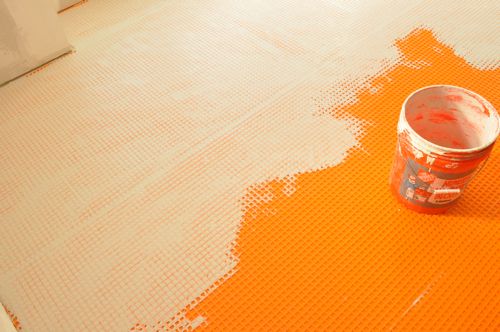 Finished
Here's a look at half the basement covered in DITRA. After about 24 hours, it'll be ready for tile, and meanwhile Jim and Rich are getting started on the over half.