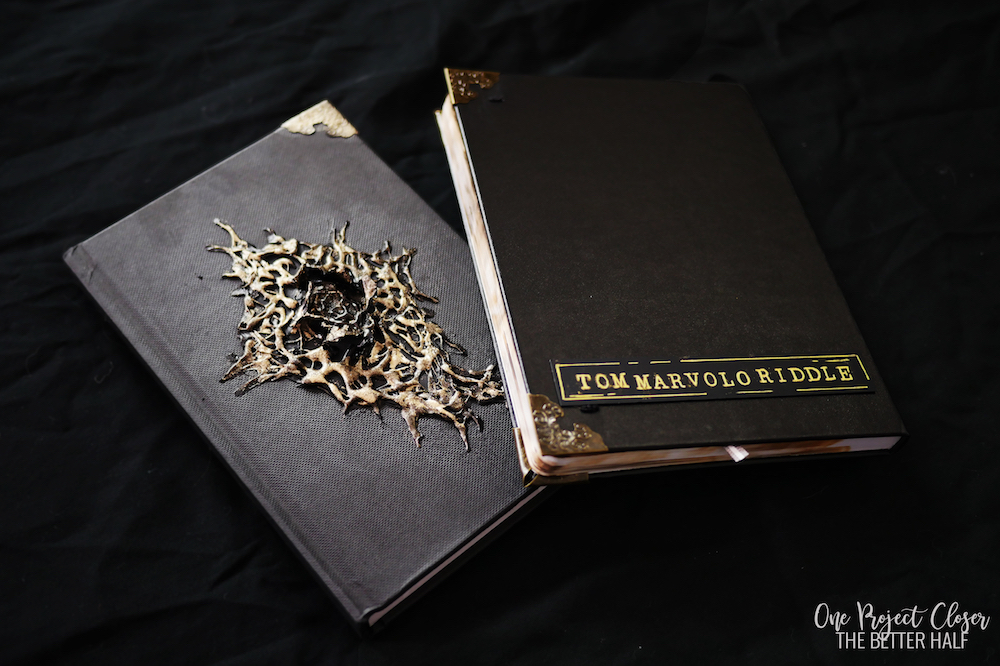 Thank you for joining us at One Project Closer for this tutorial on How to Make Tom Riddle's Diary from Harry Potter! This post may contain affiliate links. Thank you for supporting our family while also keeping content free to you!
This is a Harry Potter Halloween for us this year! The girls are obsessed. We read the third book as a family this summer, and it was magical. Isabella, my nine-year-old, decided to be Ginny Weasley. It was a no-brainer, given her red hair. Full disclosure, she is wavering a bit since there's a boy in her class who is going to be Harry Potter and she is concerned people will think they like each other. LOL We fixed that problem by having our dog dress as Harry Potter and she seems more content with that. hahaha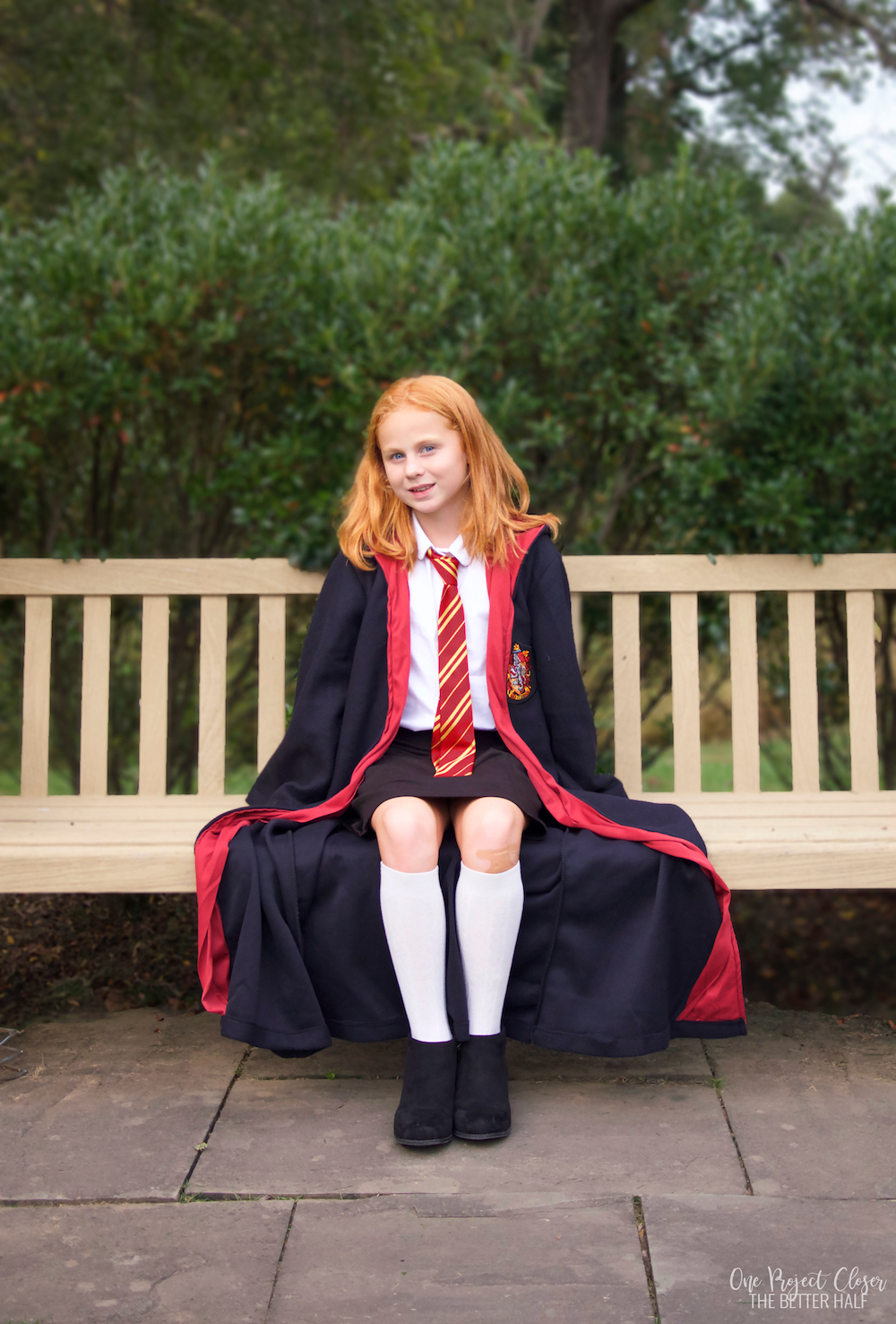 As far as my younger, Lucy – she will be Errol, the Weasley's clumsy owl. Be sure to check out the tutorial on how to make a Howler from Harry Potter. It really howls – its pretty epic!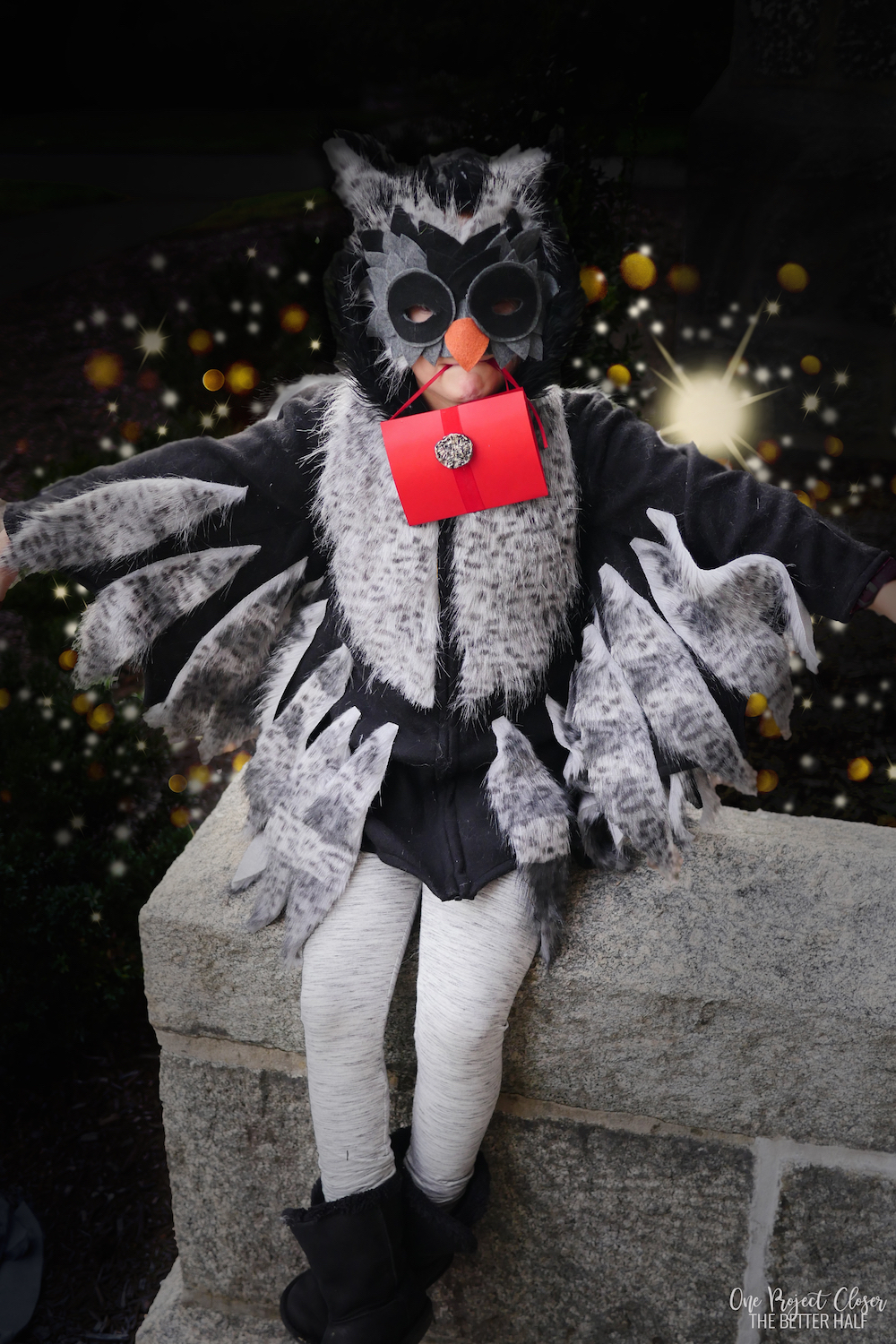 Tom Riddle's Diary
A big thank you to my dad, Chris Paulis Photography, who staged a last-minute photo shoot in honor of Ginny Weasley! He took some wonderful and dramatic shots!!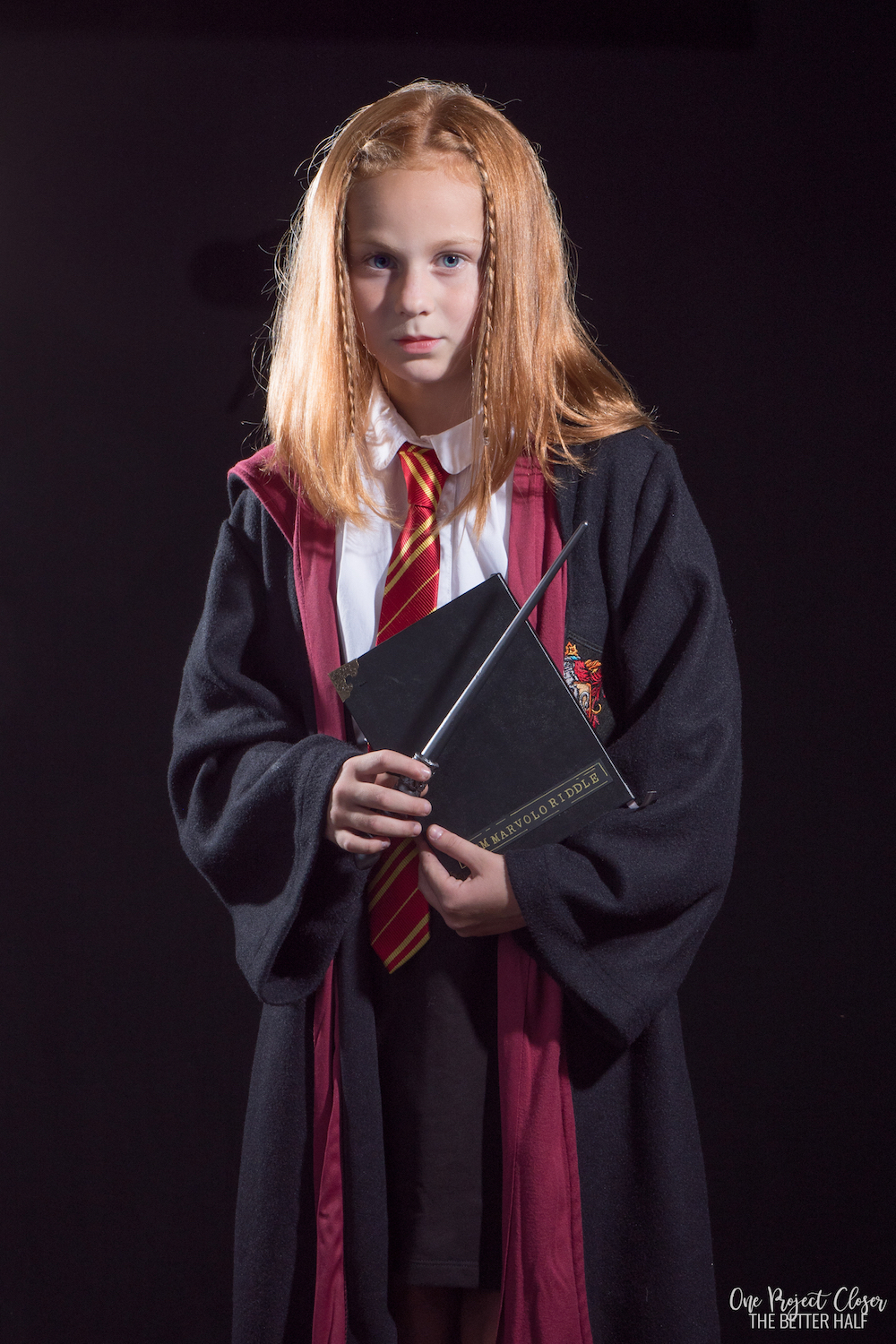 Make Time: 20 minutes or less
Cost: $6
Difficulty Level: Easy
Materials Needed:
Black cardstock
Blank journal, Black
Hot Glue
Acrylic Paint, Black + Gold
[amazon_textlink asin='B01EMQZG60′ text='Decorative Metal Corners' template='ProductLink' store='opcwp-20′ marketplace='US' link_id='4426df4b-dbbd-11e8-a602-2fc724510bb9′]
Gold Ink + Stamps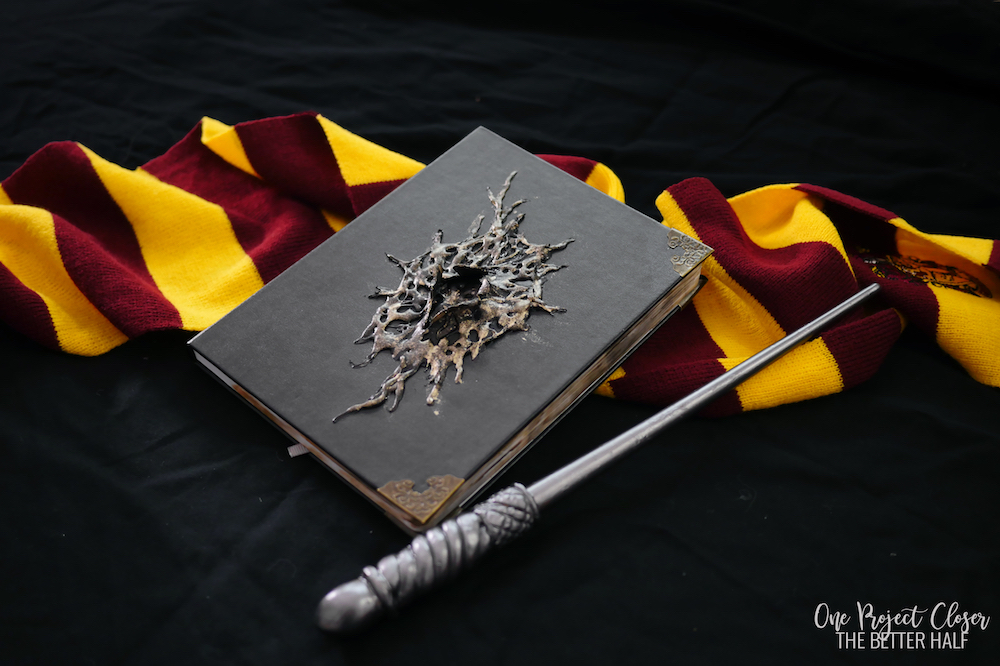 Here's the full video tutorial, but read below for tips, tricks and more details on the tutorial.
These girls are pretty much the cutest!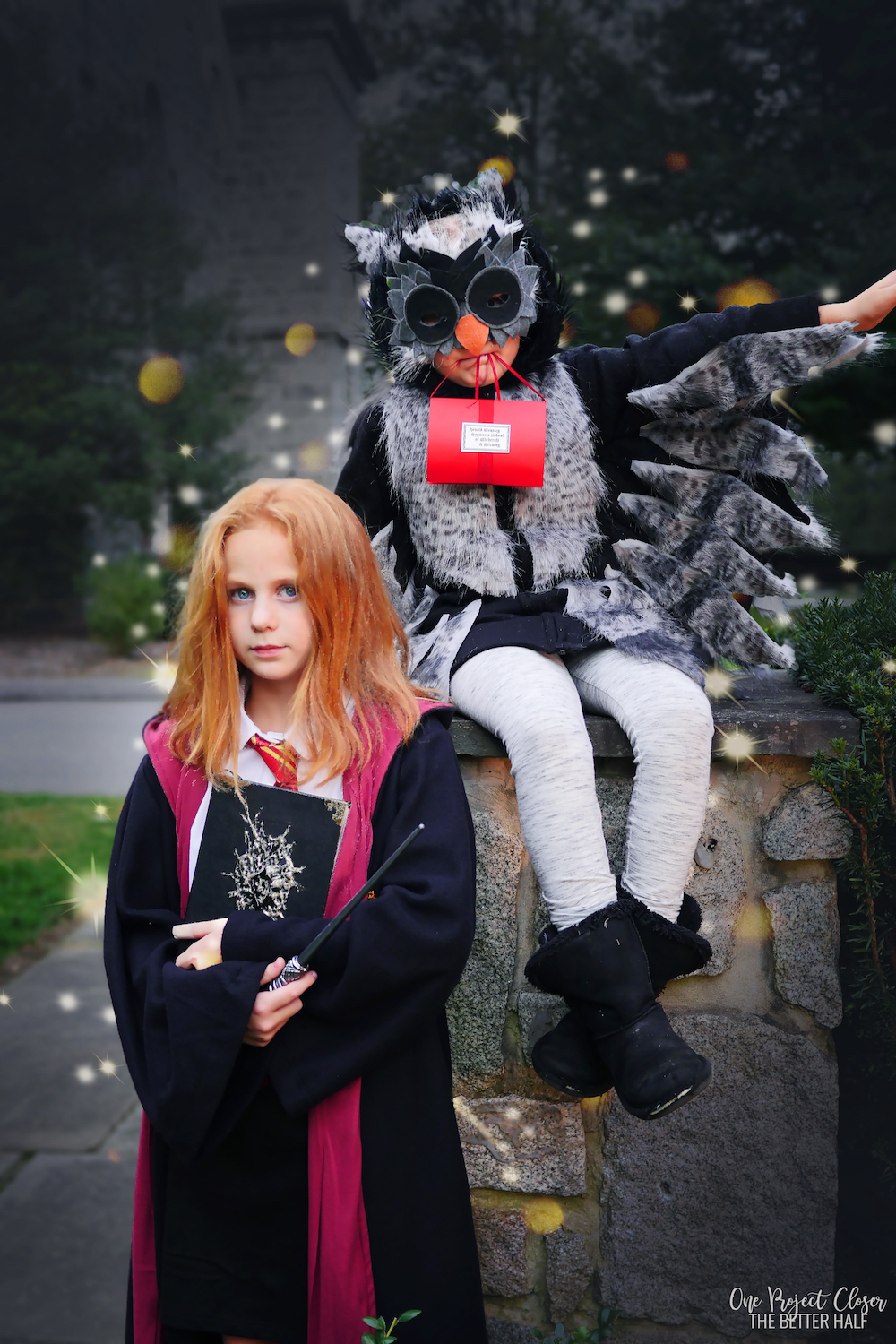 Step by Step Harry Potter Diary
I bought most of my supplies from Michael's because that is our closest craft store… and I pretty much live them and give them all my money. The journal was only $5, found back near all the watercolor and fine art supplies. I like the one that feels a little more like real leather, but unfortunately has grid lines on the pages. There's another hardback black journal that has blank pages. Both work great.
First, burn the edges of the journal. You could also use tea bags to age the pages, but ain't nobody got time for that.
Then, affix the metal corner embellishments (found in the scrapbook and stamping area) to the book corners, both front and back.
Using black cardstock, rip a small diamond shape and punch a hole in the center using scissors.
Affix this to the front of the journal using hot glue. Cover the entire paper with messy and uneven hot glue, working in the center and moving outward. You can use a blade to move the hot glue outward in fine lines.
Then, use matte acrylic black paint to cover the glue and the journal (so they are both the same color).
When paint is still a little wet, use dauber to add gold paint to only the high points of the hot glue, including the torn edges.
While drying, use a gold pad and stamps to stamp out "Tom Marvolo Riddle" on black cardstock. Cut to size and add gold highlights with a gold pen.
Use Rubber Cement to affix label to back of journal once the paint is dry.
Pin for Later
Love this tutorial on how to make Tom Riddle's Diary from Harry Potter but don't want to make it at this very moment? #becausekids Don't worry, pin it for later and share it with your friends too!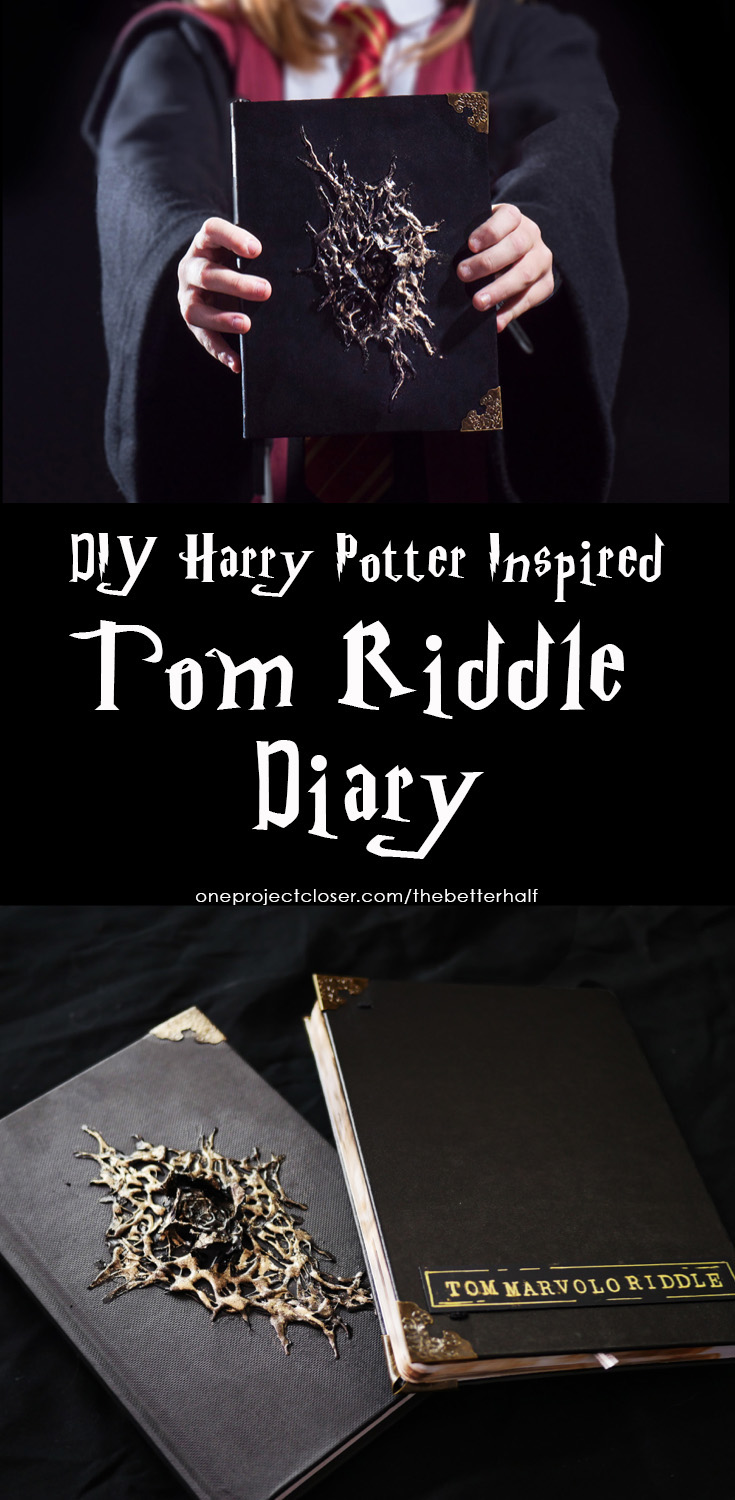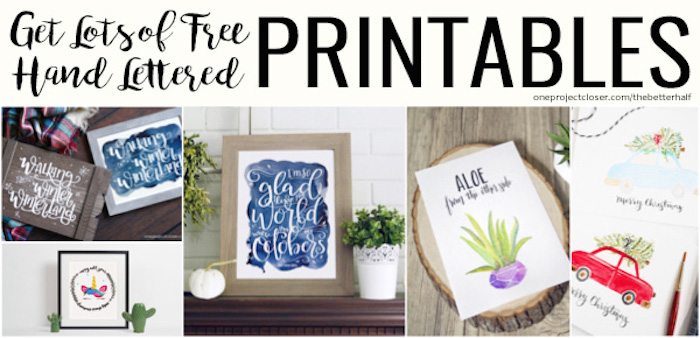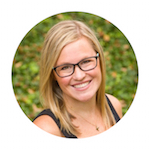 Jocie Hagan
One Project Closer
Come say hi on Facebook, Instagram, & Pinterest!

Want to learn to hand letter and make amazing, personal decor for your home?
Learn now with Busy Girl's Guide to Hand Lettering!
**Use the code HAPPY5OFF to get $5 off the course price**