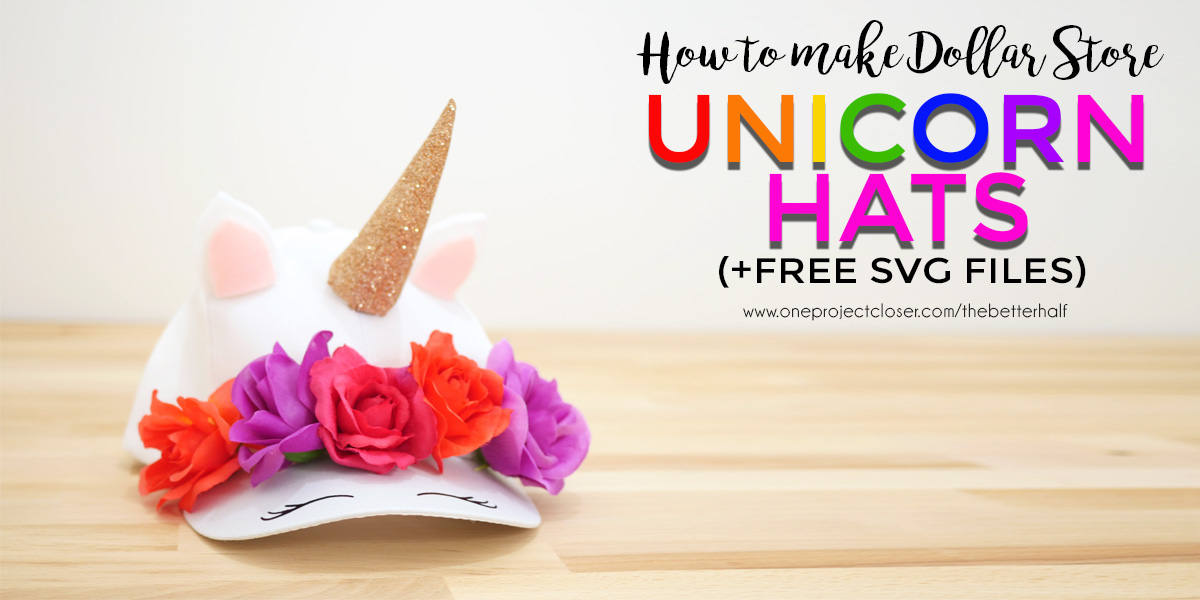 Have your kids gotten swept up with the unicorn craze? Mine certainly have, and if I'm being honest, I am kinda swept up too. Give me all the cute unicorn shirts, headbands, puns, rainbows. Everything. And its all so much cuter on my kids, although I'm not above rocking it too. Its projects like this, I'm so glad I have girls to dress. They are so fun! And I'm so excited to share how to make a unicorn hat tutorial….and the best part – almost all the supplies came from the Dollar Store.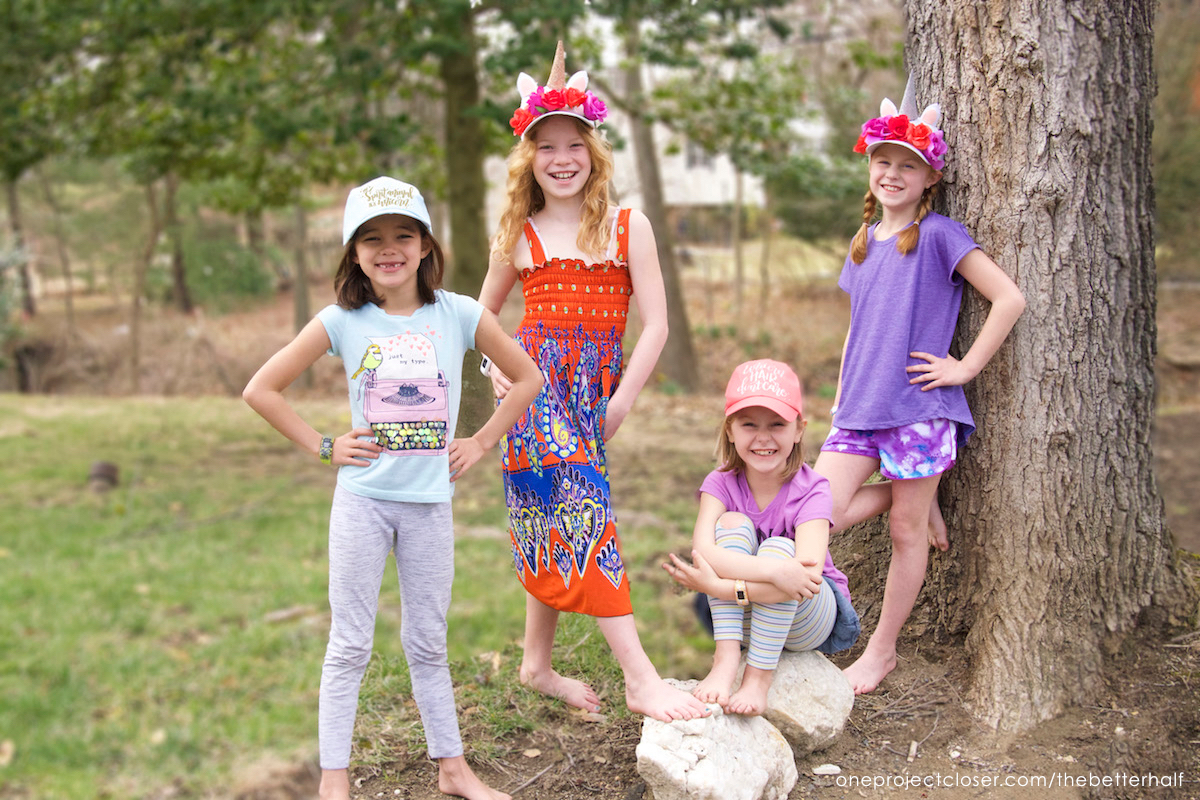 In fact, this post is my first in joining up with a fabulous group of bloggers, the Dollar Store Design Squad. Along with the group, I will be posting the first Friday of every even month (so every other month, if that's not too confusing). So stay tuned throughout the year for more great Dollar Store Projects!
Bet sure to watch the video for the step by step walk-through, but in the meantime, here are the supplies and a quick reference. Be sure to also grab the printable stencil + SVG files.
Get Free SVG Files Here!
Want to make these cute hats? You'll need the SVG files for the eye lashes, and I also have "unicorn Hair, Don't Care" and "My Spirit Animal is a Unicorn" free for you! Sign up for our newsletter and get them delivered to your inbox now.
Making the Unicorn Hat Using Dollar Store Supplies
Make Time: 10 minutes
Cost: Under $5 (if you have the tools on hand)
Difficulty Level: Easy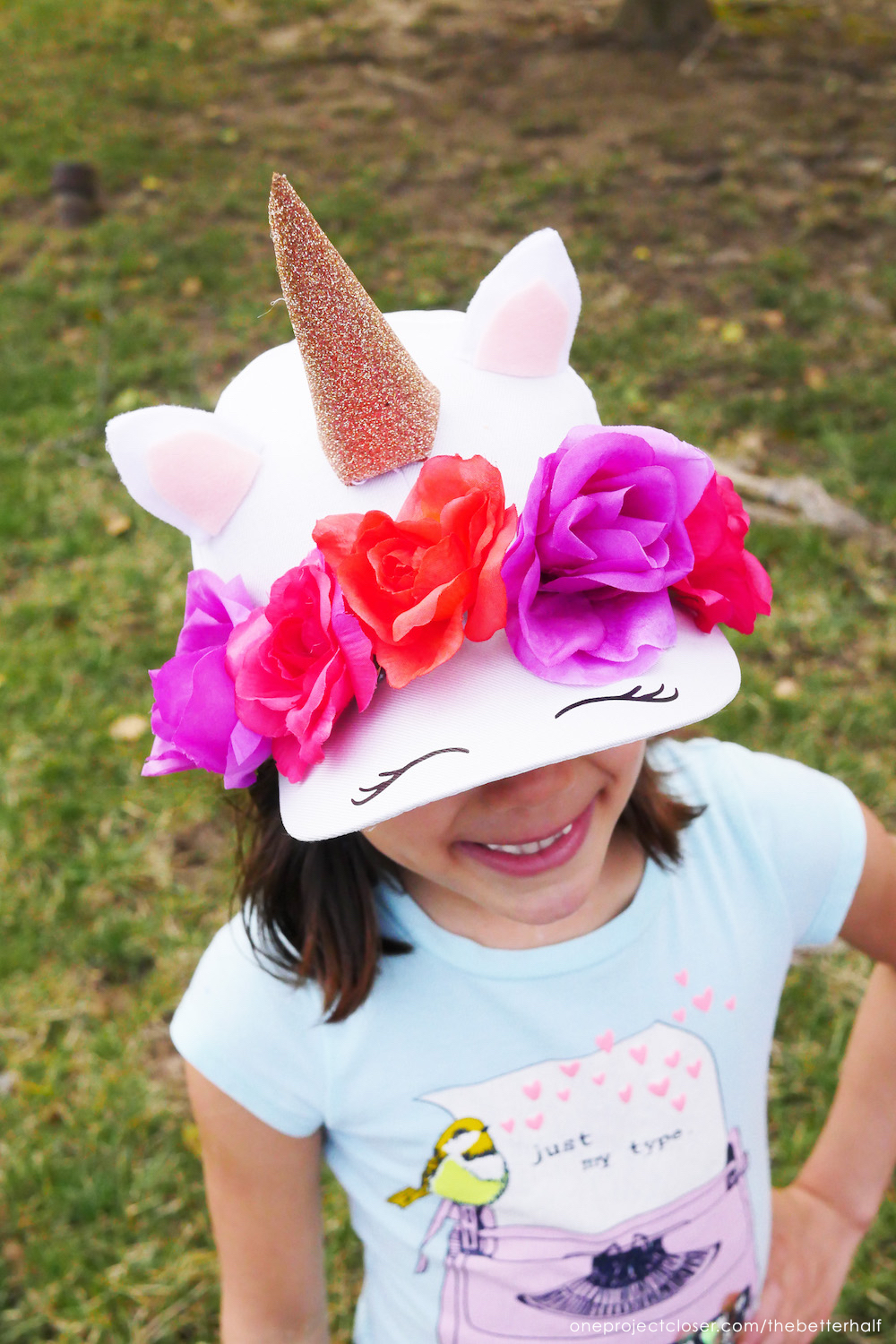 Supplies for Unicorn Hat:
White, plain hat*
Flowers, in varying colors*
[amazon_textlink asin='B01D3FWZGU' text='One sheet of Glitter Foam' template='ProductLink' store='opcwp-20′ marketplace='US' link_id='6906a879-3359-11e8-9f8f-2f6cdc67b7a3′]
Hot Glue*
Embroidery Floss + Needle
[amazon_textlink asin='B077TSFWYX' text='Black Heat Transfer Vinyl (HTV) ' template='ProductLink' store='opcwp-20′ marketplace='US' link_id='7c09e7ec-3359-11e8-b420-4ff22d571a08′]White + Pink Felt
Stuffing*
[amazon_textlink asin='B001CE73F8′ text='Iron' template='ProductLink' store='opcwp-20′ marketplace='US' link_id='992a1d08-3359-11e8-8240-ab12fd8f273a']
SVG files for eyelashes, cut to 4 inches wide
*Supplies purchased from Dollar Store
Step-by-Step Tutorial
Here's the quick reference from the video and a few tips to help make it a little easier. Overall this is a quick, inexpensive that your kids will LOVE!


Download SVG files and printable stencil. When cutting SVG with Heat Transfer Vinyl (HTV) be sure to mirror the image! Super important!
Use printed stencil to trace onto glitter craft foam and felt, then cut.
Using hot glue to hold together, roll the craft foam (glitter side out) into a cone shape.
Cut 1.5 inch slits in the bottom of the cone.
Stuff with stuffing. I bought a cheap easter bunny at the Dollar Store and used the stuffing from that. My kids called me a bunny killer the rest of the week. LOL
Use hot glue to glue the flaps inward to prevent the stuffing from falling out.
Sew cone using three strands of white embroidery floss onto white, Dollar Store hat.
Cut the flowers off stems and glue onto hat. I got all the flowers from the Dollar Store and they were the perfect size and color!
Transfer eye lashes onto brim using an iron. I place a clean white shirt between the backing and the iron to prevent sticking and melting.
DONE!
And if you love unicorns, don't forget to swing by and get this free Unicorn Printable I shared yesterday!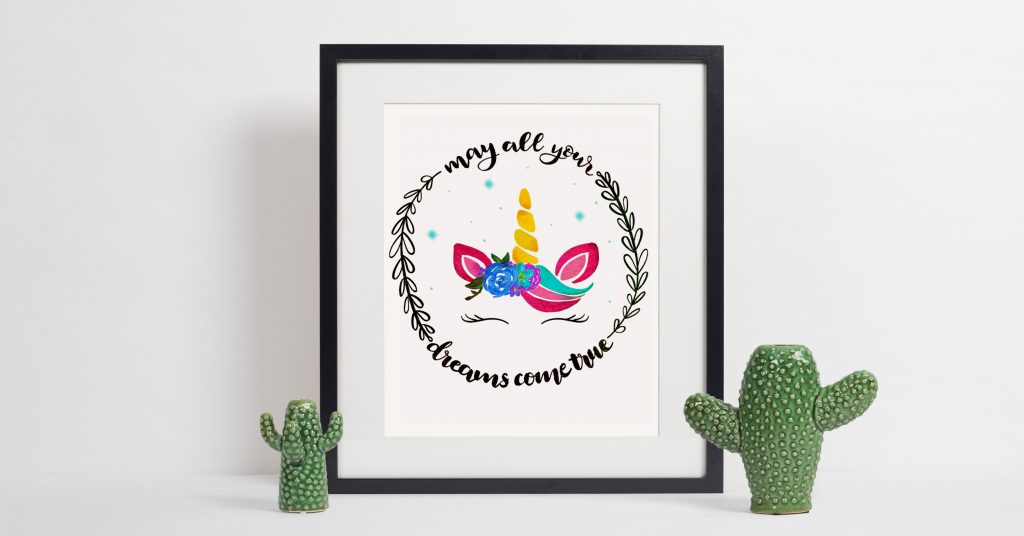 10 More great Dollar Store Projects!
White Wreath Petticoat Junktion
How to Make Unicorn Hats One Project Closer
Marbled Resin Tray Mad In Crafts
Easy Pink Peony Wreath The DIY Village
How to Paint Plastic Dollar Store Chargers Create And Babble
Chinese Lantern Hot Air Balloon My Repurposed Life
Dollar Store Storage Bins Refresh Restyle
Placemat Tote Bags The Kim Six Fix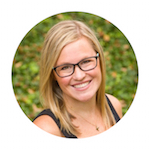 Jocie Hagan
One Project Closer
Come say hi on Facebook, Instagram, & Pinterest!