Stipple. It's the little brother to popcorn texture that was popular on 60s- and 70s-era ceilings. Unlike popcorn, which is sprayed-in-place using specialized equipment, stipple is applied by dipping an applicator in drywall compound, sticking it to the ceiling, and pulling it away to create a pattern of pointy stalactites. The result is a ceiling that looks darker (because it casts hundreds of tiny shadows) and one that pops every balloon that floats up to its thorny surface.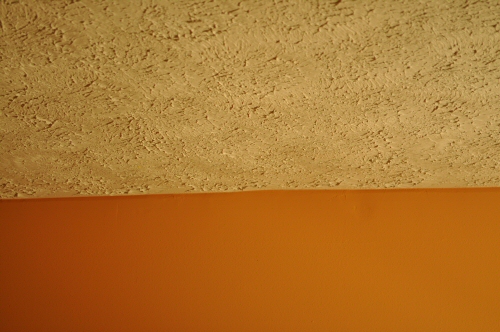 Home builders in the disco years sold popcorn and stipple ceilings in droves, mostly touting their acoustic benefits. Of course, it didn't hurt that both popcorn and stipple are less labor-intensive–and therefore cheaper–methods of finishing a ceiling.
We know now that neither texture looks as good as a plain, flat ceiling. But just like bell bottoms and leisure suits, we didn't realize the gravity of our collective error until well into the 80s. And that's being generous. Our house (a Ryan Shenandoah A) was built in 1984 and it had this texture all over. There are still a few builders using this technique today, especially on less expensive homes.
We've been flattening out the stipple in this home for the last few years as we tackle one room after another in our remodeling escapades. We've recently turned our attention to our twins' upstairs bedroom, which provides the perfect backdrop for this tutorial.
Here's a shot of the bedroom. This particular vantage point makes the stipple look relatively unoffensive, except that you can tell the ceiling has a sort of shadow to it.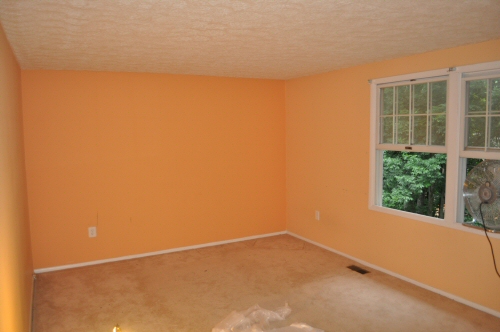 With artificial, floor-based lighting in use, the stipple shadowing effect becomes more obvious.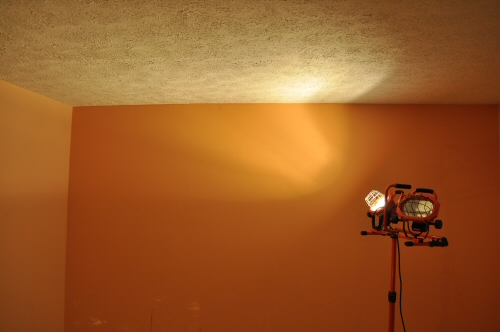 Up close, you can see just how sharp the ceiling is and just how many shadows it casts.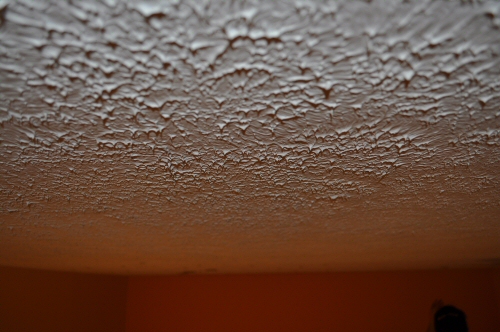 How to Remove Stipple
After trying several different methods for removing this stuff over the years, we've settled on what we think is the best method for getting the job done: sanding the stipple with a random orbit sander using 80 grit paper. This method works well to get the ceiling mostly flat. If you want to get the ceiling completely flat, you're going to need to spend time sanding with a pole sander after knocking down the majority of the stipple using the power sander. If you use the power sander too long, you'll inevitably run through the paper backing on the drywall.
Before we get started, it's worth noting that this method works best when the ceiling hasn't been painted. If it's been painted, the effort required to tear down the stipple is significantly greater.
Step 1: Check for Asbestos.
In all likelihood, your stipple ceiling probably doesn't have asbestos in it. But it's not out of the realm of possibility. Asbestos was legal in the United States through 1978 and was an ingredient used in some textured ceiling compounds. Even after asbestos was outlawed, builders were allowed to use whatever remaining supplies they had on hand that contained the ingredient. There are several asbestos testing labs around the country. You can Google for "asbestos testing lab" or read our experience with Western Analytical Laboratory for more information. It's about $20 to get a sample tested. We had three samples tested from throughout our house.
If you discover asbestos in your ceiling, you should leave it completely undisturbed or consult a professional for removal. In many states an asbestos abatement contractor is required to tackle projects were asbestos is present.
Step 2: Cover Up Floors. You Might Consider the Walls Too.
Tape plastic over the flooring surface. You'll need to throw it away after you sand as it will be covered with powder, which easily kicks up into the room, so using something cheap is a good move. We used the thinnest .3 mil plastic available at Walmart and it works just fine.
If you've already painted the walls, you may also want to tape plastic up to the walls. This job is better performed before painting.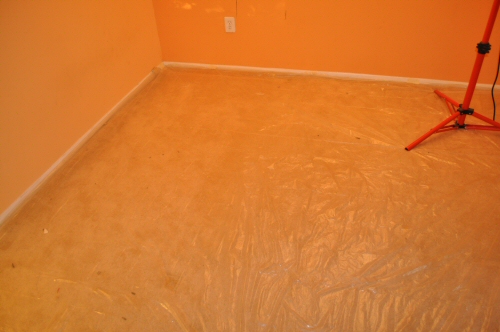 Step 3: Don the Appropriate Safety Equipment.
While a simple dust mask will provide some protection, we prefer a negative pressure mask like the one in this picture. It should go without saying that safety goggles are a must. The sanding process throws off a hefty amount of debris.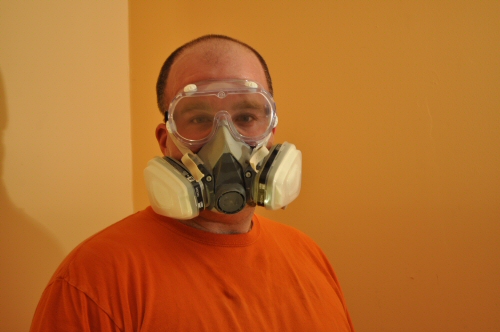 Step 4: Vent Outside Using a Fan. Turn off the A/C fan.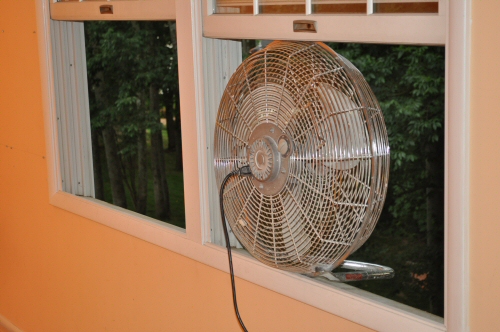 Set up one or more fans to blow air outside. You're going to get a lot of dust through the sanding process. You'll also want to turn off the A/C fan in the house to prevent the dust from blowing or recirculating.
Step 5: Sand. Sand. And Sand.
You can use any pattern/approach you want. We suggest the following:
Use a random orbit sander like this Milwaukee version we reviewed.
Start with 120 grit paper and working up to something more powerful if you need it.
Start with a slower orbit speed and working up to something more powerful if you need it.
Be careful NOT to hold the sander in one place too long. You can eat through the drywall paper if you go too deep.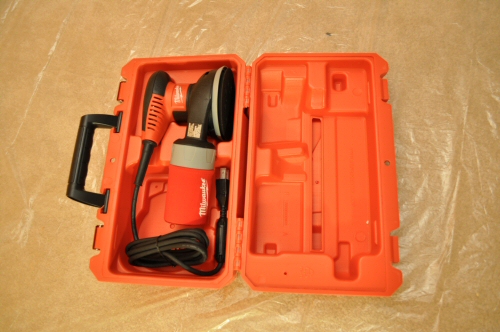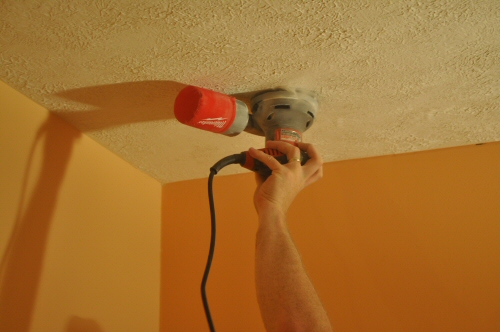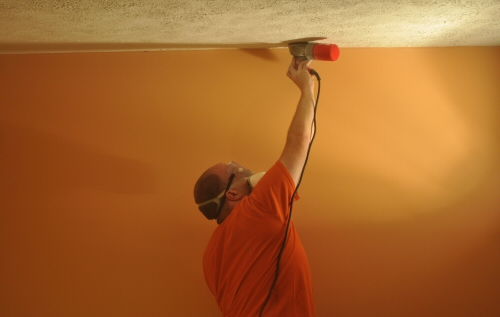 You're Done!
After the ceiling is finished, you should have something that looks like this… (You can ignore those patch marks on the walls… but it is worth pointing out that this job should be done before you paint the walls, if you're doing that in the same overall project).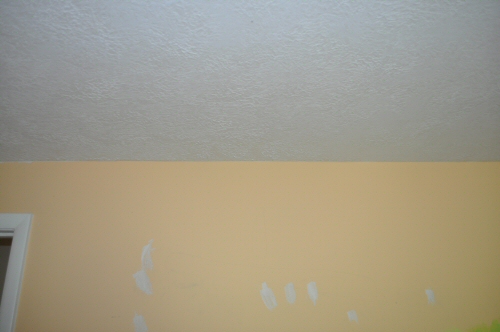 And here's an up close shot of the ceiling. Balloons everywhere will be thankful.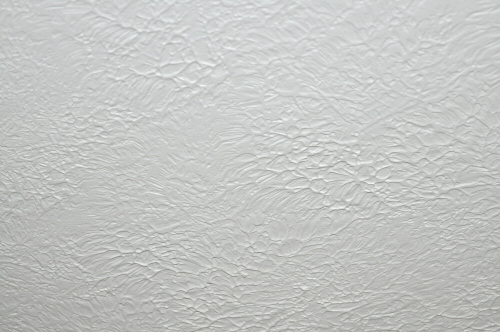 For the sake of contrast, here's a very similar shot, before the sanding, so you can see them next to each other.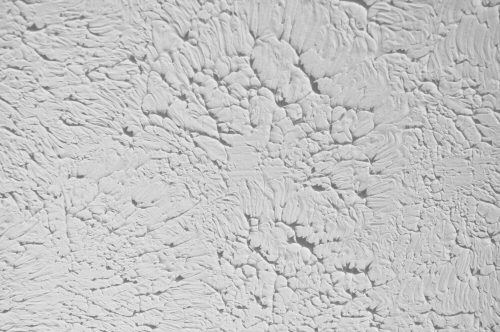 I'd love to show you a picture of the end product of this room, but you'll have to wait a few days for the complete picture. Kim's running that along with a review of a new paint kit we used for the room.
4 Key Tips for Sanding Stipple
Make sure to get the ceiling checked for asbestos before starting this job.
Ventilate well. Turn off your home's A/C fan.
Put down plastic. This job is a mess.
Start sanding at slow speed and with fine grit paper. Increase grit and speed once you get the hang of it.