Contractors can't always foresee every possible scenario when they bid a job, and they often have to assume that previous tradesmen have done their work appropriately. Unfortunately, that's not always the case, and even simple jobs became much more involved. Professional contractor and carpenter Steve Wartman and his crew began the process of replacing a patio door when they uncovered a poorly built header. Steve couldn't in good conscience continue with the project until they replaced the header, and here's how they did it.
If you're new to One Project Closer, this article is one of many Pro-Follows, derived from shadowing licensed, professional contractors on actual job sites. Every Pro-Follow is chock full of tips and experience straight from the contractor. If you enjoy seeing the pros in action, check out our completed Project Guides section and become an email or RSS subscriber.
Window and Door Header Requirements
Calculating window and door header requirements is complicated because they depend on a variety of factors including the size of the opening, the weight of everything above it, snow loads, if it's an interior or exterior wall, and more. One rule of thumb says 2″ of header for every 1′ opening width which means a 6′ opening should have a 2×12″ header. However, it's often necessary to involve a structural engineer as Fred and Kim did when they removed a load bearing wall. An engineer will be able to determine the necessary size of the header, type of wood, and the number of king studs and jack studs.
Non load bearing windows and doors do not require a structural header. For instance, in the basement remodel, all the doors have simple 2×4″ framing around them.
Pro-Tip: You can access a free copy of the 2012 International Building Code here. Section R502.5 shares allowable girder and header spans.
The Problem
Steve and his crew began the process of removing the old double-doors leading from a basement to the outdoors.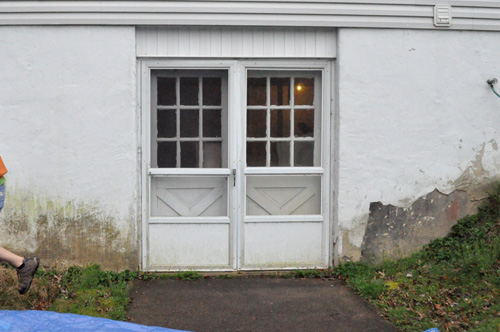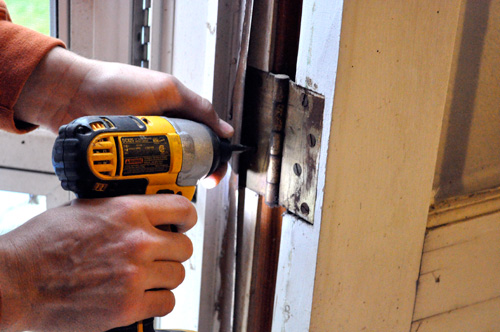 After removing some trim, it quickly became apparent that the header was not built to code.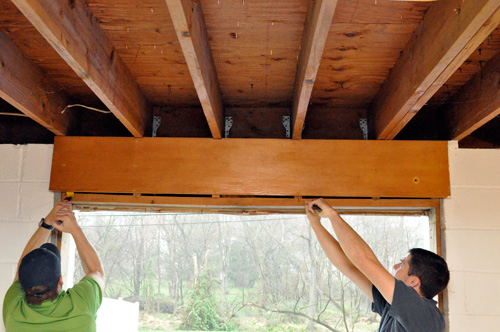 What you're seeing here is a header built with a 2×6″ bottom plate, 2×4″ cripple studs, and a 2×4″ top plate resting on the adjacent block walls. This header spans a 6′ opening and supports 4 floor joists (with 2 stories and a roof above it). The lowest point is at the middle and it sags down about 1/2″. Wait, it gets worse.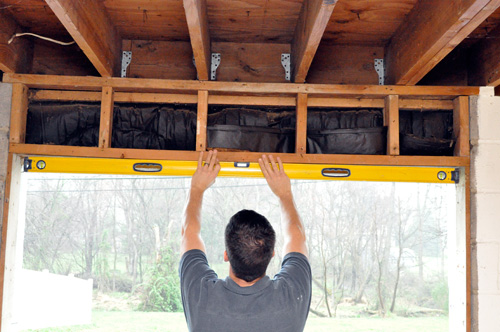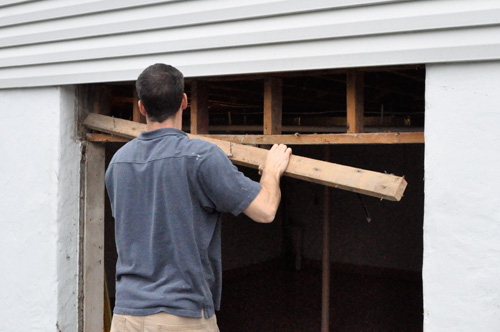 The guys quickly found that the header wasn't supporting very much weight as it moved about with only a small amount of pressure. It seems the band board was doing all the work, and on closer inspection, Steve found two cuts in the band board on either side of one of the joists. From the picture, you can see they measured the depth and found each cut was over an 1″ deep!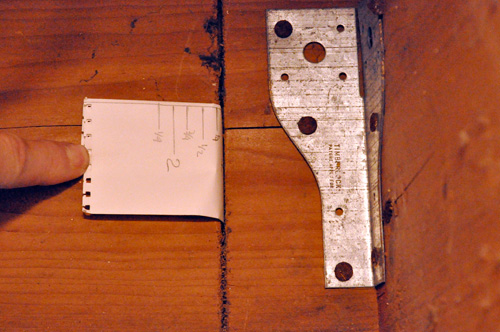 Step 1: Build a Temporary Wall
Before removing anything else, Steve and his crew built a temporary wall to support everything above the opening. They used 2×4″ studs with a stud underneath each floor joist and a total of six studs.
Pro-Tip: When building a temporary structure, fasten everything with screws to make disassembly easier.
First, the guys moved the top plate and bottom plate into position about 2′ away from the foundation. Next, they put in a few screws to hold the top plate against the floor joists.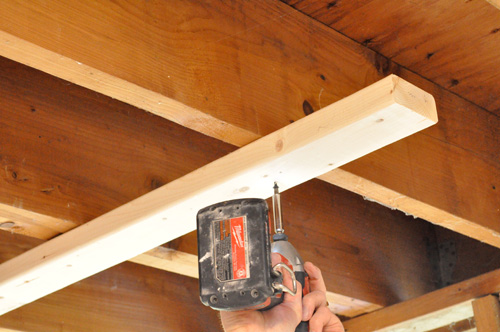 They measured each stud individually. The goal was not to raise the floor joists, just to achieve a super-tight fit at the current height.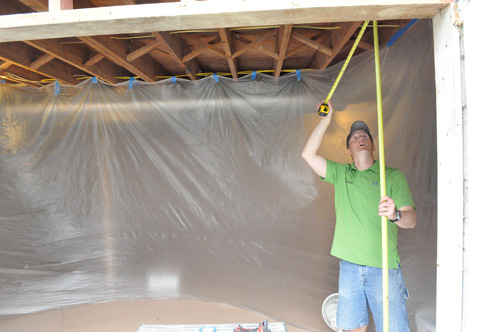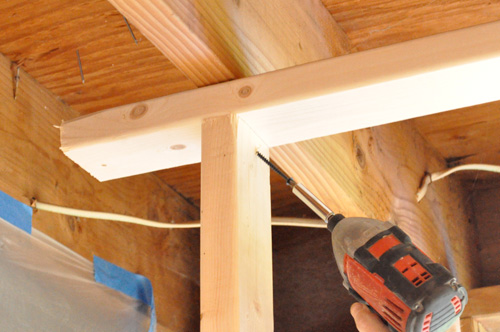 They also made sure each temporary stud was plumb.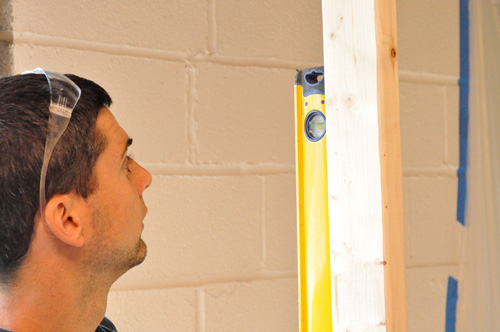 Step 2: Remove the Old Header
The old header came free without too much trouble.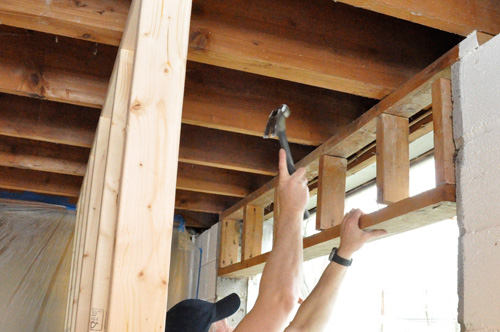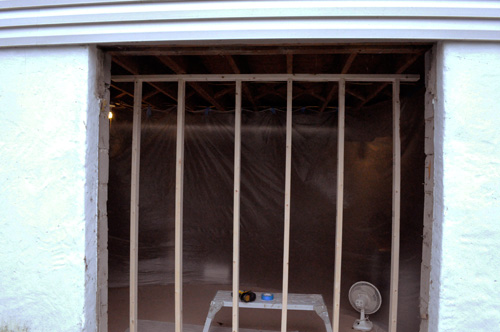 Step 3: Cut Block Wall
The new header will consist of three, pressure-treated, 2×10″ boards, supported on either side by the block wall. Steve needed to cut away a portion of the block wall, and they marked off an area 7″ wide x 9-1/2″ tall x 4-3/4″ deep on each side.
Pro-Tip: Pressure-treated lumber measures slightly larger. For instance, the true dimensions of an untreated 2×10″ are 1-1/2″ x 9-1/4″. However, a pressure treated 2×10″ measures up to 1/8″ taller and thicker.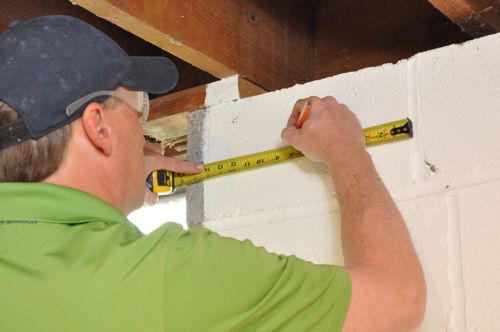 Using a grinder and masonry cutoff wheel, they made cuts along the lines. While not big enough to cut the entire depth, this helps prevent the block from cracking.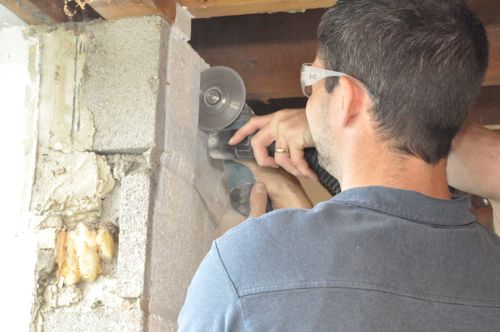 They followed the grinder with a rotary hammer and chisel bit.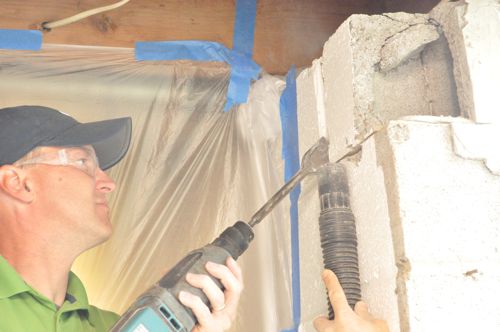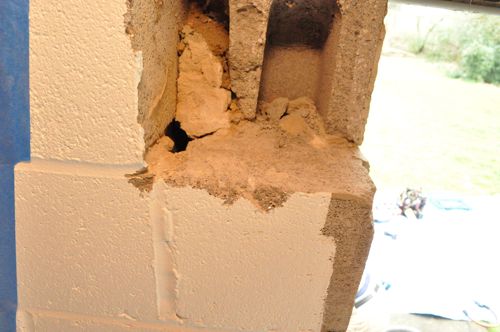 Step 4: Build New Header
The guys cut the 2×10's to length and checked the boards for a crown (up and down curve). Orienting the boards crown-side-up, they nailed two of them together placing four nails every 16″ on center (oc). Since Steve knew the floor joists above the door opening were bowed, he decided it would be better to fit two of the 2×10's in place and add the third one later. This allows them to more easily maneuver and still prevents the new header from bending under the pressure.
Pro-Tip: These framing nails are 3″ long, and when nailing two pieces of 2x together, angling the nail gun prevents the nail tip from protruding on the opposite side.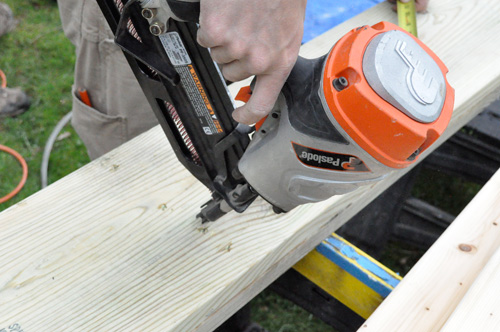 Step 5: Position Header Across Opening
To slide the header in place, Steve used a spare 2×6 to push the header up and a maul sledge-hammer to push the header over.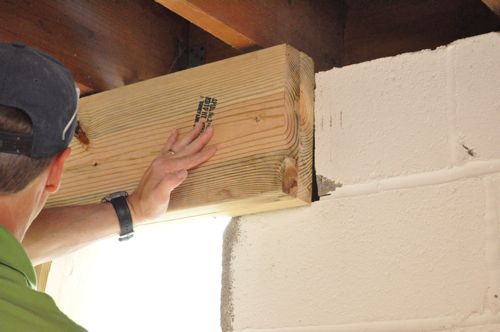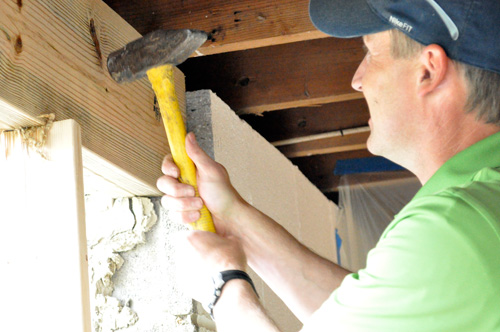 The guys repeated the process for the last 2×10, and put four nails every 16″ oc.
Step 6: Nail to Joists
Steve's crew finished the header by driving nails into the floor joists.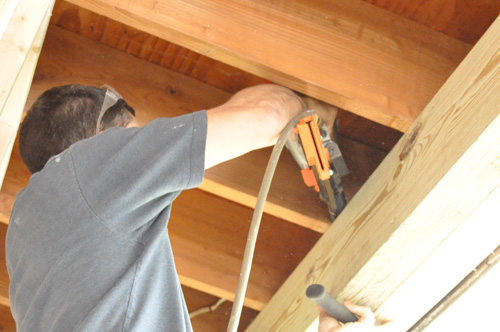 Finished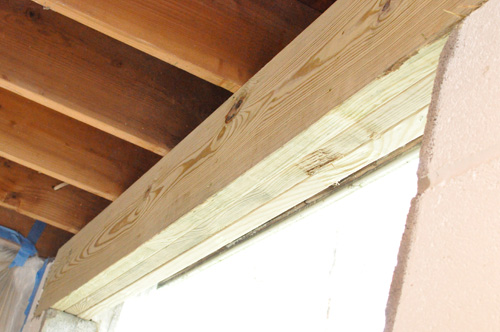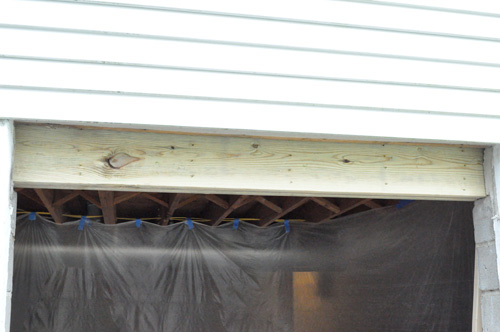 With this unexpected twist resolved, Steve turns his attention back to installing the new patio doors. Look for that Pro-Follow article in the next few days. Stay tuned!