This year my creative juices have been flowing and I have wanted to come up with more interesting holiday gifts that are thoughtful, cute, and inexpensive. Some I have made in previous years, others I discovered on Pinterest. Here is my list of easy Holiday gifts.
Disclaimer: To any of my friends and family reading this – do not be shocked if you get any of these gifts for Christmas. Do not read ahead if you want your gift (and its cost) to be a surprise! Heehee.
Twelve isn't enough last minute gift ideas for you? Well, I also love this easy and beautiful monogrammed jewelry box (and it only cost $1!) from The DIY Village!
1. Candy Cane Infused Vodka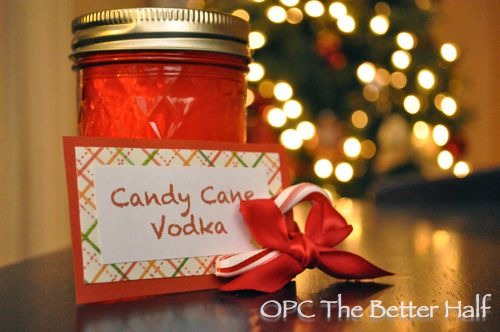 This is probably the quickest and easiest idea, but slightly more expensive because of the cost of the vodka. We had a bottle of untouched Smirnoff Vodka that someone had given us and a bunch of mini candy canes that bought for our Advent calendar but found that most were broken when we got home. I dumped a bunch of broken candy canes into the vodka and let it sit overnight. The candy canes immediately began to dissolve and tinted the vodka red. I kept adding candy canes until the vodka looked more red than pink. Unlike the Skittle infused vodka you may see on the web, you do NOT need to strain the infused vodka because the candy canes completely dissolve. You will want to infuse the vodka in an air tight container. I used the original bottle and made sure the cap was on very tight. Once all the candy is dissolved, I put it in a Ball glass jar and made a label to add an extra special personal touch.
2. Home-made Hot Chocolate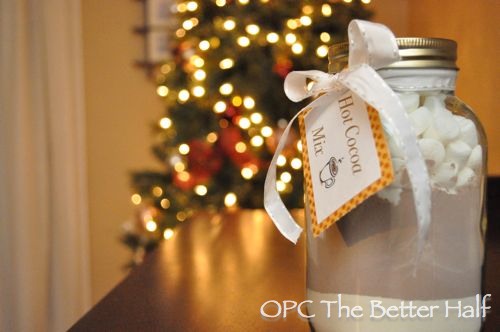 I had never made this before but had often seen it floating around the schools as teacher gifts from crafty moms – very cute and always appreciated. This year, I decided to make homemade hot chocolate because it goes great with the Candy cane vodka (1 ounce of vodka per cup of cocoa) and I plan to give the pair to my cousin! I used Alton Brown's recipe from the Food network (shown below) because I thought the cayenne pepper added a unique twist. You can reduce the recipe and layer the mix in a jar, topping with marshmallows for a more creative look.
Ingredients:
2 cups powdered sugar
1 cup cocoa (Dutch-process preferred)
2 1/2 cups powdered milk
1 teaspoon salt
2 teaspoons cornstarch
1 pinch cayenne pepper, or more to taste
Hot water
Directions:
Combine all ingredients in a mixing bowl and incorporate evenly. In a small pot, heat 4 to 6 cups of water.
Fill your mug half full with the mixture and pour in hot water. Stir to combine. Seal the rest in an airtight container, keeps indefinitely in the pantry. This also works great with warm milk.
3. Home Made Cookies or Cookie Dough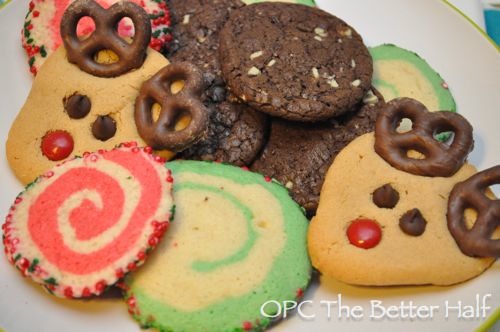 Last year I made cookies and bread and gave them to neighbors. This year, while perusing Pinterest, I saw a tip to make your own cookie dough ahead of time, roll in plastic wrap, and freeze. What a great idea rather than using store bought refrigerated dough! This year, I have made Reindeer Peanut butter, Chocolate Mint, and Sugar cookie pinwheel cookies.
Check out my earlier post on making and freezing cookie dough, wrapping cookies using old Pringles cans, and my mother's secret Chocolate mint cookies!
4. Reindeer Beer, aka Rein-beer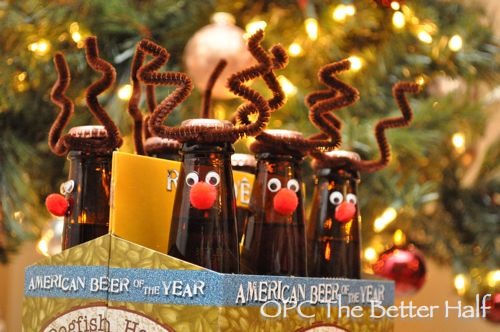 So easy and a great guy gift! Buy your favorite beer, add pipe cleaners, eyes, a red pom pom and DONE! Thanks to Interior Design Musings via Pinterest for the idea!
5. Hand-Made Bottle Opener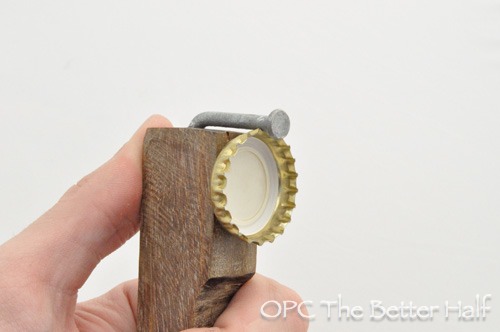 Not long ago, Ethan wrote a post on making a rugged bottle opener and it was very impressive. This is probably one of the more difficult gifts to make and includes more than just your hot glue gun, but it is by far my favorite guy gift! Check out his post for detailed instructions to make your own.
6. Homemade Sock Monkey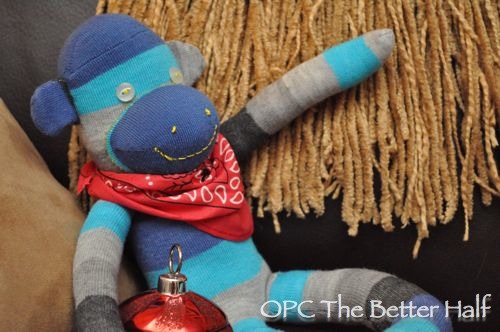 This is a great gift idea for kids not only for the holidays but a wonderful baby shower gift. Overall, it was simple, even for a novice sewer like me, but a bigger time commitment than some of the other gift ideas. One sock monkey cost about $3 – 4, mainly depending on the cost of the socks. Check out how to make one of you own!
7. Decorative Peg board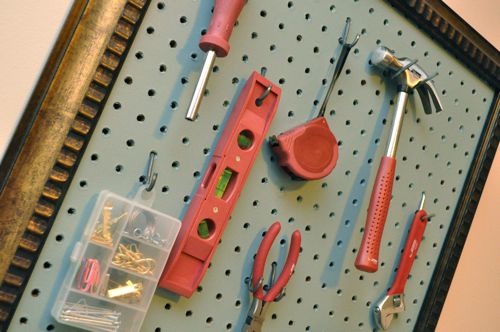 This is another very simple idea and so unique – a great gift idea for your fellow crafter. It's a great way to organize your crafting tools while improving the look of your space. Take an old frame or find one at the local GoodWill and remove the backing and glass. Feel free to spray paint the frame to make it more colorful or exciting depending on your gift recipient, maybe kelly green or silver. Take the glass out of the frame and use it to trace an outline on the peg board. Use a jig saw (or get creative) to cut the outline. You can leave the peg board as is, or you can paint it to match the frame or a complimentary color. Put the peg board into your frame and affix hooks. Might be fun to add a few crafting tools to bulk up the gift.
8. Framed Earring Holder
This is a very similar idea to the Decorative Peg board but instead of peg board use chicken wire. My cousin, Naomi made one of these and it is super cute! You can use varying size, color, and type of ornamentation for the frame depending on the recipient. This also does not require power tools, just wire cutters to cut the chicken wire.
9. Chalkboard Mug or Wine Glass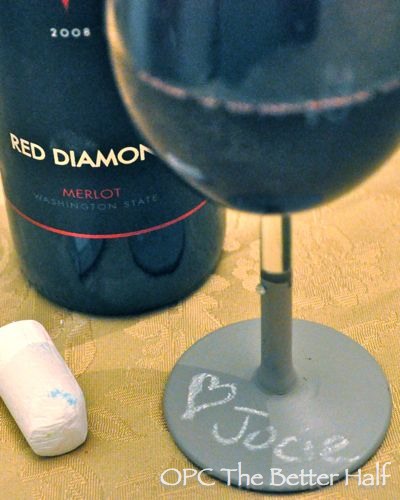 This is a cheap and easy gift to give along with your homemade hot chocolate or candy cane infused vodka! You can buy chalk board paint at your local craft store or Lowes for about $10/pint, or you can make your own. A big bonus to making your own paint is that you can make your chalk board any color you want, not just black! I got this recipe from The Idea Room – all you need is 1 cup of latex paint and 2 tablespoons of unsanded grout.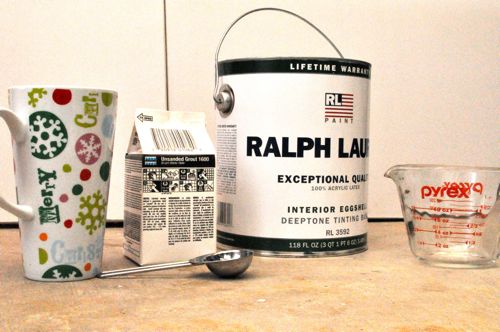 I used leftover paint and grout from previous home projects, and bought a mug from Walmart for $1.48. Keep in mind, if the grout you are using is colored it may slightly affect the color of your paint, so for best results use white unsanded grout.
When mixing the paint with the unsanded grout use a whisk to unsure that it is fully mixed. I would recommend using a sifter to make sure your grout is a fine powder and will therefore not leave lumps of grout on your project. You will likely need multiple cots of paint but make sure each coat is completely dry before applying another coat or the paint may peel.
10. Jezebel Sauce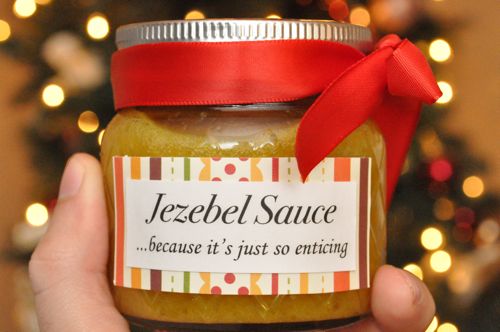 This is another one of my cousin, Naomi's favorite holiday gifts to give. She was given this recipe by a friend, and we are unsure of the origin, but it is called Jezebel sauce because it's just so enticing (wink, wink). It is a sweet sauce with a little kick and spice that goes great with ham, turkey, pork, and cheese. It is also relatively inexpensive to make depending on the brand of ingredients you buy. You used mostly store brands, so one batch (about 4-6 gifts jars) cost around $4.
Ingredients:
16 oz. pineapple preserves
16 oz. apple jelly
3 oz. horseradish sauce
3.5 oz. prepared mustard (not dry mustard)
Directions:
Mix all ingredients together using hand mixer or Kitchen Aide. Let sit overnight in fridge, covered. Mix once more then put into decorative jars. Refrigerate unless using canning method. If you do not have decorative jars, you can use the jelly and preserves jars but since these are larger cans, your sauce will not go as far. Also, when buying your ingredients, you may not be able to find 16 oz. jars of apple jelly and pineapple preserves so feel free to adjust the proportions as needed.
11. Beer Bread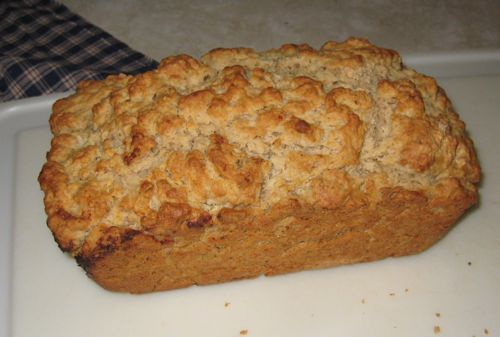 When I told my sister, Erin I was writing this post, she was delighted to share with me her special recipe for Beer Bread. She has bought Tastefully Simple beer bread several times and loved it, but at $6 per loaf it was more money than she wanted to spend. So, she attempted to re-create the bread from home and after a couple attempts her bread exceeds Tastefully Simple! She made it for Thanksgiving and stole all the leftovers for myself.
If giving the bread prepared as gifts, it is a great idea to use mini-loaf pans (I love the Pampered Chef Mini Loaf Pan) and Holiday gift bags that you can buy a Target or Walmart for a dollar or two. Also, you can use ginger ale instead of beer if you want it to be more kid-friendly. Or you can give the bread mix as a gift, using jars or decorative bags.
Erin's Beer Bread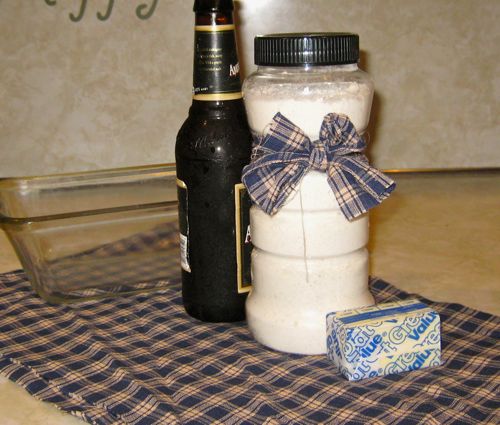 Dry Mix ingredients:
3 cups all purpose flour
4.5 tsp baking powder
1.5 tsp salt
1/3 cup brown sugar
1/2 tsp onion powder
1 tsp garlic powder
1 tsp italian seasoning
Wet ingredients:
12oz beer or ginger ale
1/4 cup melted butter (not margarine)
Directions:
Preheat oven to 375 degrees F (190 degrees C). Lightly grease a 9×5 inch baking pan. In a bowl, mix all dry ingredients. package for gifting or to prepare. Pour in the beer, and mix just until moistened. Transfer to the prepared baking pan. Top with the melted butter. Bake 45 to 55 minutes in the preheated oven, until a toothpick inserted in the center comes out clean. Cool on a wire rack.
12. Oven-baked Clay Ornaments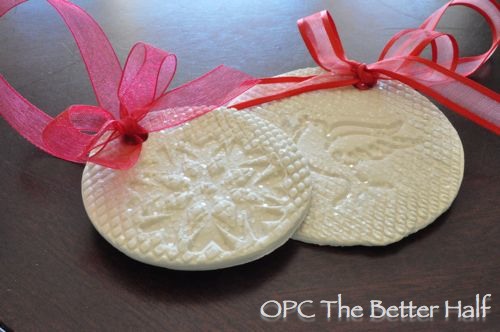 Oven-baked ornaments and gifts tags are a way to personalize and dress up your presents for your loved ones. We made them this year and it was fun for the little kids too! I bought White oven-bake clay at Walmart for about $6 for a good sized amount. Check out my earlier post on how to make your own clay ornaments and gift tags.
What are your favorite homemade holiday gifts?