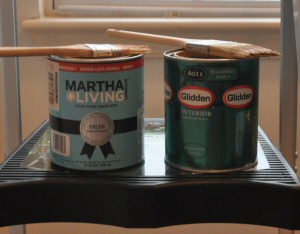 I've been raving about Ralph Lauren Paint for give years — since I first used it to paint a beige dining room in "Dark Mocha" in our current home. It did that job in just one coat, with one gallon of paint, and I was very impressed! We've since repainted that room (as part of a complete first floor remodel), and again used Ralph Lauren (in a lighter shade) with great success.
Last year, Jocie (another author here at One Project Closer) ran a comparison between Ralph Lauren,Valspar, Duron, and Behr, and found that Ralph Lauren outperformed the others in everything except price. She concluded that Ralph Lauren was the best value when one considers that less Ralph Lauren paint is required to cover the same surface area.
[Related: Valspar, Duron, and Behr Paint Objective Test]
Despite our good findings, Home Depot saw fit to stop selling our favorite brand of paint and replace it with Martha Stewart's new line of paint. Home Depot now also carries Glidden interior paints as an "upscale" alternative to Behr. According to the paint desk worker at our local Home Depot, both Glidden and Martha Stewart Living paints are manufactured by the same company; however, they clearly use differing formulas, based on our findings below.
We decided to give both brands a try before picking the best one to paint a loft at my friend's townhome over this past weekend. At our local Home Depot, Glidden costs $19.95 / gallon, while Martha Stewart commands $4.00 more for $23.95 / gallon. So, based on price alone, we're expecting the performance of Martha Stewart Living to be about 20% better than Glidden. Ralph Lauren used to retail for around $28.00, so both brands are less expensive than our old favorite.
Performance Comparison
Before committing to either, we bought a quart of each and tested both on sample areas of the walls. We used the same paint brushes and rollers on both paints to get the best comparison of quality. Here's the pics: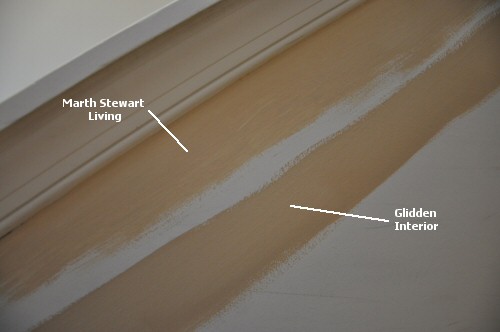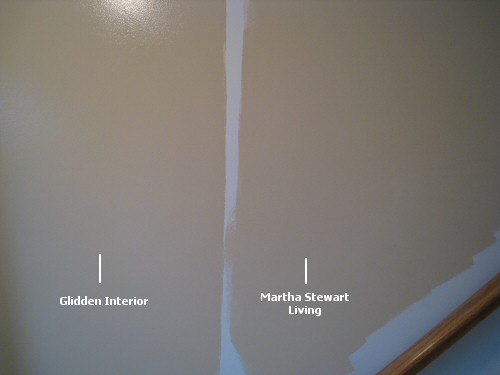 If you look closely at the brush pic, you'll notice that the coverage of the Martha Stewart Living isn't nearly as good as the Glidden. Martha's brand shows white streaks through the tan, while Glidden puts on a relatively even coat.
The difference is less obvious with rollers, and we had trouble getting a picture that could really show you the fine detail of the paint. But, in this case too, Martha's paint didn't do as well covering as the Glidden. When we examined the wall closely, we could see tiny white spots on the Martha Stewart side while the Glidden maintained a very uniform look.
Our little non-scientific experiment led us to choose Glidden for the job. We purchased five gallons of Glidden Interior and were successful in painting the room. We still cut in twice in most places, but rolled the walls only once. The project turned out great. More pictures from the whole job are coming in a future article.
[See also: Valspar, Kilz, and Behr Primer Review]
All in all, though, we still miss Ralph Lauren. And the collective judgment of everyone with us–all of whom were previously sold on RL as the best paint for the price–didn't think Glidden was as impressive as RL. But, it could just be our bias; we've never done a side-by-side comparison.