From articles like this Valspar, Duron, Behr, and Ralph Lauren Comparison, we've learned that many people have very strong opinions about paint and primer. Some folks boast years of great results while others express their total disappointment with the same product! So how do you make an informed decision? How can you differentiate between brand loyalty and user error? In this article we'll shed some light on three of the most widely-used primers available, evaluating each for coverage and price.
The Test
We devised a simple test to evaluate the hiding ability of Behr, Kilz and Valspar primer by brushing a generous amount over a dark purple wall. Maintaining consistent lighting, we were able to capture some compelling photographs, and inverting the color scheme reveals a "heat map" making it easy to compare performance. Read on and decide for yourself which primer provided the best coverage.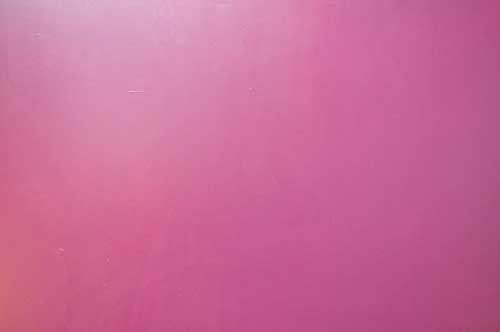 Editors note: This post originally ran in June, 2008. Since that time we've received lots of comments, feedback and suggestions. In an effort to continue providing accurate information, we've purchased new primer samples to retest. We've also added a lot of pictures so you can see the results for yourself. Many of the comments may no longer be applicable after this update, but we've preserved them to incorporate reader insights.
Valspar Interior Primer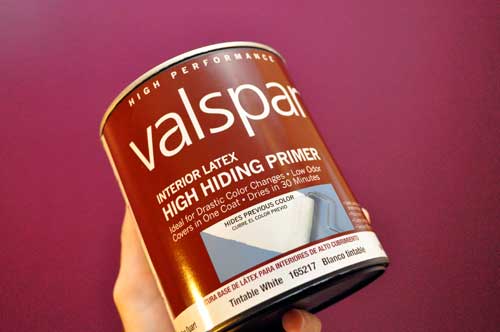 We tested Valspar (Lowe's brand) interior latex primer, which is a suitable base for oil or latex paints. It's marketed as one-coat coverage and is "ideal for drastic color changes." We were pleasantly surprised to learn that the price for a gallon of primer has not increased in the last three years.
Price: $7.48 (quart), $17.98 (gallon) – a quart of this primer is the least expensive of those we tested.
Notes: Fair coverage; requires multiple coats to completely hide previous color; if you can apply two coats with 1 quart, this is the most cost effective primer.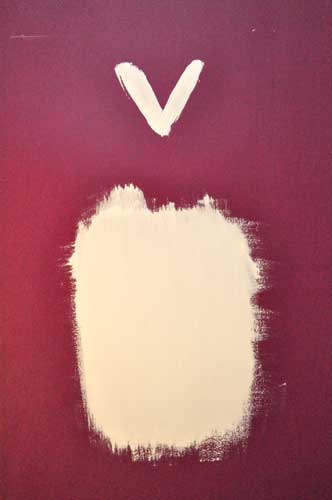 Behr Premium Plus Primer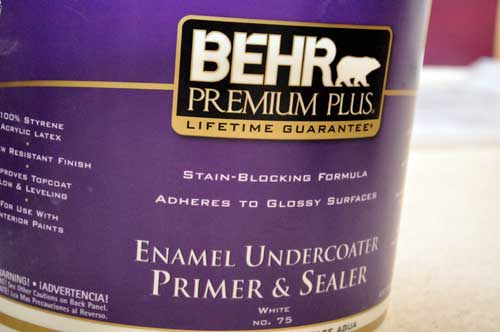 Home Depot produces Behr Premium Plus primer, which is available nationwide at retail locations. Premium Plus primer is marketed for its ability to adhere to glossy surfaces and hide heavy stains. It's important to note that nowhere in the product description or specifications does Home Depot state anything about one-coat coverage.
Price: $8.98 (quart), $18.96 (gallon)- Behr was the most expensive brand of primer we tested (quart and gallon).
Notes: For the extra cost, you'd expect superior coverage, but Behr primer performed very similarly to Valspar. We also found that globs of the primer would adhere to each other making it very difficult to achieve a smooth application.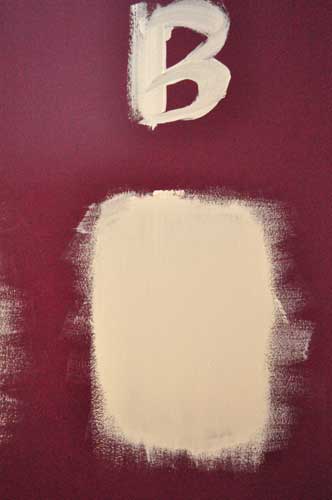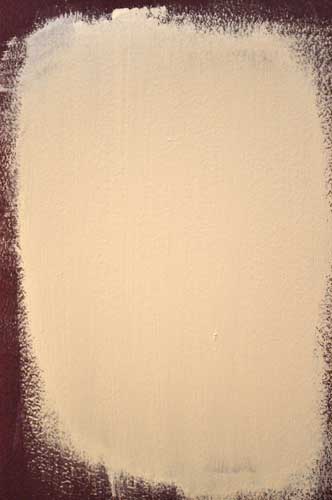 Kilz Original Primer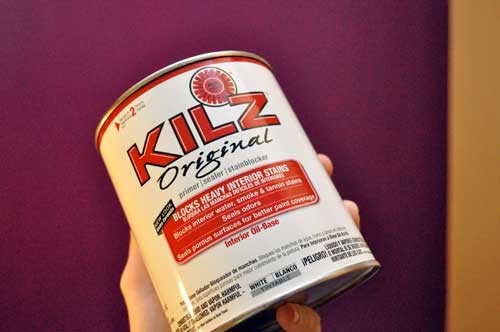 Kilz oil-based primer features a newly styled look with the same great formula. You can see from the can that it's designed to act as a primer, sealer and stain blocker. Oil-based products typically go on very smoothly but take longer to dry and have much stronger odor. Both of these are true of Kilz Original. Currently, Kilz is available at Home Depot and Lowe's so you shouldn't have a problem with availability.
Price: $7.98 (quart), $15.96 (gallon)- almost the cheapest option for a quart; cheapest gallon by over $2.00!
Notes: Kilz primer is noticeably thicker than Behr or Valspar, and it was our top choice. With only a small amount of color showing through, Kilz primer is the closest to providing one-coat coverage. Although it does not affect performance, you'll notice that this primer appears more off-white than competitors products. Superior coverage combined with a cheaper price make Kilz the obvious winner.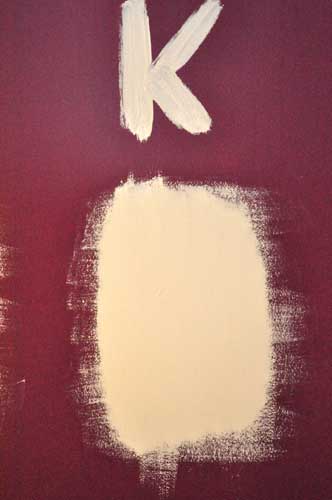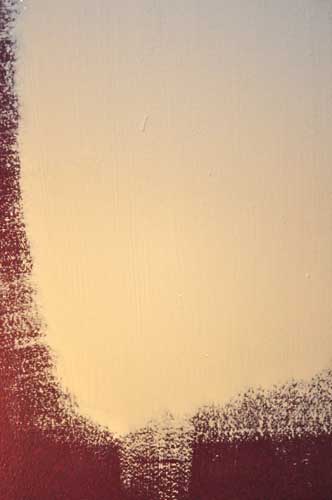 Inverted Color Scheme
Comparing performance can be difficult with simple images, and we don't want you to simply take our word for it. By inverting the color scheme, you can better differentiate between each sample and see which primer provided the thickest, most uniform coverage. It's also important to know that the darker the inverted image, the brighter the sample meaning less of the previous color is showing through.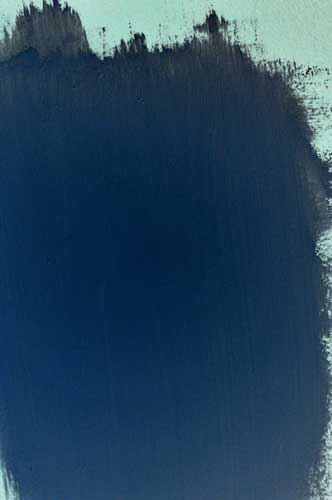 Valspar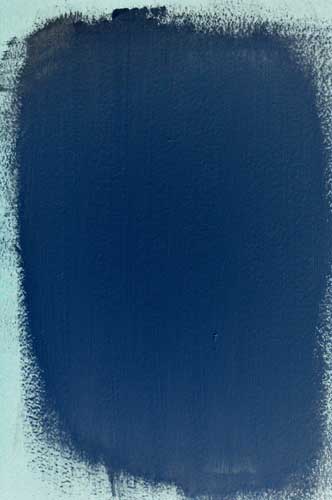 Behr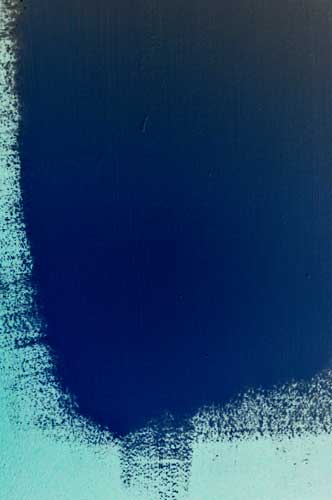 Kilz
Get Ready
Now that you've seen how each primer compares, read our article comparing four of the top brands of paint available, and check out our painting supplies checklist to make sure you have everything to get the job done right.
Recycle and Paint Disposal
Just about everyone has leftover paint they'd like to get rid of, but it's important to dispose of paint properly. Did you know that paint can even be recycled into new paint or a completely different product? Check out this great post detailing different solutions to disposing of old paint.
Note: Valspar products are available at Lowes and if this is your prefered brand of paint and/or primer, you should grab our Lowe's Coupon before making the purchase. It's always nice to save money and that coupon is good for 10% off any in-store purchase. Happy painting!