This post on my kitchen makeover originally ran on One Project Closer in April 2013 but I wanted to share it with those who are new to us! Thank you for reading and I'm so happy to have you all!
"Before" Kitchen
In June 2012, I began the makeover of my kitchen….yes, it took me 9 months. It wasn't that big of a makeover, but I got a bit distracted and anxious to start new projects. The kitchen makeover started because, while I have a 7 year old kitchen, the design and feel was darker and more formal than my style has become. I was hoping to transform the kitchen into something bright and trendy.
That being said, I did NOT want to paint the cabinets, even though that is the style. I know, painted cabinets are beautiful and can really open up a small kitchen like mine. You see, the problem is that its hard to restore wood back to a wood finish once painted (without even more work). So I don't want to paint my nearly new cabinets just to have dark cabinets come back into style.
But the cabinets are so dark and take up so much of the kitchen, it is a real design challenge to brighten up the kitchen without painting the cabinets.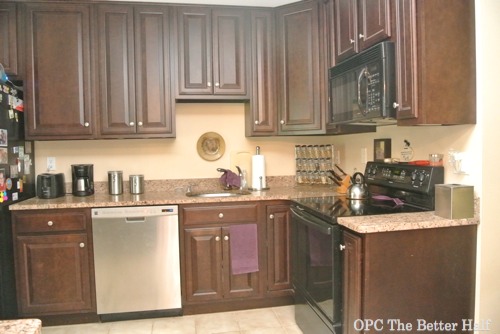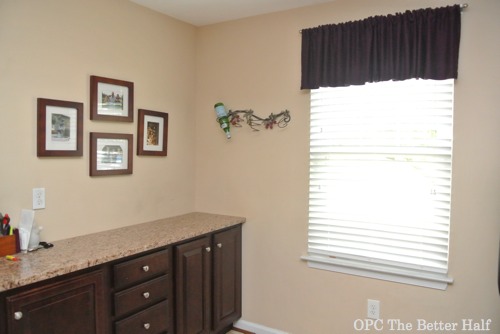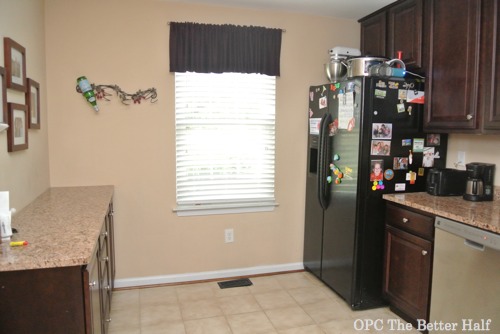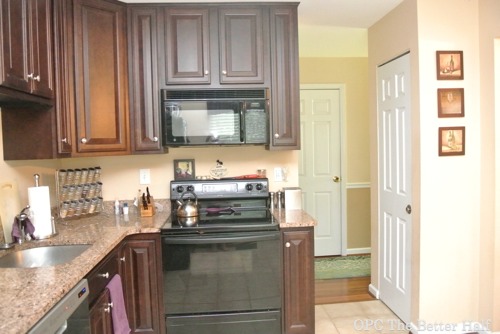 "After" Kitchen
You have most likely seen bits and pieces of the kitchen in the past 9 months as I have slowly worked on different elements, But now, here they all are in one fabulous place!
I started by painting chevrons in the backsplash, and shared with you my easy chevron tutorial. Some readers at the time asked how the chevrons hold up to scrubbing, since backsplash sees a lot of action. Surprisingly, it has been fabulous! It scrubs really well, and what I can't get off with an easy washcloth wiping, I use my magic eraser. It honestly looks like new!
Next up, I made a no-sew valence for the window. Well, if I'm being honest, I made two! lol. The first one, while beautifully constructed, ended up not being the right look I was going for.
Then, I made a pallet sign for over the sink that says, "I Kiss Better Than I Cook." I realize that makes me sound a bit easy and cocky, but I promise, Ethan is the only guy I'm kissing! Or maybe it just means I'm a bad cook. Lol.
Be sure to check out my video tutorial and deconstructing pallets and making pallet signs.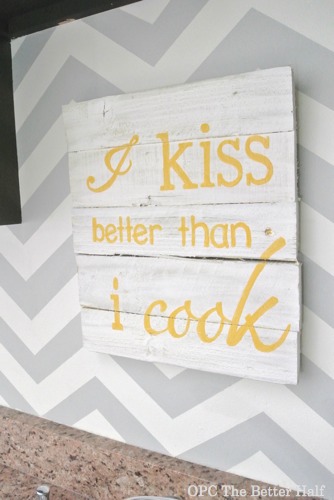 Then, probably the most fabulous element of the kitchen is a collaboration with Ethan – a custom spice rack! He built it and I painted the outside white and the insides yellow with scrapbook paper backing. I also bought bunches of containers and spice jars from Ikea to fill it. While its pretty in the pictures, it is even more fabulous in real life!
Oh, and I added a quick free-hand painted pallet above…because why not?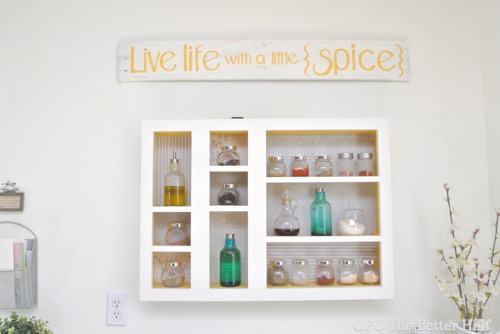 Next, I revamped a chalkboard from IKEA that I found at a yard sale for $1 and freshened it up with some paint and fabric flowers. I also ModPodged scrapbook paper to wooden letters to place above the chalkboard.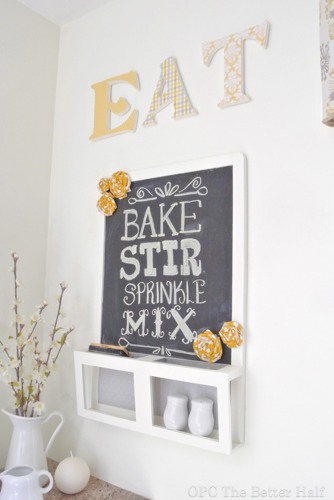 Finally, I painted my pantry door yellow! It is FABULOUS! My sister isn't a big fan, but I love it. It adds a pop of color without being over the top.
Oh, I found this cute birdcage photo display at Michael's for 50% off.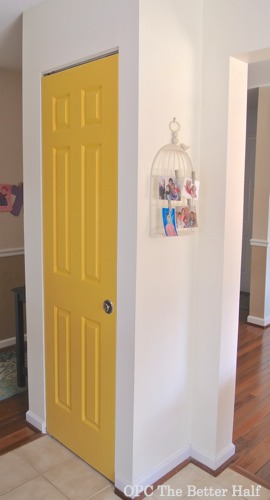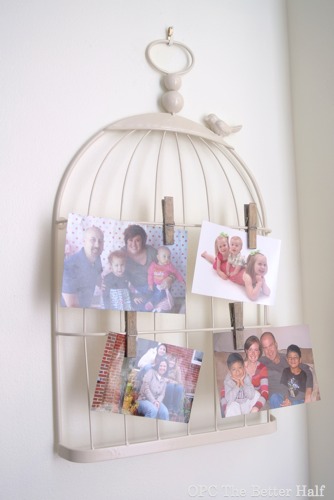 I also painted the inside of the door so we could enjoy the pop of color even when its open. Do you recognize Izzie with her straight hair? (she begged and begged for me to straighten it)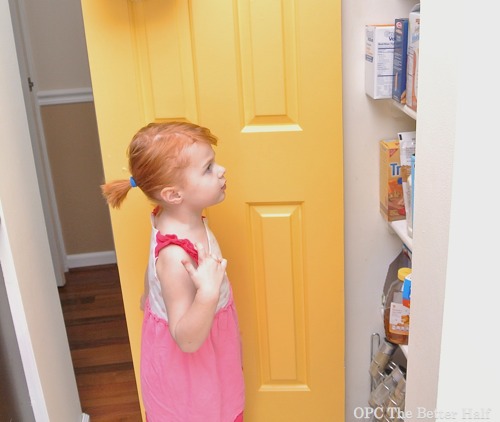 And of course, my boxed wine holder sits proudly on the counter! Pay no attention to the fact there is no boxed wine in it. Hahaha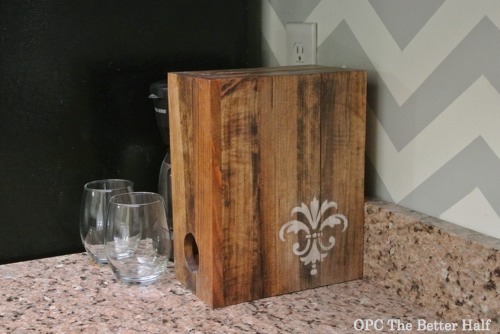 And here is the whole kitchen! Ta-Da!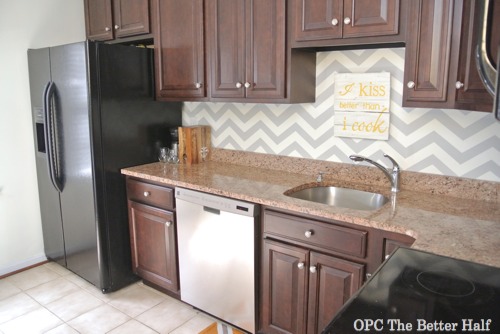 I also bought a rug from HomeGoods to go in front of the sink. In the pictures, it looks a little dark and bold in comparison to the rest of the room but in real life, it looks cute! 🙂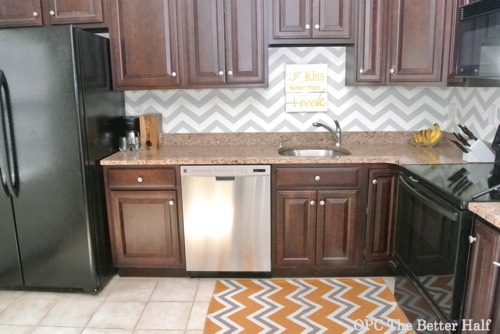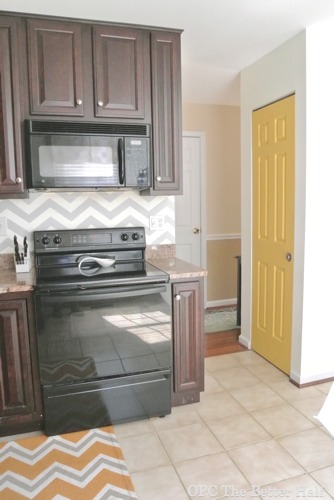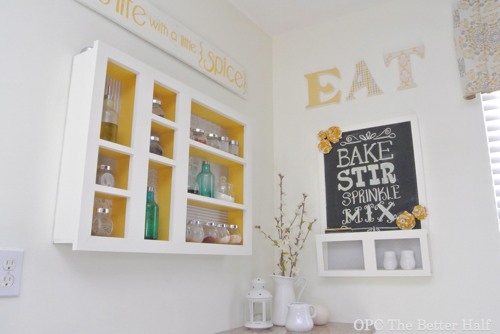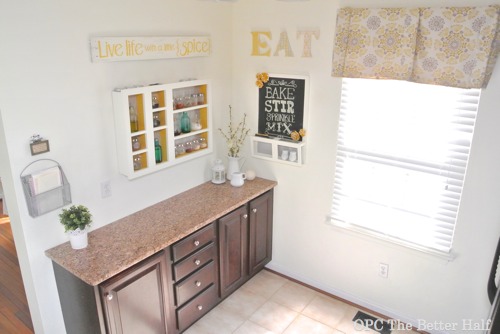 Need More Kitchen Inspiration?
Haven't got enough kitchen from my house? Well, I have been hanging out over on Hometalk getting some inspiration of my own! Feel free to check out my kitchen clipboard and see what I love in a kitchen.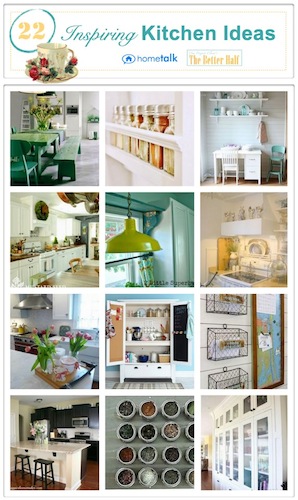 If you haven't heard, Hometalk is a home & garden community where DIYers and pros share ideas, inspiration, and advice for their homes. You can browse through anything from DIY cleaners and repurposed pallets to successful gardening secrets and beautiful remodels from the pros. It's a really cool way to get great home ideas and connect with other DIYers!
What do you think? Any great ideas for brightening up a kitchen without painting the dark cabinets?
Thanks so much for reading along and sharing in my excitement over my new kitchen makeover!