In July of this year, I attended the 2011 Milwaukee Tools Symposium. There were a couple topics like some sweet new hand tools that we couldn't discuss until Milwaukee gave us the go-ahead. A new Fluorescent Light Tester was one such product. It may not sound very interesting, but I think it was one of the coolest "new to world" offerings they showed us.
Imagine you're the facilities manager for a medium-sized commercial or industrial building. Do you have any idea how many fluorescent light bulbs fall under your purview? We both know it's a lot! Now imagine the amount of time spent checking and replacing defective bulbs and components. That time adds up, and before long your understaffed crew has no time for anything else. The Milwaukee bulb tester is a small investment that will save a ton of time (and every maintenance crew should have one).
Editors note: I just learned that you can expect the Milwaukee Fluorescent Light Tester to hit stores in February 2012 and it will retail for approximately $199.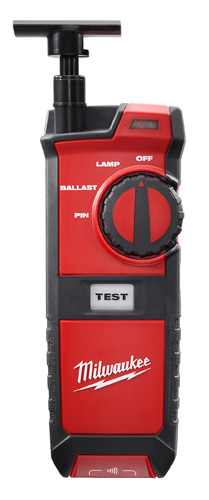 How Fluorescent Lights Work
Before we dive into details about the fluorescent bulb tester, I think it's important to give a quick overview of how fluorescent bulbs work and the common problems that go along with them.
Fluorescent bulbs have two pins on either end that connect to the socket and make the electrical connection. When flip the light switch, an electrode excites the gas within the tube creating light (skipping over the Mercury and Phosphorus coating). Meanwhile, the current is regulated with a mechanism called a ballast. The three most common problems for fluorescent light involve bad pins, ballasts or a defective lamp. The Milwaukee bulb tester lets you check all three so that you're not just taking a shot in the dark (yes that was a horrible pun).
New Milwaukee Fluorescent Bulb Tester
I got to try out the tester at the symposium, and it made diagnosing a failed fluorescent bulb so fast. To test the lamp, extend the 2.5′ wand and press it against the tube. If the lamp is good, it'll alternate on and off. To check the ballasts, put the wand near each end and listen for the tone / light. Verifying the pins is the only diagnostic that actually requires you to remove the bulb, and to do it you insert the pins into the base of the bulb tester. Not only can you determine why a bulb won't function, you can also ensure that new bulbs work before installing.
I like the Milwaukee Fluorescent Bulb tester because it's efficient and dead-simple to use. The price hasn't been released yet, and I'm not sure when you can expect it in stores. Here's a copy of the press release:
10-22-11
MILWAUKEE, WI – Milwaukee Electric Tool Corporation continues to expand their Test and Measurement line with the introduction of a new-to-world product for testing/troubleshooting fluorescent lighting. With the ability to test fluorescent gas, check pin connections and test ballasts, the Milwaukee® Fluorescent Lighting Tester will allow professional Electricians and Building Maintenance Technicians to troubleshoot an entire building in half the time.

"There are 1 million electricians and 1.6 million maintenance technicians across the US alone, and Lighting is the #1 or #2 application for both of these groups," says Jon Morrow, Director of Marketing, Test and Measurement for Milwaukee Electric Tool Corporation. "Fluorescent lights make up the vast majority of the lighting used in commercial and industrial locations, but no complete tester exists in the market. Without a complete solution, professionals have adopted a replace and hope strategy…change the lamp or ballast and hope that fixes the problem. With the new Fluorescent Lighting Tester, professionals can troubleshoot with confidence."

Complete with a 2-1/2 foot, fully retractable antenna, users can easily reach all lighting fixtures. And since they will only change the lamps and ballasts that need replacing, users will save invaluable time and money by adding this easy-to-use tool to their arsenal.

Additional features include a removable antenna adaptor to increase "flicker" response, audible and visual indicators for easy readings, a built in LED work light to illuminate dark work spaces, and a rugged over-mold grip for increased durability.

With the introduction of these new products and plans to grow the Test and Measurement line in the future, MILWAUKEE® remains unwavering in their commitment to the trades, and will continue to offer innovative solutions in safety, performance and productivity.

Specifications:
2210-20 Fluorescent Lighting Tester
• Test all T5, T8, T12 fluorescent lamps
• Optimized for T8 electronic ballasts
• Check pin connections on all T5, T8, T12 lamps

Includes 2210-20 Fluorescent Lighting Tester, Adapter, 4 AA Batteries, Manual and Carrying Case.