One thing I really love about our Pro-Follows is that no two jobs are completely the same, and I'm constantly picking up new tips, tricks, insights and code requirements. Today we're kicking off another basement remodel Pro-Follow, and this one has some distinct differences from the other basement projects we've covered. Let me give you a brief introduction to the basement and share some of the work that has already taken place.
We're back with Joe Bianco, general contractor and president of SDG Home Solutions. If you remember, Joe just finished up a terrific bathroom remodel. Now he's been contracted to remodel an unfinished basement including a full bathroom, wet bar, custom bookshelves and more.
You can see the framers have been through and framed out the basement walls and bulkheads. If you'd like to learn more about the framing process, check out this other basement remodel where I cover the framing in detail.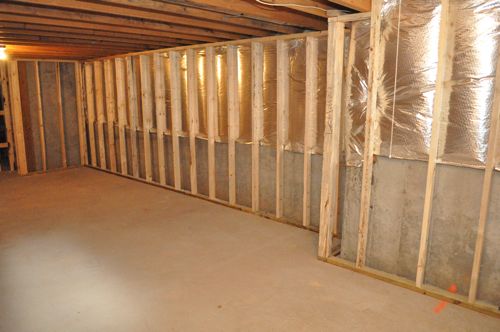 The basement measures approximately 30′ x 28′, and the indoor evaporator coil is located in the center.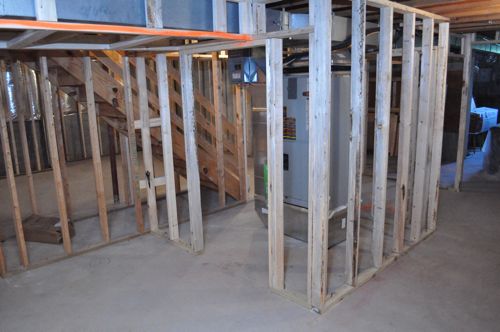 Behind the coil and adjacent to the stairs is the tentative location for the custom bookshelves that Joe will (probably) built from scratch.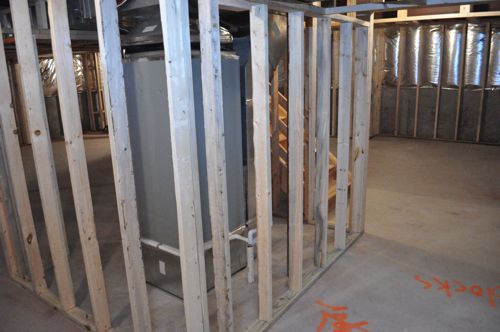 The bathroom will include a 4′ shower. The drains for the shower and the toilet will need to be moved, and a closet has been planned to conceal the sewer check valve.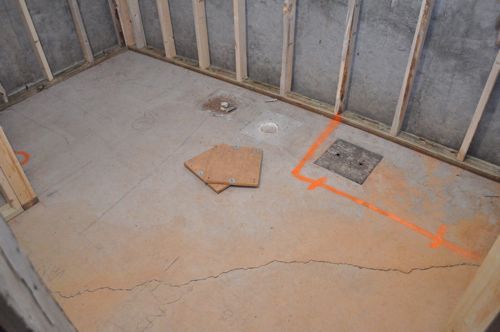 The basement slab is in really good condition except in the bathroom. In the pictures you can see a crack, and the floor sits proud along the exterior wall.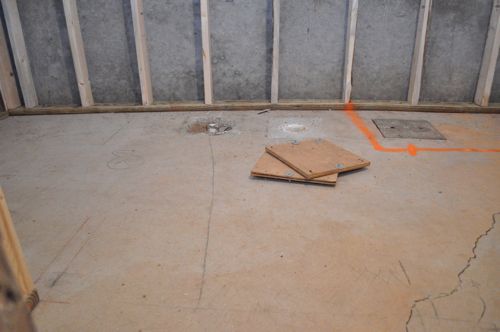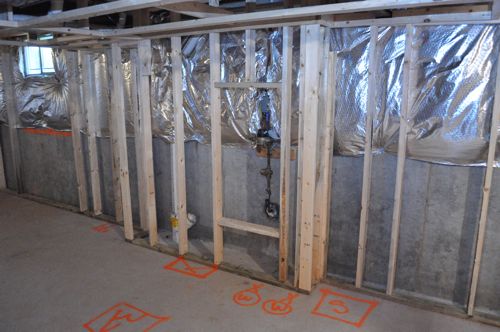 Pro-Tip: The International Residential Code (IRC) section R310.1 requires all basements to include a means of egress. Joe and his crew will be expanding this window to provide that egress.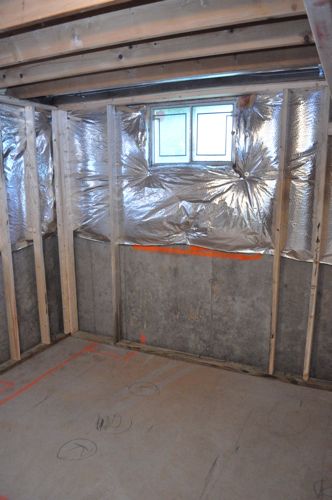 Electrical Walk-Through and Rough-In
Joe has brought in Russel from ETC Electric for this remodel, and Russel started by doing a walk-through with the homeowners. He marked the locations for outlets, switches, lights, cable and smoke detectors.
Pro-Tip: IRC code 313.2 requires interconnected smoke detectors in each sleeping room, outside each separate sleeping area and on each additional story. Even though this project is taking place in the basement, Russel will need to install additional smoke detectors in the bedrooms to meet requirements.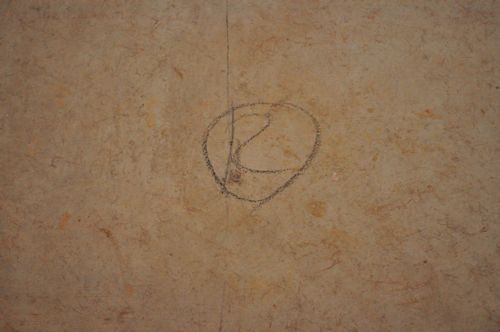 Pro-Talk: This is the symbol for an outlet and usually indicates 120v outlet.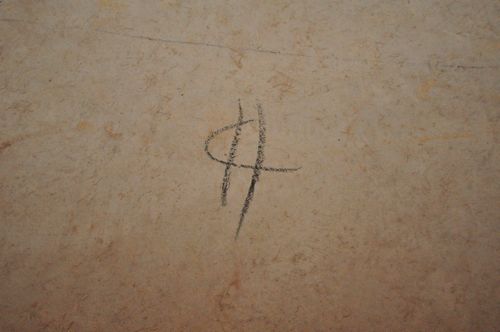 After the walk-through, Russel nailed boxes, drilled holes, ran Romex, and installed recessed lights. I'm not going to cover these aspects in detail, and if you're interested in learning more, I suggest you check out this other basement remodel that Russel also wired.
Pro-Tip: Code requires that outlets be spaced at least every 12 feet on a continuous section of wall, and Ground Fault Interrupters (GFI)-protected outlets must be used in all unfinished spaces, as well as bathrooms and around the wet bar.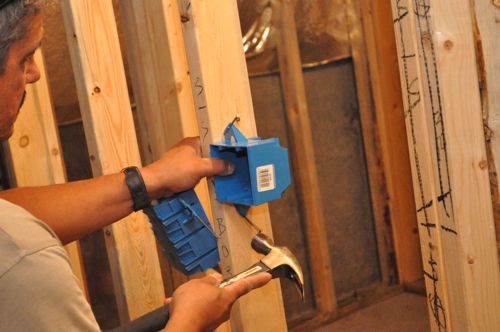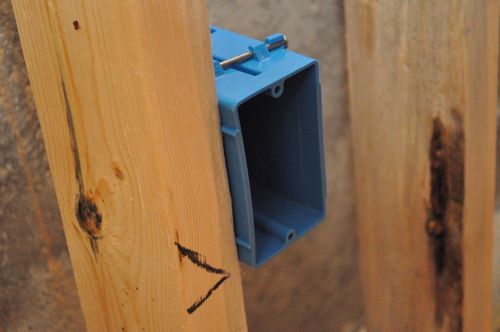 Russel used "fish sticks" to run wire up to an existing switch to pull another wire.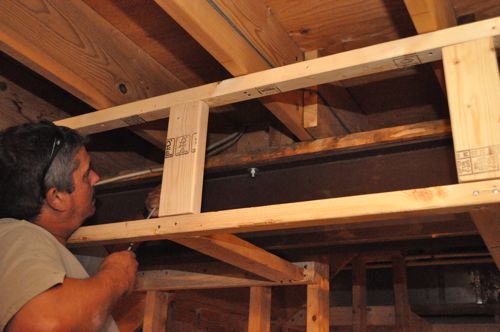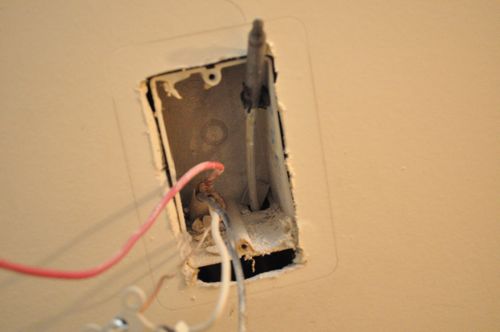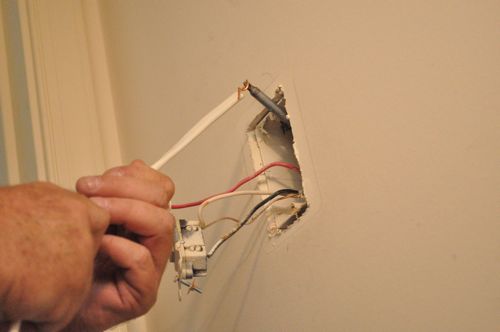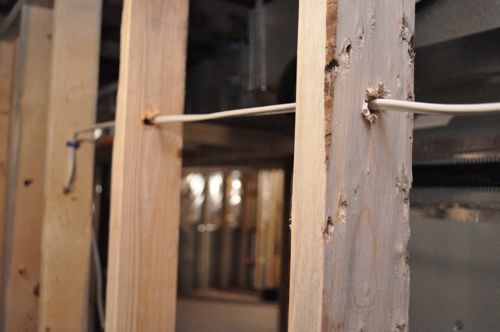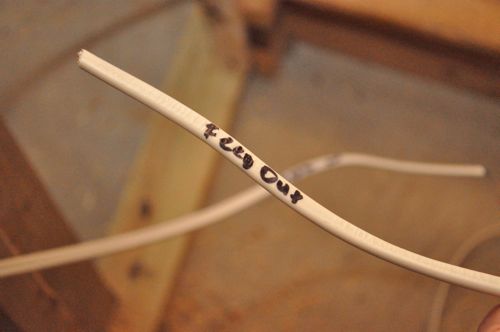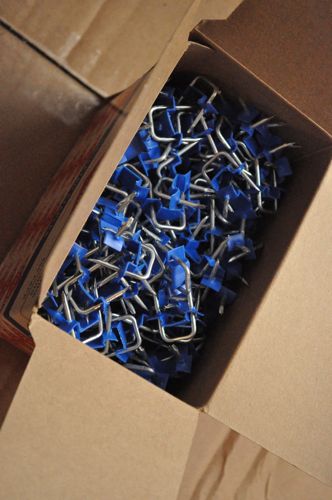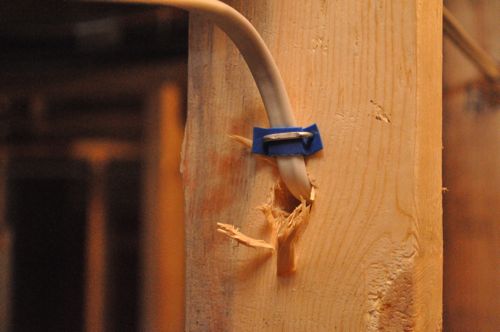 Russel tries to avoid using any existing wiring because it's often slightly different than what is used today. For instance, in this basement the lights were wired with 14/2 THN wire and Russel is using THHN wire.
Pro-Talk: The "H" (or lack thereof) in TN, THN or THHN wire refers to the insulation temperature rating, and each 'H' represent 15°C increase over 60°C. TN means wire is insulated to 60°C. THN means wire insulation rated for 75°C, and THHN means wire insulation rated for 90°C.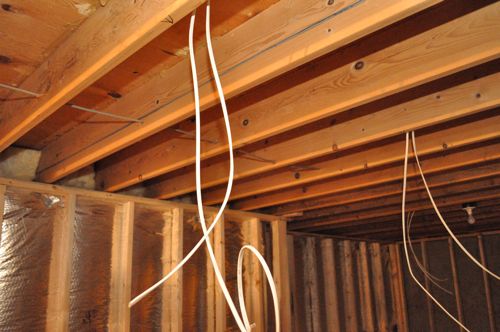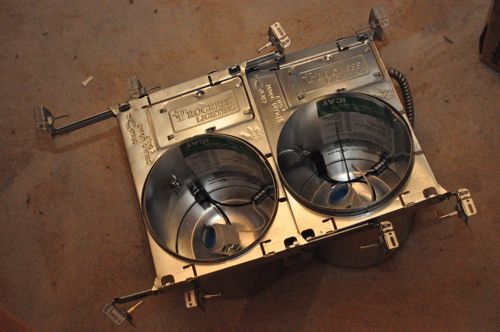 The HVAC unit and water heater are not located in direct sight of the circuit breaker panel, and for that reason both need a service disconnect. The HVAC unit already has a disconnect in place. Russel will need to install one for the water heater, and I plan to be there for that process.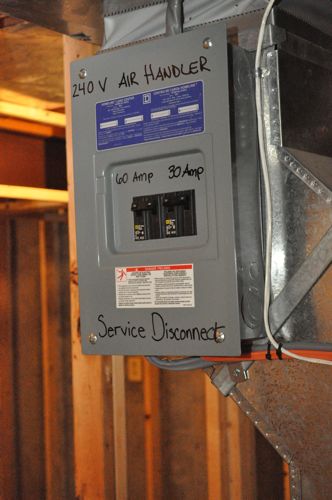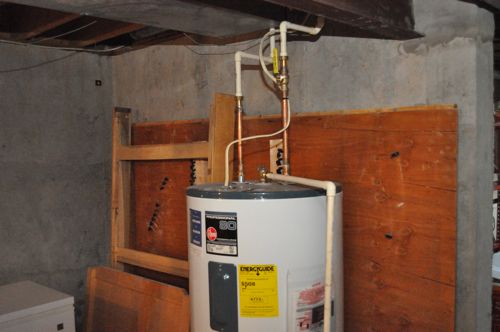 The egress window should be going in later this week so look for another Pro-Follow update soon!