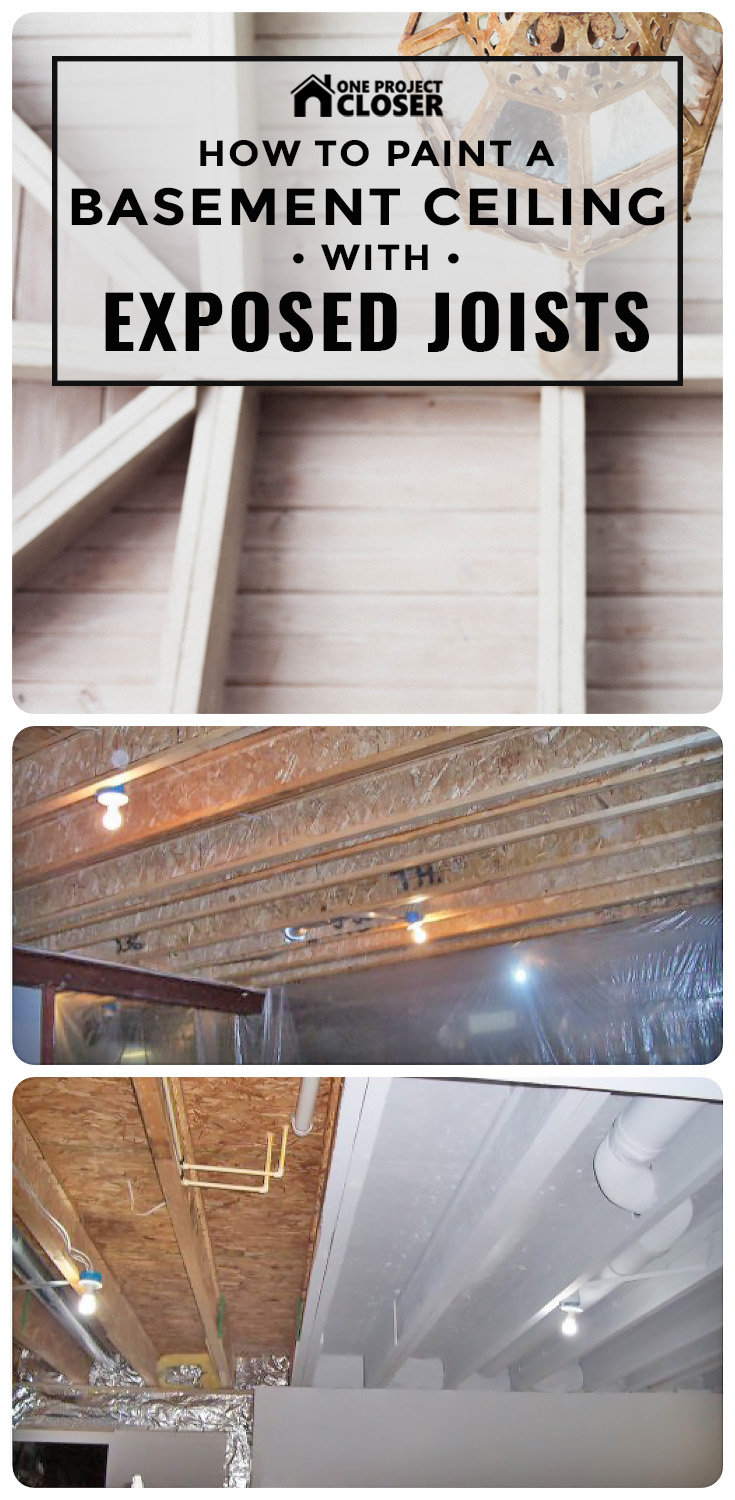 This guest post on How to Paint a Basement Ceiling with Exposed Joists comes from a reader and friend of One Project Closer, Chuck Williams. Chuck is an amateur carpenter and DIY weekend warrior.
During my efforts to upgrade my unfinished basement, I wanted an alternative to the typical acoustic tile drop ceiling or drywall ceiling. Fred told me of his tentative plans to paint his open basement ceiling dark brown. After some research, I decided to go with a light color to keep a more open feeling. Airless spraying seemed the only viable option to achieve this, and Fred offered me the use of his Wagner Airless Sprayer. Here's a picture of the ceiling before the job.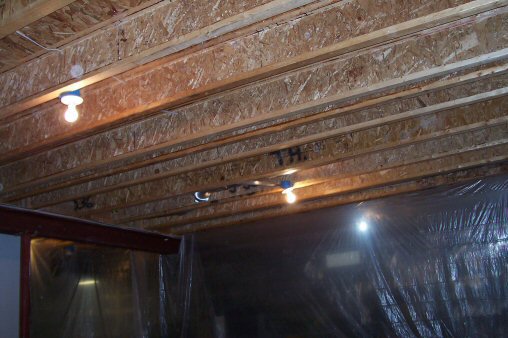 ADVERTISEMENT
My plans were to spray a primer, followed by a flat, off-white paint. I had some Killz 2 primer left over from a previous project, so I decided to get more of the same for this one. I'm sure any primer/sealer for bare wood would work.
I was hoping that 2½ gallons would cover the area, but the open beams and bare wood took almost seven gallons to cover with a light second coat. Five gallons of flat latex paint was enough for a first and second coat over the primer. Overall, I'm very pleased with the results. My wife will use this as her craft workshop for stamping, and with a some more finish work, it should work very well for that. Here's what the ceiling looked like after the job.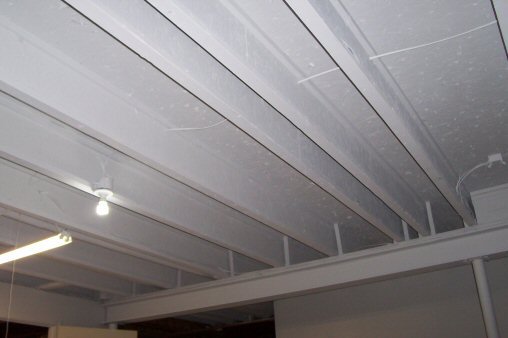 [See also: Valspar, Behr and Kilz Primer Comparison]
How-To, Tips, and Lessons Learned for Spraying the Ceiling
1. Isolate your work area with drop cloths on the floor and hanging plastic sheets covering the walls / other areas. Paint sprayers produce some overspray, and you'll want to protect all the surrounding areas from paint dust. Cheap .3 mil plastic sheeting from Walmart works great and is only $1.39 for a 9′ x 12′ sheet.
2. Use an airless sprayer. Attempting this job with canned spray paint or a traditional brush and roller will not yield good results. The airless sprayer I used is particularly nice because the hopper is on the ground with a long, pressurized hose leading to a lightweight nozzle. (Some airless sprayers hold the paint in the nozzle area).
2. Set up fans for ventilation so that air from the area you are painting is pulled outside. No matter how well you isolate your work area you will get some overspray, but this should help minimize it.
3. Cover the outside of the paint sprayer, hose, and spray handle with spray silicone to make clean up easier. Cleaning up the painter sprayer was very tedious. After cleaning it up from the primer I decided to put a light coating of spray silicon on the body of painter and spray handle. The silicon prevented the paint from sticking and made cleanup the second time much easier.
4. If the ceiling is a bare wood ceiling, it will require a lot of extra primer/paint. I needed 7½ gallons of primer and 5 gallons of paint on an area 20 X 25 ft area. (Remember, with joists the surface area is more than two times that of a flat ceiling).
[See also: Valspar, Duron, and Behr Paint Coverage Review]
Additional Painted I-Beam Joist Pictures
Here's some additional before pics of the unpainted joists and steel i-beam: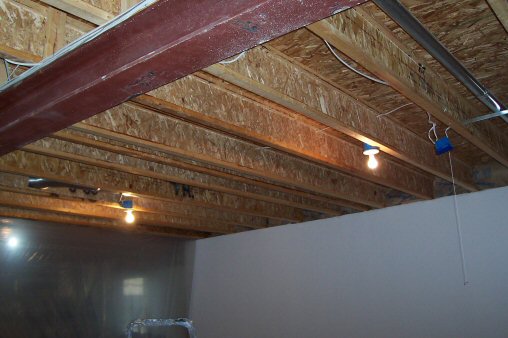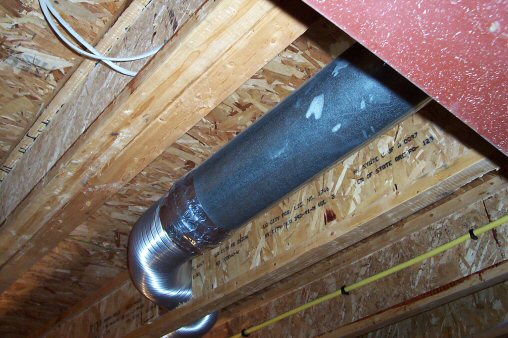 The following pictures shows the hanging plastic sheeting from the ceiling, essential to keeping the overspray from floating into other areas: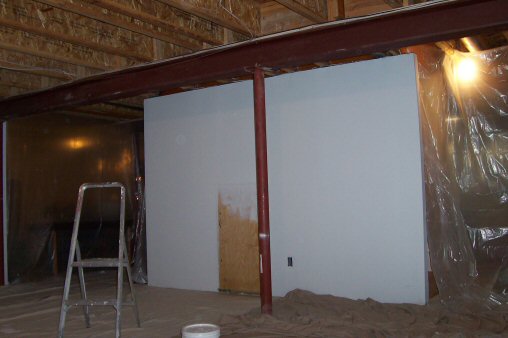 And finally, here's some additional finished shots, and one showing a side-by-side comparison of the before and after shots: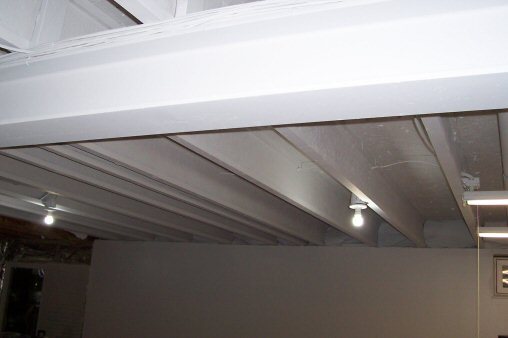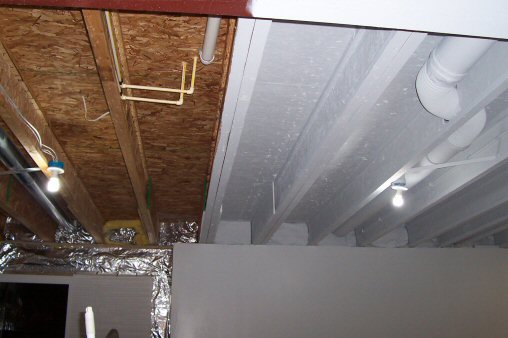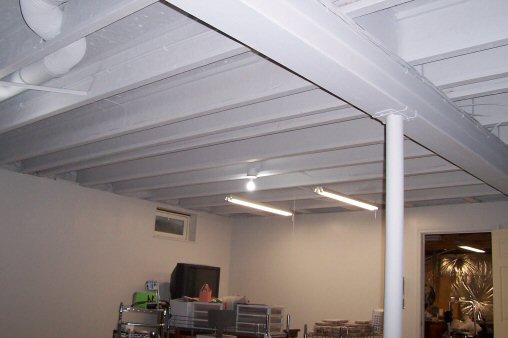 Overall, I'm pleased with how bright the basement is, and I like the industrial look! I'm happy to answer questions in the comments section below.
ADVERTISEMENT