Over the past year we've become fans of Home Depot's Ridgid brand, primarily for handheld power tools (under the "Fuego" brand), and especially for cordless drill drivers.
Home Depot licenses the Ridgid and Ryobi brands to several manufacturers for development. The lion's share of portable handheld tools from both brands are developed by a company called TTI, with the division responsible for Ryobi/Ridgid headquartered in North Carolina. TTI also owns Milwaukee (purchased seven years ago), with the division that runs Milwaukee still based in Milwaukee, WI. The two divisions (Ryobi/Ridgid and Milwaukee) share design information (e.g. Li-Ion battery technology, some parts designs), but operate independently. TTI targets each of its brands to a different market segment. So far as we can size them up:
Ryobi – DIYers, homeowners, and "value-oriented contractors."
Ridgid – "Prosumers", more experienced users, builders, contractors, and tradesmen.
Milwaukee – Contractors, tradesmen, and industrial users.
Ridgid recently shipped us two of their newest offerings in the very crowded, very competitive drill-driver segment. After trying both tools, we are definitely impressed with what Ridgid has cooked up.  The first is a Fuego 18V hammer drill that shipped to us with a 3.0 amp-hour battery, for a full 54 watt-hours of power. (Ridgid brands the battery as "Hyper Li-Ion", more on that in a minute.) The second is a new Fuego 18 volt "compact drill-driver" with a 1.5 amp-hour battery, for 27 watt-hours of power. Here's a quick look at both tools (smaller compact on the left; larger hammer drill on the right):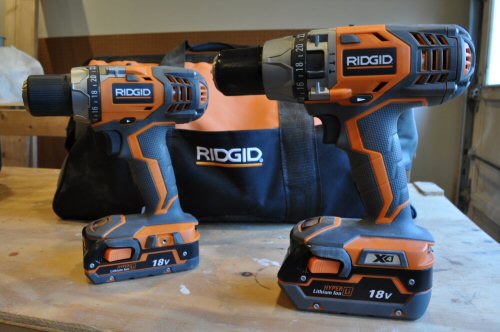 What I really like about Ridgid's step forward with these tools is the new 3.0 amp hour "Hyper Li-Ion" battery pack that shipped with the hammer drill. Most consumers size up portable tools, and especially drill-drivers, based on voltage. Without going on a long diatribe about voltage, suffice it to say that voltage roughly correlates to power. An 18V drill is roughly 50% more powerful than a 12V drill if all other variables are held constant. What a voltage number doesn't tell you is how long the battery will last. That is best measured in amp-hours (Ah), which isn't always listed on the batteries, and certainly not hype-marketed like voltage. A 3.0 amp-hour battery will last 3 times longer than a 1.0 amp-hour battery, all other things being equal.
If you've ever been frustrated by a new 18V drill driver that dies about half way through a project, the problem most likely lies with the low amp-hour rating of the battery. (Now that I've said all that, beware that many other factors are important in battery development, but voltage and amp-hour measurements together are the best "at a glance" measurement you can make for these qualities).
Ridgid's new batteries list watt-hours in the fine print on the top of the battery. Watt-hours are calculated by multiplying voltage times amp-hours, so backing into the amp-hour rating is simple math. We're happy to see the power listed and wish all manufacturers would follow suit.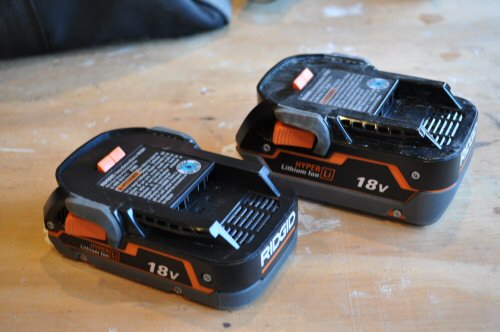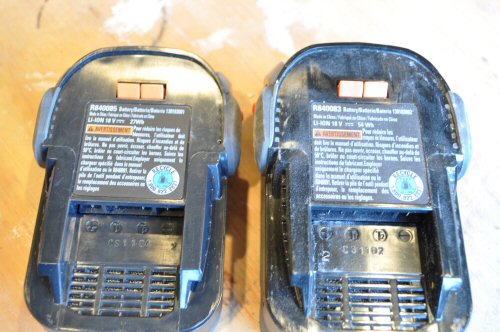 To our knowledge, there are no mainstream 18V offerings that come with more than 3.0 amp-hour batteries (DeWALT, Bosch and Makita all offer 3.0 amp-hour batteries). If you know of a higher-rated mainstream battery pack, let us know.
It's also worth noting that Ridgid/Ryobi has stuck to the same battery footprint for 18V models for many years (I believe more than 6 years, in fact), and you can swap the Li-Ion batteries onto older 18V NiCD tools to get more life out of that old tool.  You can also interchange Ridgid and Ryobi 18V batteries. Kudos to Ridgid for sticking with the form factor for so long.
Features Review
We like just about everything Ridgid has baked into these new drills. Each has excellent weight and balance. While the hammer drill is notably heavier than its compact counterpart, especially when attached to the 3 amp-hour battery, part of that difference is due to the fact that the 18V compact is light enough that it competes with earlier-generation 12-volt models. (Most of the newer 18V models do too, so that's not a big differentiator).
At just 7.25 inches long, the compact is the shortest of three competing 18V standard/compact models we have on hand (Kobalt, Ridgid, and Porter Cable), beating out PC's latest model by a full 3/4 inches. That means you're less likely to need a right angle drill or right angle impact driver to complement your standard driver if you select a Fuego. (Even so, we still won't be giving up our Craftsman NEXTEC right angle impact driver, which remains numbered among our favorite handheld power tools).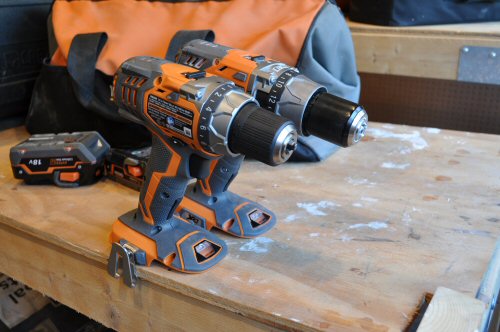 Ridgid's new grip is one of our favorites, as it fit all of our hands comfortably and firmly, and even holds up well under sweat. It compared favorably to all the other driver grips we've got on hand, and quite honestly, all the other ones we can remember trying.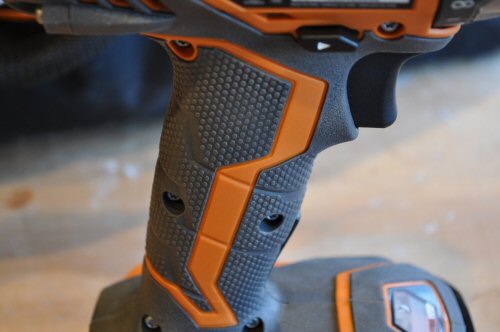 Both the hammer drill and compact models feature these basics, which we've come to expect from just about every manufacturer in this segment:
1/2-in chucks. (We used to see 3/8-in chucks on some models in the early days. I prefer the 1/2-in chucks because they fit even the largest drill bits and mixing paddles).
All-metal drive shafts/components.
Variable torque limit controls to prevent over-driving (22 settings for the compact, 24 for the hammer drill).
Two-speed gear box (one for high-torque, one for high-speed, shown on the high speed setting below).
Variable-speed motor controlled by a smooth trigger. (Worth noting that trigger pull speed is even and "just right")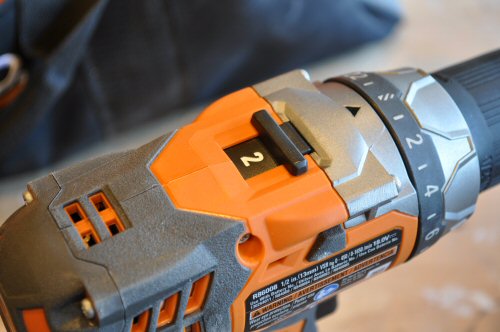 Both models also feature work lighting on the base of the driver that turns on automatically with the trigger and also can be operated by a second button-style trigger near the base. This location for lighting is actually pretty innovative, as all of Ridgid's competitors use lighting just above the trigger on this tool. Ridgid's lighting approach actually provides better lighting to the drill area because the drive shaft does not cast a shadow as you get close to the work area. (See the second picture below for an example).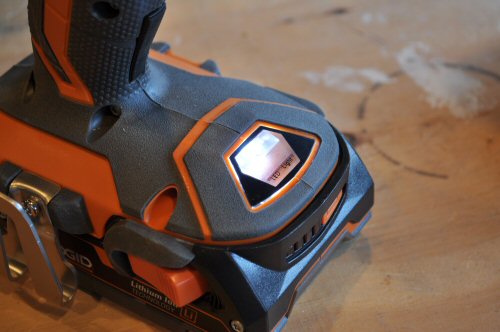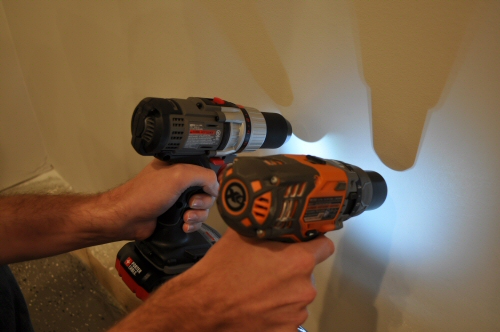 The compact comes standard with a belt clip, a feature we actually wish they would have included with the hammer drill since we could easily see hanging this tool off the side of our tool belt.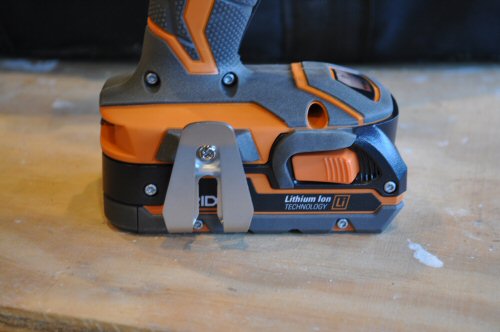 Warranty
While not applicable to our free "demo" models, Ridgid offers the best power tool guarantee we know of–a lifetime repair/replacement guarantee (for defects in workmanship, not covering abuse), so long as you send in the warranty card within 30 days of purchase. I talked to a TTI rep about three months ago and he said he was surprised at how many people didn't send the little warranty card back.
If you've had an experience with Ridgid's lifetime warranty, we'd love to hear about it in the comments, since we can't test the service ourselves.
Initial Performance Impressions
We've been using these drivers on a variety of tasks around the shop. For example, when we hung painted peg board the other day, we used the compact model for all the screws attaching the furring strips to the wall, and then for attaching the pegboard to those strips.  We've also used the compact for typical around-the-house tasks (e.g., quickly changing out a switch the other day.)
We put the hammer drill to a small test, drilling through a block with a standard masonry bit. With the hammer function on, the Ridgid cooked its way through the block (and "cooking" isn't so much of an exaggeration, the drill heated up quite a bit during the task).
So far, both drills have been performing acceptably. We're waiting on the arrival of one more model to put four of these tools through a rigorous test together in a "best of breed comparison" article.  Since we want the test to be fair, we haven't been over-taxing the batteries on any of our drill-drivers, as we want them all "fresh" for the test.
Hopefully we'll get that fourth driver within the next few weeks and be able to run this comparison before the year is out.
Overall Impression & Price
So far, we're very pleased with these two models. We'd like to see how they compare to competing DeWALT models before declaring a victor. What's amazing to us is that we're using the brand name "Ridgid" in the same sentence with "DeWALT", and we're not just pining for the former to be like the latter. That's a big step forward for Ridgid, and we'll be very interested to see how these drivers compete.
If you're looking for a higher-priced Christmas gift for the serious home improver who has everything, we think either of these tools (especially with the 3.0 Ah Hyper Li-Ion battery) would make a great choice, and we're sure we'd be happy to see them under the tree. (And that says a lot… sometimes we receive substandard tools as gifts and are forced to smile and thank the giver, just like mom taught us).
If you're looking for a good reason to treat yourself to these tools over the holidays, just think of all the time you'll save by not needing to swap batteries as often if you pick up the 3.0 amp-hour battery! On second thought, just treat yourself. You don't need an excuse 🙂
Prices:
$279 for the Hammer Drill Driver Kit (Drill + 54 watt-hour "Hyper Li-Ion" battery + charger + case)
$149 for the Compact Drill Driver Kit (Drill + 27 watt-hour Li-Ion battery + charger + case)
Note: You can also buy the bare tool separately, as well as several "kits" that have other cordless 18V tools.
Where to buy: Sold exclusively at Home Depot. Check our Home Depot Coupon page to look for discounts before buying.