Yep, you read the title right. As promised last week, we're officially launching our new Project Rewards program!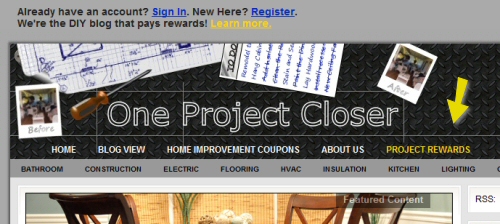 Why a Rewards Program?
We've been running this site for a few years. Over that time, hundreds of companies have reached out to us offering products for giveaways and reviews. In fact, we get so many offers, we just don't have the time to look them all over and write copy-worthy articles. And even if we did have time, sometimes we just don't have a project that can use the particular tool or material they're offering right at the moment.
We've had to turn down dozens of offers because there simply hasn't been an avenue for us to give some exposure to those products on our site. (We really don't like to just run press releases… They're usually a big yawn for the general public).
Enter this crazy idea we had: What if we started a rewards program so that we can share the products with our readers? That would give us a good excuse to tell you about the product, and you could have a chance to win the product for yourself!
The wheels started turning, and we got to thinking we could probably also ask for some extra copies of a product when we're doing a review or giveaway, and throw them into a Rewards Center!  We could also give away some of the duplicate tools we have around after we review them. After all, how many oscillating multi-tools does one blogger need?
It started to sounds like a win-win, or as Michael Scott might say, a win-win-win. And Project Rewards was born… and now it lives right up there in our menu bar.
Getting Started with Project Rewards
In order to participate, you'll need to register for an account on our site. Beware that as part of the registration process, we'll be e-mailing you a password, and because of all the spam protection stuff in email these days, you'll probably have to fish our email out of your junk/spam box, and then add editors@oneprojectcloser.com to your e-mail white list. Once you have an account setup, you can use the edit profile link at the top of the screen to pick a password you like. You can also set your commenting name to something more friendly than Houseblogger92.
Earn Points: Once you've got an account, there are (for now) two ways you can earn Project Points (labeled pp):
Get 2 points for logging in once each day.
Get 5 points for leaving a comment on an article while logged in.
Spend Points: As you accumulate points, you can spend them on auctions in our Rewards Center. There you'll find an ever-rotating set of auctions, which will include at least three $10 gift cards at any given time. Most of the time it'll have 6-8 prizes to choose from, and every now and then, there will be some *really* nice prizes in there (think drill driver, circular saw, or $50 gift card). Some prizes have minimum bids and some don't. So keep your eyes peeled and visit often.
We're also going to announce some specials every now and then where you can spend points on raffles, or donate accumulated points to charity (to support causes like Habitat for Humanity). We haven't worked out all the details on that yet, but we'll let you know as soon as we do.
Keeping Track of Your Points: Once your account is setup and you login for the first time, you'll get a nifty new menu at the top of our site.

And on the other side of the header, you'll see links to check out the Leaderboard (where you can keep an eye on the competition),  and the Rewards Center (where you can bid on stuff) .

Losing Points: No one wants to lose points. The only regular way you can lose points is by leaving spammy, unhelpful comments. If we delete one of your comments because it just doesn't add anything to the conversation, you'll lose 7 points.
Sounds pretty simple right? It is! Just register for an account and get started with the fun!
What to Expect in the Rewards Center
We just closed our first two auctions, each for a HANDy Paint Kit (valued at $40 each). Congrats to users MasterDuke and Chyld who each won a kit for a mere 10 project points each.
Right now, there are three $10 gift cards to popular home improvement centers that are up for grabs. We've also just added two Purdy Professional Paint Brush Kits that were just shipped to us (pic below). Later in the week, we'll be adding five rolls of the DuPont Landscaping Fabric that Ethan used in his impromptu garden project. Visit the Rewards Center anytime to see the contents.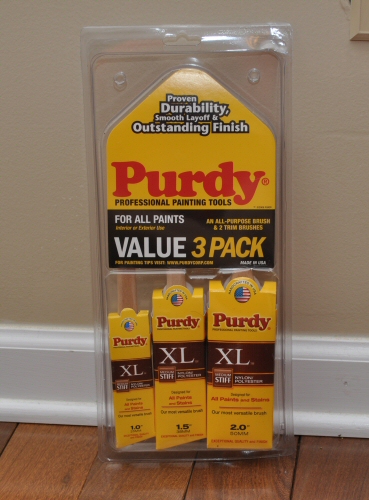 Leave a Comment on This Post and Get 5 Points!
After you've registered for an account, drop a line on this article telling us you joined and you'll get 5 points instantly.
The Not-So-Fine Print
Everything on our site is subject to our Terms and Conditions. We operate this program with integrity; however, for legal purposes, it's worth noting a few things here:
This program is operated at our discretion and can be discontinued at any time.
Project Points (pps) have no cash value.
Project Points can be added or subtracted to users at our discretion.
At any time, before or after winning an auction, we can choose not to honor the results of an auction for any reason.
The programs rules can change at any time, without notice.
Any attempts to manipulate the program will result in a banned account. Remember, we have to ship the goods ourselves for these auctions, so we will be interacting with you personally upon a win.