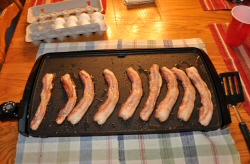 After we installed IPC's inexpensive RTA cabinets and Kichler's under cabinet lighting as part of our first floor remodel, we knew there would be a "short" delay between the departure of our traditional range and the new cooktop/wall oven we'd be installing in the new layout. As with all things DIY, that delay is now longer than planned — about 2 months now, actually. We are waiting on the arrival of a back-ordered wine refrigerator for the center island and enough paychecks to purchase the fancy cooktop and wall oven for the cabinets.
In the meantime, we've been making do with an inexpensive Presto electric skillet from Walmart (and of course, our microwave… and eating out every now and then). It's not quite the same as having a cooktop (you can't use pans on the surface), but it suffices for bacon and eggs, pancakes, hash browns and more.
Really, living without a kitchen is manageable, and this skillet does make things easier. If you're considering a kitchen remodel, this electric skillet can help you get through, too.
Presto Electric Skillet Review
Highs: Portable; runs on a standard 15-amp circuit; plastic-surround that remains cool to the touch while operating; 400 degree max heat; non-stick surface; relatively easy clean-up (+ dishwasher safe); grease catcher tray; cheap price.
Lows: No safety auto-off timer; not perfectly even heating; another appliance to store.
Verdict: Perfect solution for the kitchen-in-progress at a price that won't even register on your remodeling budget.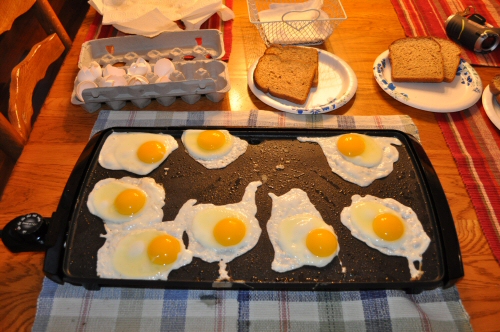 Performance Review
Overall, the Presto skillet is a cinch to use. It has just two components, the skillet itself and an electric thermostat and power supply that allows for selecting discrete temperatures between "warm" and 400 degrees F.
Cooking: We measured the skillet's temperature accuracy using our Ryobi infrared thermometer. At a setting of 350, the skillet read in the range of 330 to 370 depending on where exactly we pointed the thermometer. This was with food cooking on top, and noticeably, if you pointed the thermometer at oil on the surface, it read near exactly 350.  Heat-up time is reasonable for a 120v power supply on a 15 amp circuit. It takes about 4 minutes for the surface to reach 350. We did blow the breaker a few times when we ran the microwave and the skillet on the same circuit by accident – something to be careful of in the future.
Cleanup: Cleanup is straightforward. Soap and water do the trick in a sink, or you can throw it in the dishwasher. Either way you need to disconnect the power supply. The non-stick surface comes clean very easily, and even the plastic surround cleans up easily.