Skil recently released their new line of cordless, 18V Li-Ion-powered tools.  Over the last two weeks, we reviewed their new drill/driver and the latest in their long line of SKILSAW circular saws.  Today we'll take a look at the last two tools that come standard in their 4-tool kit: the Skil 18V reciprocating saw, and the Skil 18V flashlight.
Where to Buy Skil 18V Cordless Tools
If you're in the market for a four tool combo kit, the SKIL set makes a compelling case to be your tool set of choice.  The SKIL combo kit costs only $244.00 for all four tools (drill driver, circular saw, reciprocating saw, flashlight), plus two Li-ion batteries, and a carrying case (not shown above). This is about $100 cheaper than most competitors' offerings.
SKIL products are available at a variety of home improvement stores and sites and are being featured at Lowes.  Here's the relevant links if you decide to buy online:
Skil 4-Piece Combo Kit
Skil 18V Cordless Reciprocating Saw Review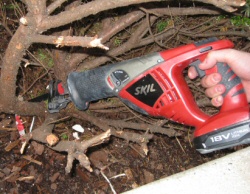 Portability is still King
Just like its brethren in the 4-tool kit, the reciprocating saw really shines when you need to use it in a place where electricity is unavailable or would be hard to setup.  Need to quickly take down a 2″ branch on a tree, cut through a thick metal pipe, or cut a hole out of the drywall?  The Skil reciprocating saw makes easy work of all of these jobs. Of course, with convenience comes a price… If you're going to take down a whole tree, you'll have to recharge the batteries several times or get out a corded model.
Given the option, we've found that Skil's cordless saw is lighter and easier to maneuver than our corded model, and so it has become our reciprocating saw of choice for all light to mid-duty jobs.
Adjustable Speed and Turbo Mode
Skil's reciprocating saw features variable speed control, making it useful for cutting virtually every type of material.  Tuning the speed is easy with a lever that sits on the left side of the saw.
Good Grip Feel and Relatively Low Vibration
The saw features a combination rubber and platic grip at both the trigger and the opposite-hand stabilizer position.  The grip makes it easy to control while cutting.  As with every reciprocating saw we've tried, vibration is still an issue, but with adjustable speed and good grip, vibration impact is reasonably minimized.  (We noticed that it was much more controlled their our corded model).
Tool Free Blade Change & Two-blade Storage
The saw features a tool-free blade change that make changes very fast (think less than 10 seconds).  What's nice about Skil's version of this feature is that once secured, the blade stays put.  Up to two blades can be stored in an insert at the top of the handle.  This seemed like a trivial feature, until we realized how easy it makes transporting the saw… everything can be safely carried in just the tool itself.
The Verdict
We really like Skil's offering in this competitive class.  They've created a great tool for light to medium duty work that's tops in portability and convenience.
SKIL 18V Pivot-Head Flashlight Review
Rounding out Skil's 4-tool kit is the 18V flashlight.  While we don't think anyone buys a kit like this for the light, it is a nice addition if you don't already have a high power flash light.  The light features a pivoting head that allows it to point straight or at 90 degrees.  It's bright enough to be used as an everyday flashlight and met all of our standard household needs.
What do you think? Do you own the Skil cordless reciprocating saw?  Leave a comment and let us know about your experience.