Rockwell introduced their all-new BladeRunner in January, 2011. This power tool is a multi-function saw capable of making miter cuts, rip cuts, inside cuts and scroll cuts. Utilizing T-shank blades, this saw is able to cut through a variety of materials including wood, metal, PVC, vinyl and ceramic. The BladeRunner is surprisingly lightweight making it easy to carry. Overall, we were pleased with the BladeRunner performance, and would recommend this tool. It's a great addition to your workshop and a should be considered in lieu of a scroll saw or band saw.
BladeRunner Full Review
Rockwell Tools is a brand known for making quality products on par with professional names like Bosch. They bring some really innovative tools to market like the Sonicrafter Multi-Tool and the JawStand. We were very interested when they offered up the chance to review the BladeRunner.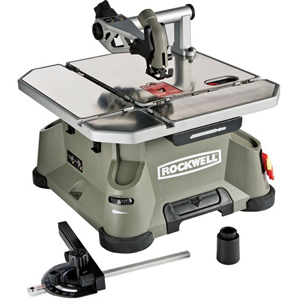 The Good: Capable of making several different cuts; cuts multiple materials; variable speed; lightweight; accepts all T-shank blades.
The Bad: Short, 4′ power cord; won't replace miter or table saw–meaning you'll still need them.
Overall: This saw is a good alternative to a scroll saw or band saw and is great for precision cutting. Since it accepts all T-shank blades, you don't need to purchase a new proprietary blade. It's a welcome addition to our shop.
Cutting
The BladeRunner is capable of making miter cuts, rip cuts, scroll cuts and inside cuts. We tested it on wood and ceramic, but it can also cut PVC, aluminum and mild steel. Rockwell includes 5 different T-shank blades and it's important to select the right blade depending on material. Using high-quality blades will also ensure better cutting performance. The 5.5 amp motor is comparable to a jig saw and worked well for every cut we made. It adjusts between 800 and 2,800 strokes per minute (no load) with a 7/8″ stroke length. The variable speed allows you to ser the power depending on material and application for better control. Vibrations are minimal. Even so, we suggest moving the arm snug over the work piece and using the lock-down lever on the right side of the arm.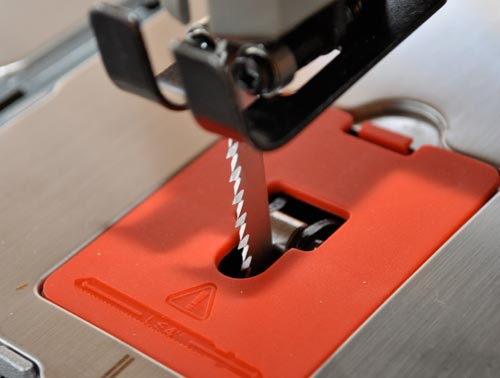 Miter Gauge / Rip Fence
The miter gauge doubles as a rip fence, and can be placed in the slots found in the deck. The miter gauge adjusts between +/- 0 to 60°. The fence can be adjusted left and right, and a large knob allows you to lock it in place. Rockwell wanted to maintain portability, and so the fence is very short. It's made of plastic, and, while we would appreciate something more durable, found it adequate. Ultimately, the fence has its uses but cutting free-hand is easier.
To make miter cuts, Rockwell suggests setting up the miter gauge and using it to push your material through the blade. For rip cuts, lock the fence in place. There's no push stick so you'll have to find a substitute. Inside cuts are also very straight-forward. Temporarily move the arm out of the way to position the work piece. Always move the arm back over the blade before starting.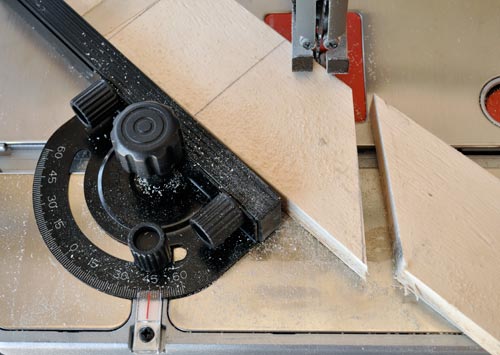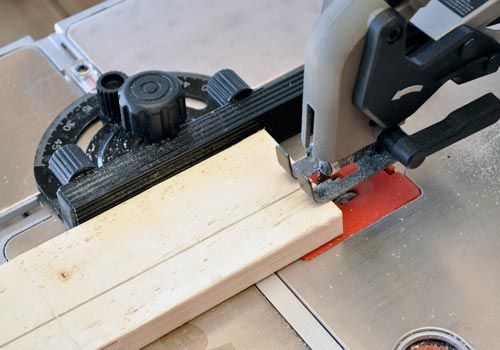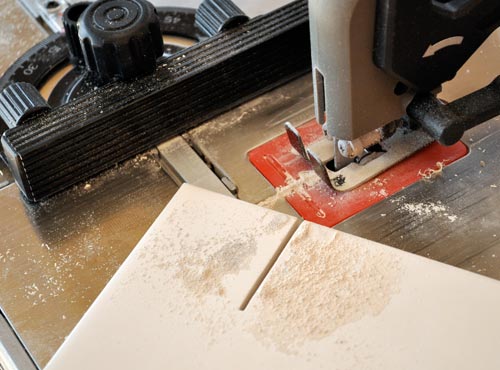 Cutting Capacities
In addition to these cutting capacities, it's important to know that the arm attaches to the deck on the back, right. It never proved to be an obstruction, but could be problematic for cutting medium sized sheet products.
Wood: 1-1/2″
PVC: 1-1/4″
Aluminum: 3/8″
Ceramic: 3/8″
Steel: 1/8″
Blade Changes
The Rockwell site states that you can "go from cutting ceramic tile for your bathroom to cutting wood to finish making your own birdhouse" in only 3 seconds. It's not often that we find ourselves in that sort of situation, but we were impressed with how easy it is to change blades. To release the blade, you push the recessed button and slide it to the right. Swap out the blade and you're done! They include a little red cap for additional protection and handling hot blades. Keep track of it because it's easily lost.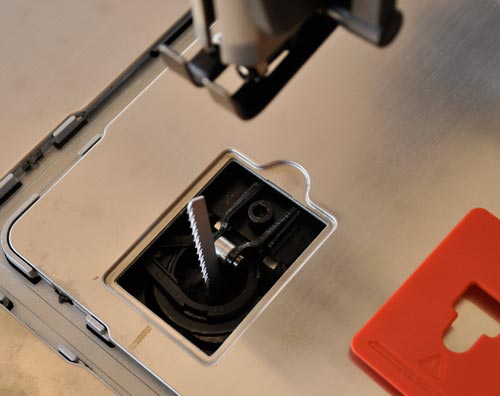 We've said it before but we really appreciate that Rockwell choose to utilize T-shank blades. Most users will already have a set at hand and they are easy to replace. There's no concern to track down a specific, expensive, proprietary blade.
Construction
The BladeRunner features solid construction. Four rubber feet provide stability and help reduce vibrations. The body and drawers are plastic and the table is brushed stainless steel. This makes it very durable and easy to slide materials. The attached arm is a metal. The top measures 17″ x 15 3/4″. We would have appreciated a larger top, but again, Rockwell made sacrifices to maintain portability.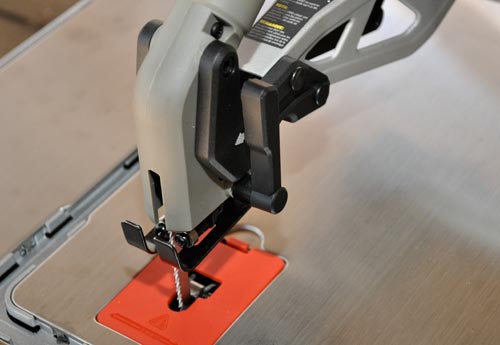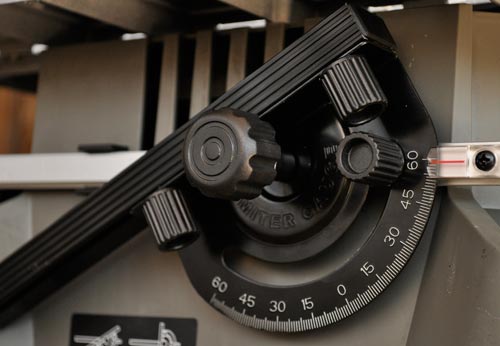 If you examine the body, you'll notice a couple nice features. There's a handy blade storage drawer front and center, and a dust collection drawer at the base. The left side has a bracket for storing the miter gauge/rip fence. The backside has a windup for the power cord, and the right side has a convenient handle.
Lightweight & Portable
We were very pleased with how easy it is to carry the BladeRunner. This unit weighs a surprisingly light 17.6 lbs. It's comfortable and balanced, and you'll have no problem moving it around.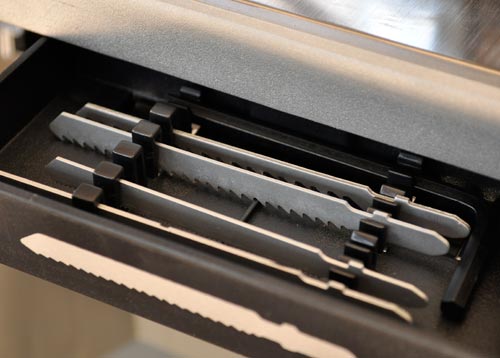 Additional Features
Wall Mount
Rockwell included a wall mount, screws and drywall anchors with every unit. To mount it, slide the BladeRunner onto the brackets, and turn two safety latches to lock it in place. We didn't test the wall mount, but we like the idea of saving space on your workbench.
Safety Switch
Similar to a table saw, the power switch has a safety insert to prevent it from being turned on.
Vacuum Dust Port
The adjustable arm also serves as a vacuum dust port. You can attach it to any shop-vac with an 1-1/2″ connection.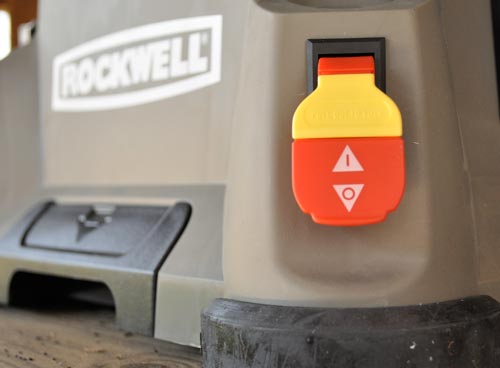 Accessories
Rockwell offers a couple accessories for the BladeRunner including a circle cutter and a picture frame cutter. The circle cutter (RW9261, $29.99) can create perfect circles up to 18″ in diameter. The picture frame cutter (RW9262, $29.99) helps setup your corners and can cut frames up to 26″. We didn't test out these accessories and neither seems like a must-have.
Specifications
Voltage: 1120V ~ 60Hz
Amperage: 5.5A
No-load speed: 800-2800/min
Stroke Length: 7/8″
Table Size: 17″ x 15 3/4″
Weight: 17.6 lbs
Blade Type: T-shank
Purchasing
If you're in the market for a new scroll saw or band saw, look into the BladeRunner. The big advantage it brings is being able to make precise cuts, even inside cuts, on a variety of materials, and you don't have to purchase expensive, proprietary blades. Currently, these units cost $180 but prices typically drop about 6 months after release. You can buy the blade runner at Amazon, Home Depot, and other home improvement stores.