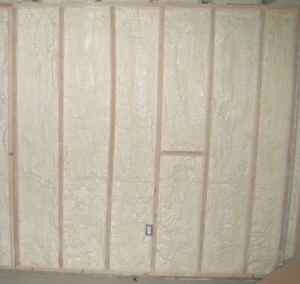 Last month we selected closed cell spray foam for the basement finishing project we're working. Closed cell spray foam has the advantage of not requiring a vapor moisture barrier, and it also sports a very high R value, making it an ideal choice for insulating basements (and first and second floors alike).
A frequent question many homeowners ask is how much R value do different spray foams provide? We think that's an excellent question, and the answer is, like R-values for rigid foam boards, it depends.
Open Cell Foam Insulation Values – R3 – R4
Open cell spray foams are between .5 and 1 lbs per cubic foot, and have an R value of 3.0 – 4.0 per inch of insulation. R values are additive, so you can multiple the number of inches of insulation thickness times the R value to arrive at a total insulation value.
A typical 2×4 stud filled with open cell spray foam will have an R value between 10.5 and 14. This R value is similar to that of R13 fiberglass batting; however, fiberglass generally does not provide as tight a seal as a foam product would, since it is unable to achieve as tight of a seal.
Open cell foam is relatively easy to cut, which allows installers to fill the cavity passed the edge of the studs and to cut off the excess.  This can't be done with closed cell foams, but they require much less thickness to provide the same R value.
Common Applications: Open cell foam is generally used above grade in walls and sometimes in attics. Some open cell foams have restrictions on the spray height (limited to 5-6″ maximum in a horizontal installation).
Price: More than R13 fiberglass; less than closed cell foam.  Expect to pay about $1.25 for the first board foot in a room, and $0.80 for each additional board foot, depending on installation size.
Closed Cell Foam – R6 – R8
Closed cell spray foams are between 2 and 4 lbs. per cubic foot. They sport an R value of 6.0-8.0 per inch of insulation, about double their open cell foam counterparts.  Just like for open cell foam, R-values are additive.
Two inches of closed cell foam will provide R12 – R14 of insulation. Three inches will get you over R20, more than sufficient for exterior walls even the coldest climates in the United States.
Common Applications: Closed Cell Foam can be used throughout an entire house. It has the advantage of forming its own vapor barrier, and it can be sprayed to any thickness. The only drawback of closed cell foam is the price.
Price: More than open cell foam; one of the most expensive insulation options.  But, doesn't require a separate vapor barrier. Expect to pay $1.75 for the first board foot in a room and $1.25 for each additional board foot.
Check with a Spray Foam Installer – R Values Vary
Before you commit to a spray foam installation, check with your installer to confirm the R value of the product.  Since R values can vary from manufacturer to manufacturer, and based on the chemical make-up of the foam, it's important to understand the specific foam you'll be installing.
What do you think? Will you install foam in your house?