About one year ago we applied Wall Firma's SunnyDry Foundation Waterproofer to seal more than 500 sq ft. of mostly below-grade cement block in our basement.  Our goal in applying SunnyDry's Sealer was two-fold: (1) to eliminate a small amount of water seeping through the block and pooling near the base of the exterior walls, and (2) to eliminate dampness on the block and reduce overall humidity in the room.
We applied a competitors' product, Thoro Company's Super Thoroseal, to a different 500 sq. ft. of below-grade wall space in the basement.  This review focuses soley on our experience with SunnyDry.  Super Thoroseal is reviewed separately, at that link. In the picture here, Sunny Dry is gray, and Super Thoroseal is white.  The wood studs sitting in front of the wall are anchored at the top and bottom of room, and are not anchored to the block walls (this would compromise the waterproof seal).
Selection Reasons and Overall Evaluation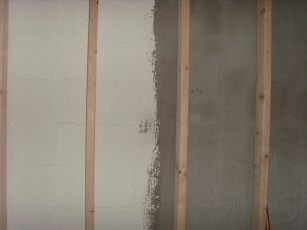 We chose SunnyDry for its economical price, its 10-year guarantee to stop water and dampness in below-grade applications, and its relative ease of application over other types of waterproofing methods (trenching and sealing from the exterior, installing a french drain inside, etc).
Overall, we are extremely pleased with the results.  SunnyDry's Foundation Waterproofer completely sealed the basement walls.  We've had no water seep through the block; the walls aren't even damp.  Humidity in the room is substantially reduced.
Purchase Information & Price
We purchased SunnyDry Concrete Waterproofer from our local Lowes in 60lb. "contractor size" buckets for $28.98 each (2007 price).  The sealer is gray, both in powder form and when it's dry on the walls.  The dull color isn't particularly important in our application–our walls will eventually be drywalled–it only serves to distinguish the area of the wall covered by SunnyDry's Waterproofer from the area covered by Super Thoroseal.
Applications for the Waterproofer Beyond Below-Grade Walls
SunnyDry is a a portland cement-based powder waterproofer designed to seal exterior below-grade walls.  Wall Firma advertises that their product will work on concrete, brick, stone, or masonry.  Our review is limited to concrete block.  While not applicable to our application, SunnyDry can also be used in potable water installations (e.g. drinking water tanks), bird baths, fish ponds, fountains, and pools.  If we ever build a fountain, they're top on our list to seal the inside.
How Portland Cement-based Waterproofers Work
SunnyDry's sealer has chemicals in it that, when activated with water, react and subsequently dry to a water tight seal.  The Waterproofer actually seeps into the pores in the concrete block and keep water trapped behind the block.  Super Thoroseal claims their product will stand up to 200PSI of water pressure.  Wall Firma makes no PSI claim on their Foundation Waterproofer.  For comparison, most latex-based waterproofers that you "paint on" seal walls to approximately 20 PSI.  I assume that, based on the technology employed in Super Thoroseal and SunnyDry, SunnyDry has a similar waterproofing capability.  In our situation, we have french drains built into the exterior front of the house that drain to the rear, so we don't have a pressure build-up concern.
Foundation Waterproofer Preparation Experience
Overall, preparation was relatively easy, but a bit time consuming.  SunnyDry recommends four steps to prepare the walls for applying the waterproofer:
Clean the surface of the block with a wire brush to remove any loose mortar, paint, or dust on the walls.  We didn't have a wire brush handy, but our walls had never been painted, and were covered with insulation ever since the house was built.  There was very little, if any, loose mortar to deal with, so we skipped this step.
Remove any efflorescence using Sunny Dry Concrete Cleaner or a mild acid.  We used a competitor's product available at Home Depot, which sufficed just fine.  Essentially, the acid we purchased is mixed with water and sprayed using a pump sprayer.  After application, hose down the walls and vaccuum up the excess water.
Plug any large holes, cracks, or active water leaks with a quick drying hydraulic cement.  Sunny Dry recommends their Hydraulic Leak Stop Cement.  We had no large cracks or leaks, so we skipped this step.
Dampen the walls with regular water using a pump sprayer or garden hose.  We highly recommend using a hose, as a pump sprayer simply doesn't put enough water on the walls.  You want the walls to actually be damp during application.  It ensures the block doesn't absorb the water out of the waterproofer too quickly, and as a bonus, it makes SunnyDry easier to spread.  You will need to repeat this step throughout application, so run the hose inside.
Foundation Waterproofer Application Experience
Applying the sealer is relatively simple, but very tedious.  In a nutshell, applying SunnyDry boils down to a few easy steps:
Mix the powder with several quarts of water;  use a wire-frame style mixing blade to mix.  Add powder until the mix reaches a mildy thick pancake batter-like consistency.  Note that Wall Firma says you can use a paint mixer.  I highly suggest going with a drywall mud mixing blade, as some paint mixers like the "the squirrel" available at home depot, will clog.  Drywall mixing blades are available at the big box.
Dampen the walls.  We used a hose and found this to be a very good method.
Spread SunnyDry using a Tampico-fiber brush, starting at the top of the wall and working down.
Coating & Coverage Experience
SunnyDry recommends two coats in order to obtain the best waterproofing performance.  We found this true.  After one coat, we still had some water seeping through the wall.  After the second coat, the dampness was eliminated.  We actually applied a third coat, something SunnyDry indicates may be necessary at the base of walls or in tough-to-waterproof spots.  We did it because we're paranoid about future leaks.
SunnyDry claims 265-340 sq. ft. of coverage for the first coat on porous surfaces and up to 440 sq. ft. on second coats and non-porous surfaces. We found their claim to be spot-on. It took us approximately five 60lb. buckets to cover our 700 sq. ft. area with three coats.
Final Thoughts
After 12 months of use, many products have left us wanting more – a feeling that we really didn't get what we paid for.  SunnyDry Foundation Waterproofer has left us feeling just the opposite.  We're extremely pleased with the results, and 1 year later, we're enjoying a dry, relatively low-humidity basement space.  Way to go, SunnyDry!
What do you think? Have you had a good experience with a basement waterproofing product?