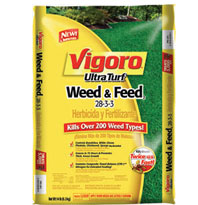 May has just started and it's definitely beginning to feel like summer here in Maryland. Maybe it was all the snow, but I've really enjoyed working outside, especially caring for my lawn. If you don't follow along, Fred and I have several really good posts about different ways to improve your lawn. Here's a short list:
Recently, Jocie noticed that our lawn has a distinct lack of dandelions. I was pretty pleased with that observation and decided it was time to write my own weed & feed follow-up.
Lawn Before Treatment
My lawn has always been a mixture of tall fescue and kentucky bluegrass (I believe). I've never had too much crabgrass but dandelions are a different story. I've been battling dandelions, clover and a few other broadleaf weeds since we moved here over four years ago. At it's worst, the lawn was about 90% grass and 10% weed. I don't have a picture of my lawn, but I do have a picture of my adjacent neighbors' lawn. It's a pretty good representation of what my grass looked like.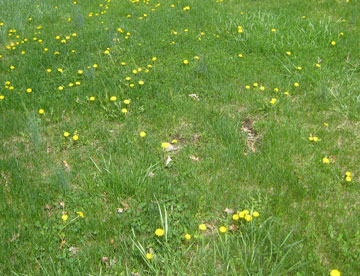 Applying Vigoro Weed & Feed
Two seasons ago, I began applying Vigoro Weed & Feed to my lawn. I only treat the lawn once per year, always in the early spring. There are several types of spreaders available but I use a simple broadcast spreader. I was a bit aggressive and overlapped each pass significantly. Be careful taking this approach as you can easily over-treat your lawn resulting in "burned" areas. It's important to spread weed & feed at the correct time and under the right conditions. Specifically, you should treat your lawn when the weeds are actively growing and the lawn is wet so the granules adhere. Check out my post about applying weed & feed for more information.
Vigoro 2 year Follow-Up
I think the picture below will speak for itself. You can clearly see the line between my neighbors lawn and my own.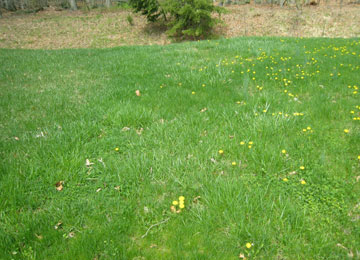 As the weeds die-off, the grass is better able to grow, limiting the places that new weeds can take root. I've often thought that the best weed preventer is a full, thick lawn and Vigoro helps me achieve that. There are still some patches where grass is sparse but at least there are no weeds.
I'm very pleased with Vigoro Weed & Feed and plan to continue applying it each year. Vigoro products are available at Big Orange. The Weed & Feed runs about $36 for a 15,000 sqft bag.
Tips Regarding Weed & Feed
Here are some tips to keep in mind for your lawn:
It's important to treat your lawn at the right time. Spread weed & feed when the weeds are actively growing- early spring and late fall.
Apply weed & feed when your lawn is damp. It enables the granules to adhere to grass and weeds.
Check the forecast and make sure it won't rain for a few days after application. Don't water your lawn for about 48 hours either.
Aerating your lawn also helps grass grow.
Follow the instructions on the bag.
Identify the weeds in your lawn and make sure you purchase a product that targets them.
Water your lawn appropriately.
What do you think? What are your lawn tips?
First image courtesy of Vigoro