"5 Minutes or Less"  is an ongoing series dedicated to quick and fun crafts and DIY projects that you can do in five minutes or less. This segment came to being because in our busy life it was difficult making the time for the involved and time-consuming projects that I love. I have done a bunch of projects in this series over the past couple years, but wanted to share with some of our newer readers my favorites: Homemade ModPodge, Personalized Nail Polish Keys, Homemade Vanilla, Beer Bottle Vases, Scrapbook Paper Clothes Pin!
Also, we are constantly on the look-out for new 5 minute projects and would love your ideas or would love to feature you, if you have done a 5 Minutes or Less Project.
Homemade ModPodge
This is my absolute favorite, most used, most money-saving project I have ever done. I'm serious, it's that awesome! It's also probably the easiest.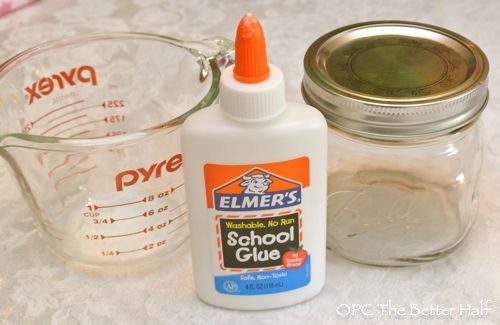 I mixed 1 part Elmer's Glue with 1 part water and shook until I couldn't shake anymore. DONE!
It gives a nice matte finish and works just as well as the name brand ModPodge. I like to stock up on Elmer's Glue in August when Walmart is having their back to school sale and its only $0.29 a bottle. Crazy, right?
I have used my home-made ModPodge for a ton of different projects including:
DIY Wooden Owls – This is my all-time favorite. Its simple wood working that doesn't require fancy tools and we provide the stencils.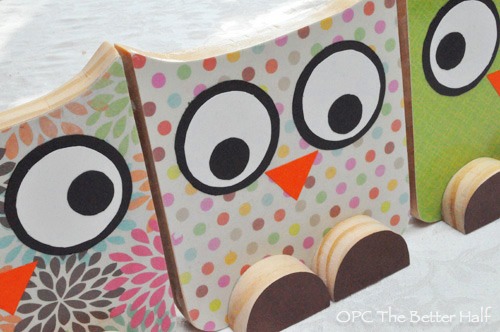 Custom Spice Rack – Ethan built this custom spice rack for our kitchen and then I painted it and ModPodged scrapbook paper to the back.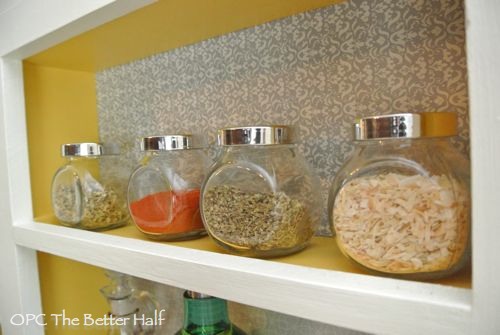 EAT Kitchen Letters – I made these for our kitchen, but the same technique can be used for really any wooden letters or phrase.
Scrapbook Frames – I made this as a gift for a friend and have made similar versions with different colors and accessories. They make for cheap and personal gifts!
Be sure to check out my original post on Home-Made PodPodge.
Personalized Keys
I have about a million keys floating around in my junk drawer, in addition to bunches on my key ring. I couldn't keep them straight, especially as I was fumbling with groceries as a tried to open the front door. So, I grabbed my giant bucket of nail polish and blinged them out.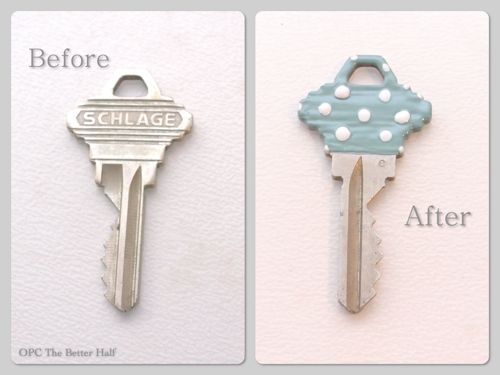 The cost was almost free, and without adding a lot of design, it truly is a 2 minute project.
I blinged out my keys almost a year ago.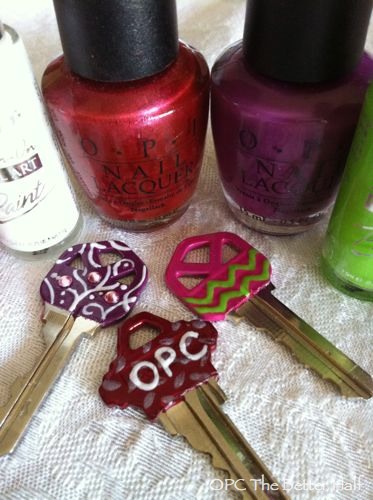 Since then my house key has lost a gem (the first day because I was too impatient to let it dry) and has a little wear around the edges. I used to have a store-bought designed key and it wore at about the same rate.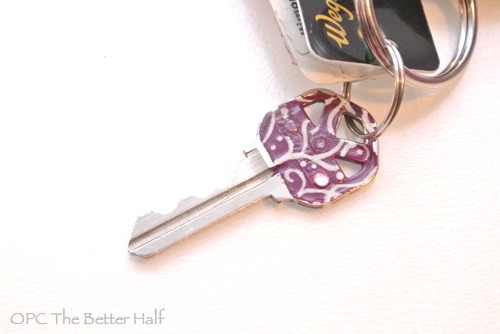 Find out how to personalize your keys in 5 Minutes or Less!
Homemade Vanilla Extract
Homemade Vanilla Extract is one of my only 5 minutes or less projects that is more of a recipe than craft, however, it makes for wonderful gifts and saves tons of money over time. But when I said "5 Minutes or Less," I should have said 5 minutes plus several months! lol.
Beer Bottle Vases
I love beer bottle vases because it's a quick way to add color or decor without a lot of time or money. Also, even though I say "beer bottle" you can really use any type of bottle – root beer, wine, condiments, jars, anything glass.
I only use Rust-Oleum spray paint because the other paint tend to spray unevenly and sort of spit. I am not paid to say that, I really just love them. Also, Rust-Oleum recently gave us a little preview of some spray paint colors and I am so excited I can barely stand it! I can not wait!
Dressed Up Clothes Pins
You may be wondering how Personalized Clothes Pins made my top 5 list. I know, it's a strange pick…but I use them ALL. THE. TIME! For closing our pretzel bags, hanging reminders on the fridge, affixing our Advent calendar to the wall. I need to make more of them because we really do use them a lot. Plus they are so cute and add a little cheer to whatever we are using it for. Yes, I am a weirdo who is happier when things look pretty.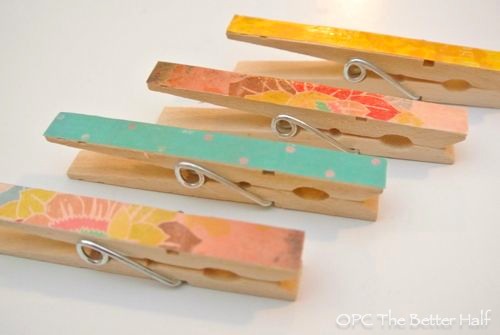 What do you think? Any suggestions for future 5 minute projects?
As always, thanks for reading!
Don't forget to check us out on Facebook and Pinterest!
linked up at Designed Decor, Shaken Together