Welcome back to our next Pro-Follow update. Joe Bianco and his crew are in the middle of a basement remodel. If you're just joining us today, start with Day 1 of this Pro-Follow before reading here. If you recall, the plan for this basement includes a bathroom with a shower and a wet-bar. Today's post focuses on plumbing rough-ins for these elements.
If you're new here and enjoy learning from contractors, check out our Meet the Pros Page to see details about how we follow professional contractors on actual job sites. Stay current on all our Pro-Follows by becoming an email or RSS subscriber.
Step 2: Basement Plumbing Rough-In
The original builder included rough-in plumbing for a toilet and shower; however, the homeowner wants the shower moved over about five feet. That seemingly small change will require a good bit of work, and we pickup with the plumber as he uses a jackhammer to dig a trench for the new drain line.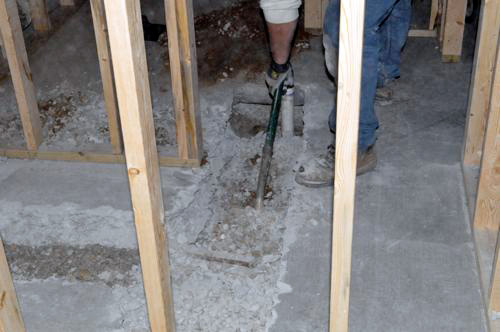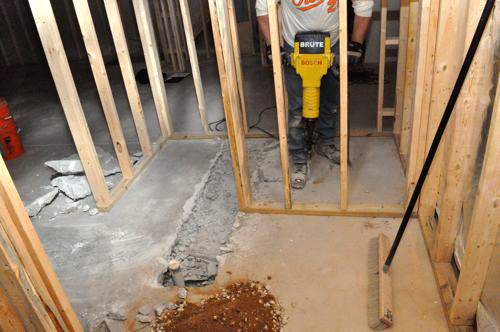 As you can see, he cut a path all the way to the wall. The wet-bar will be located on the other side of that wall, and the sink drain will connect with the shower drain. The plumber uses a Ramset nailer to drive fasteners through the bottom plate and a reciprocating saw to cut away a section big enough for a 2″ pipe.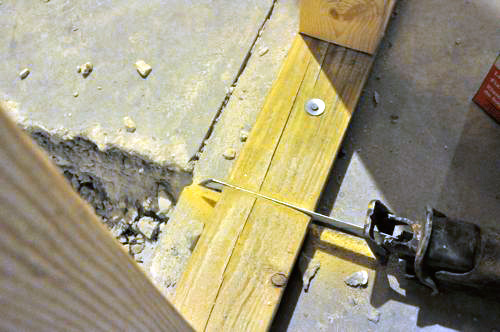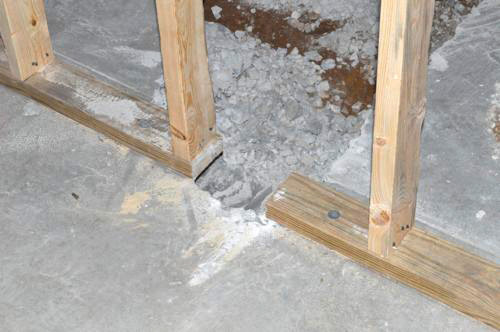 With most of the demo completed, the plumber unearths the old shower drain and cuts it away along with the trap underneath it.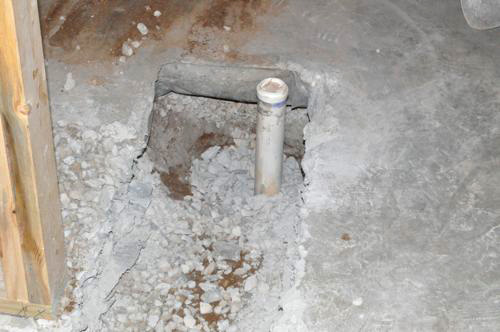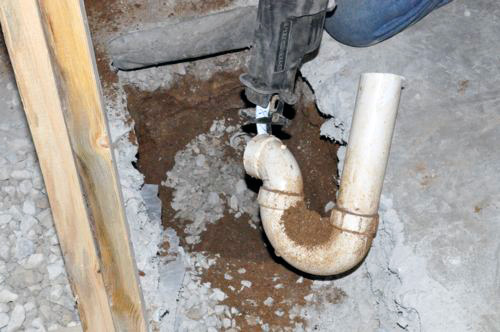 Next, he begins laying new, 2″ PVC pipe, and he starts with a couple of 45° elbows. PVC pipe is rated for pressure and non-pressure applications. This drain line will not be under pressure, so the plumber uses schedule 40, non-pressure PVC.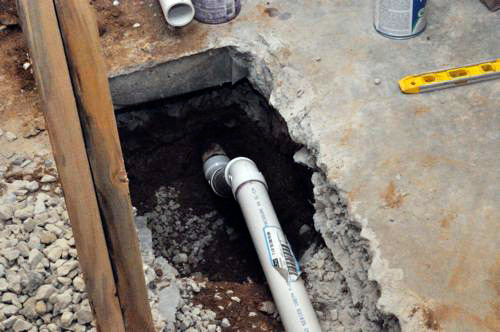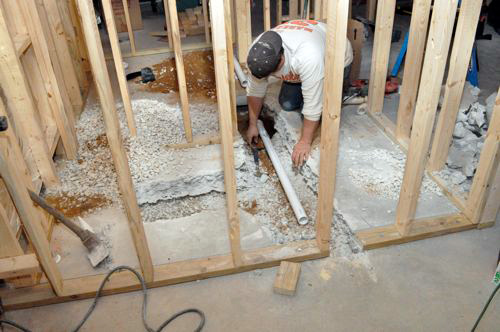 All fittings need to be properly secured by first applying primer, then PVC cement. With standard PVC cement, you'll get about 15 seconds to set and orient the fitting before it bonds.
Pro-Tip: PVC primer is available in clear and purple. Pros use purple primer because the color makes it obvious to the inspector.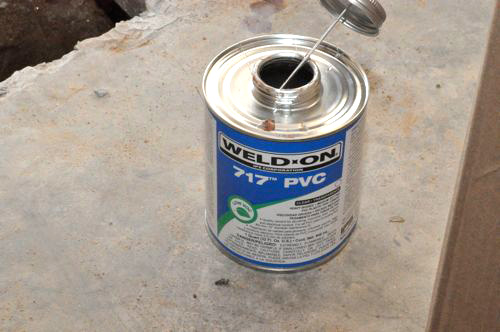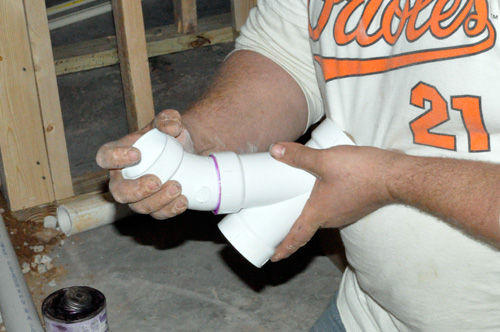 It's also important to maintain a 1/4″ slope per foot so that water drains properly. The inspector will be looking for this.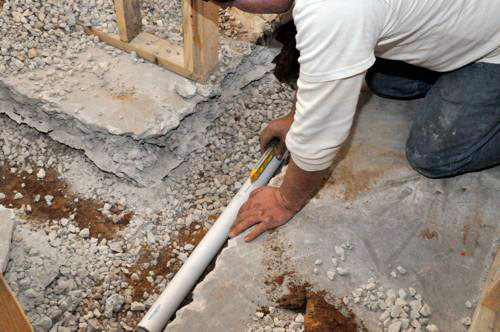 Pro-Tip: Vent pipes should also have a 1/4″ per foot slope so that water (like rain) will drain too.
Checking level up and down ensures the fitting is oriented properly.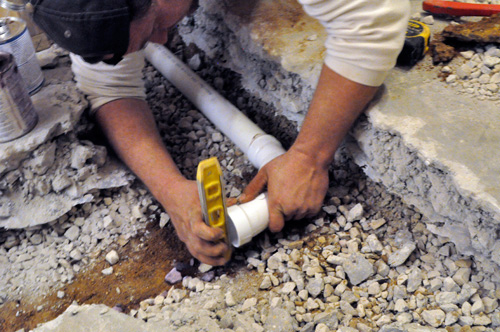 This picture shows the new shower drain and trap. The plumber is measuring across the opening to ensure that the assembly is centered in the shower.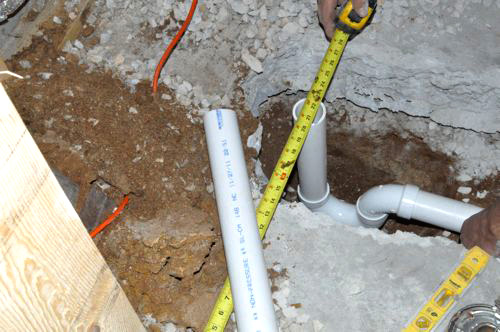 Here's the progress so far. You can see the plumber has been able to use some of the dirt and stone to backfill, however the pipes can't be concealed until the inspector give the OK.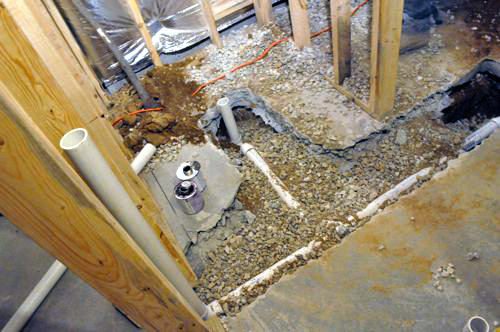 The plumber cuts the height of the shower drain so that the flange sits level with the concrete.
For now the drain and flange get covered. Eventually, a clamp ring will attach to those screws (pictured above), followed by an adjustable height drain cover.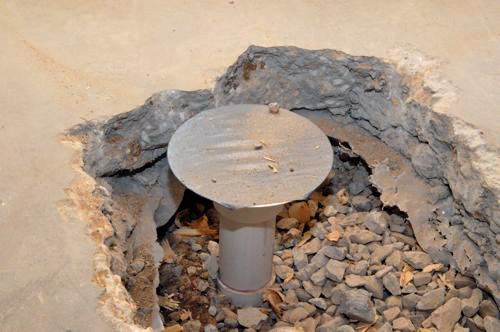 With the shower drain in place, it's time to focus on the wet-bar drain and venting for both drains. This picture shows the sink drain and an additional connection for snaking the drain should the need ever arise.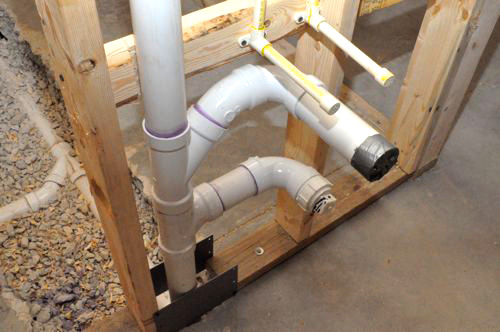 Pro-Tip: Most sink drains are roughed-in at 19″ off the floor.
The PVC pipe continues up and, after some twists and turns, connects to the original vent pipe. Venting is important because it eliminates back-pressure from water draining (i.e. flushing a toilet). Without venting you might find sewage coming out of a drain.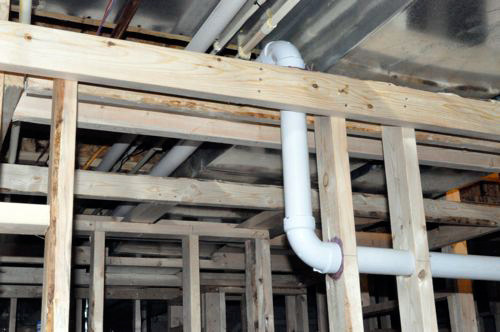 If you're curious about some of the tools a plumber uses, he has these ratcheting PVC cutters, and a self-feed, wood bit for cutting through 2×4's.
Do-it-Yourself Tip: You can Build Your Own Basic Plumber's Tool Kit with tools available at most big box stores.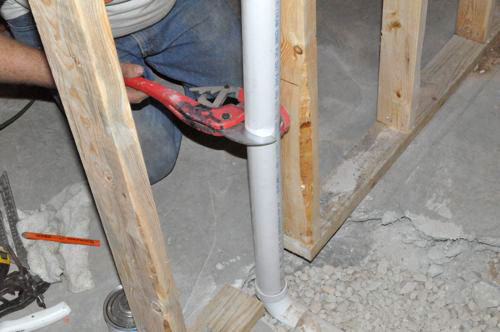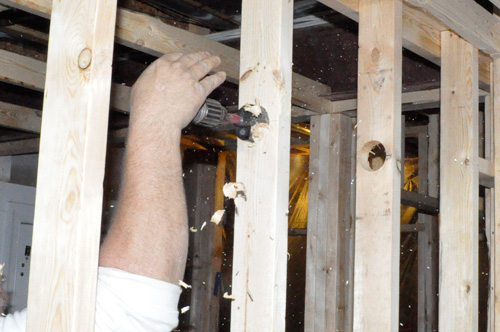 So far, we've focused on draining and venting. Now lets see how the plumber ran supply lines. For hot and cold water, the plumber used 1/2″ and 3/4″ CPVC pipe. You can see in the picture that it's rated for 400psi at 73.4° F.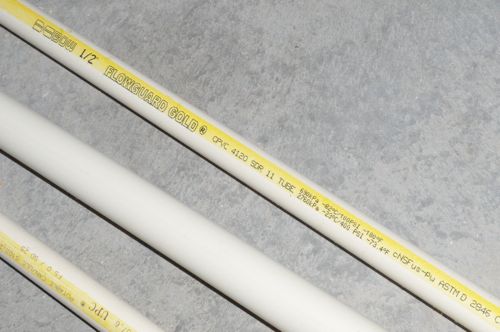 Pro-Tip: 1/2″ lines can only supply 2 fixtures. To provide water for the toilet, sink, shower and wet-bar, they used 3/4″ supply lines followed by 1/2″.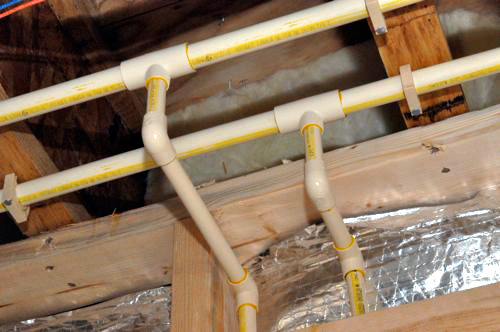 To secure the supply lines, the plumber used tube-talons; however, he reversed the clips to keep the pipe from resting directly against the wall stud. This prevents the pipe from knocking against the 2×4 (aka water hammer).
Pro-Tip: Toilet supply lines are typically set at 6″ off the ground.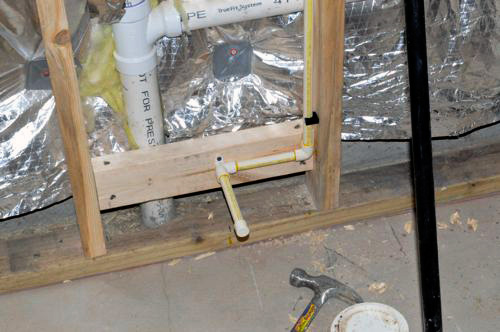 At times they would need to add a cross-member between studs to provide a surface for securing pipes. You can see they did that for the bathroom sink lines.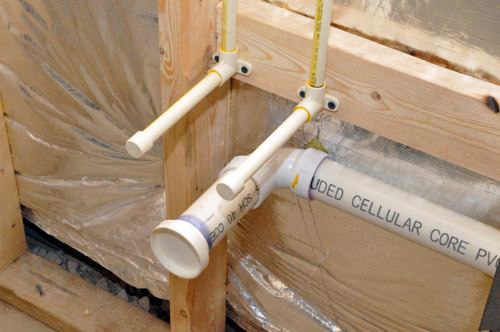 Joe's plumber said that the plumbing industry is moving away from brass fittings. Instead, we'll be seeing more stainless fittings. This is because stainless is cheaper than the new(er) lead-free brass.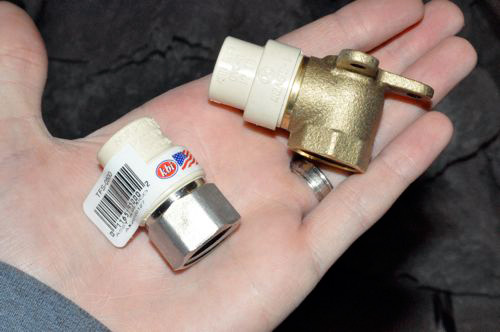 You can see they used the stainless fitting for the shower rough-in. These shower controls are from Delta, and even within this one brand there are many different rough-in valves.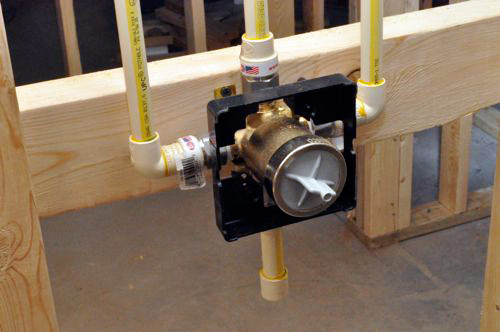 Pro-Tip: Be sure to pick a trusted brand for the shower valve. Making changes after the bathroom is finished can be very costly.
Plumbers aim to space shower supply lines 6″ apart and centered on the controls / shower head. To provide adequate clearance, they often need to move studs like they did for this installation.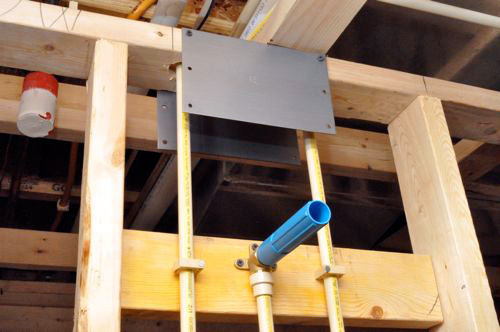 You've probably noticed the metal nail plates in a few of the pictures above. If not, here's a close up of one the plumber added to protect the PVC. These plates are required anytime pipes are within 1.5″ of the nailing face of a stud or beam.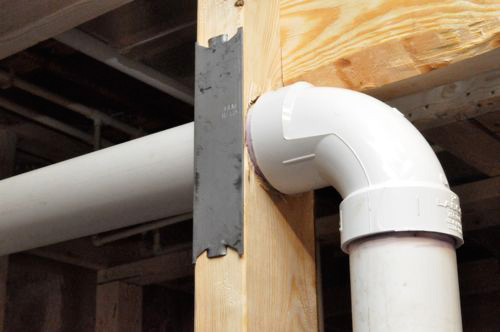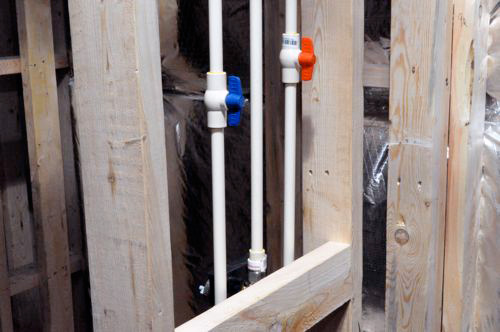 Pro-Talk: The term "stubbed-out" is similar to roughed-out. It's used to describe capped off pipes that will later connect to fixtures.
Even though the rough-in looks finished, the inspector only gave it a partial pass. This won't hold up progress, but to earn a complete pass, he wanted to see the shower exhaust vent ductwork in place.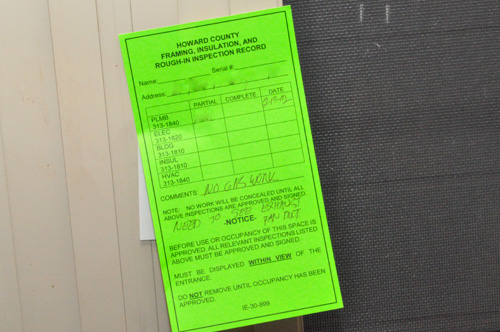 Stay tuned for our next installment in this basement finish coming within then next week!