My gold and gray gallery wall was completed last January and is still one of my favorite spots in the house. I love that even though it was a winter project, it still looks fresh and fun, while costing very little!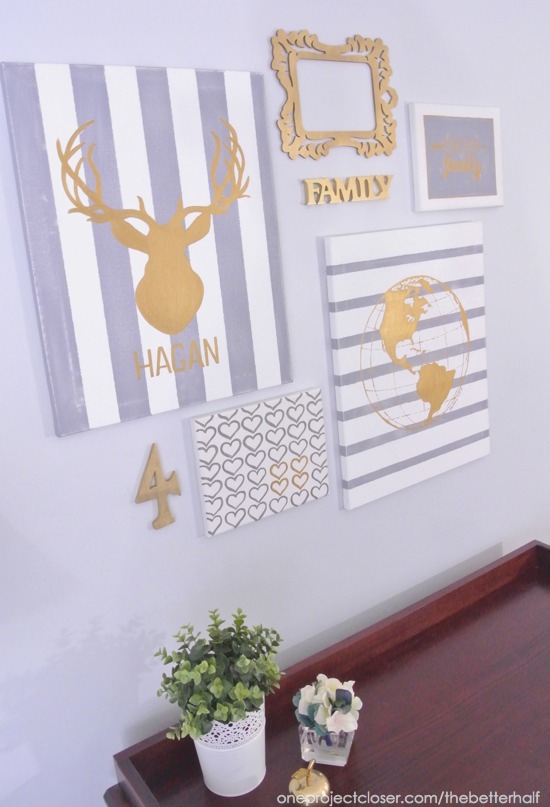 When I've shown you my living room in the past, I usually leave this small corner out of the pictures. Its always been a bit drab and undecorated. The buffet has always been there, but not much on the walls.
When you walk in our front door and look to the right, this is the view. On the left side of the door is the dining room and a small hallway and stairwell divide the two. At the bottom of the stairs is my painted antique window with glass knobs we use for coats.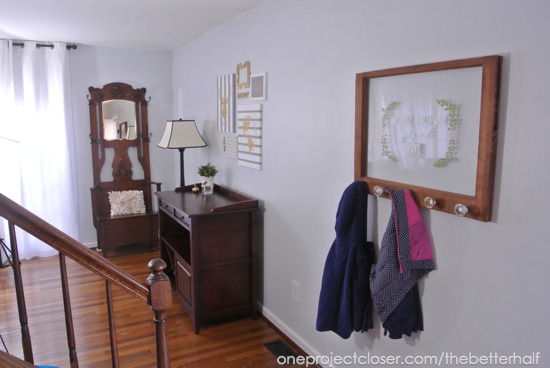 Along with some other fabulous pieces, Ethan's uncle gave us their "electric chair," which I love and really adds to the space! Yes, I added a little pillow, and yes, Ethan thinks I'm beyond ridiculous.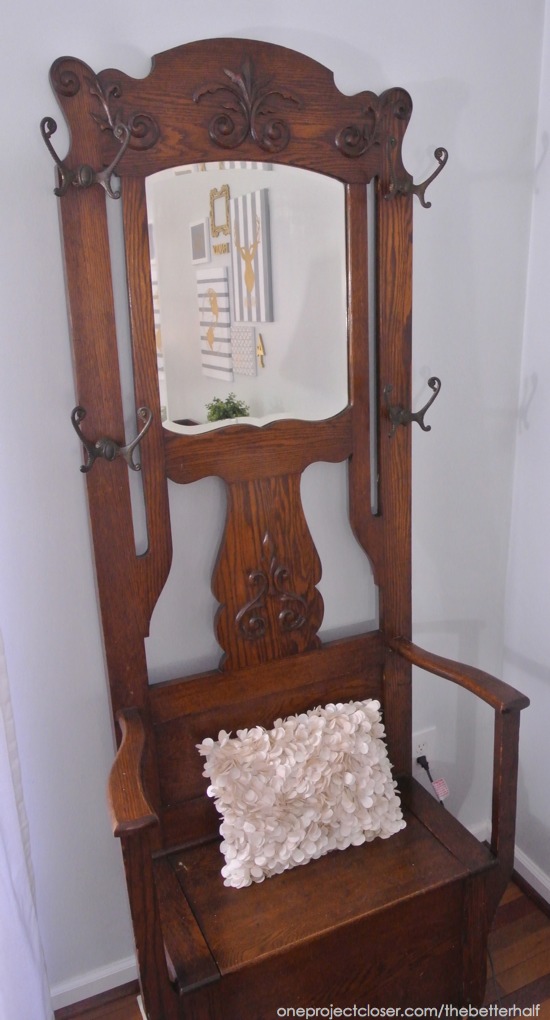 Once you step into the living room, on the opposing side of the buffet, you see the fireplace. Here is the bulk of the room. Check out my $130 Target rug!! You may also recognize my scrap wood wall art and my chalk paint step ladder.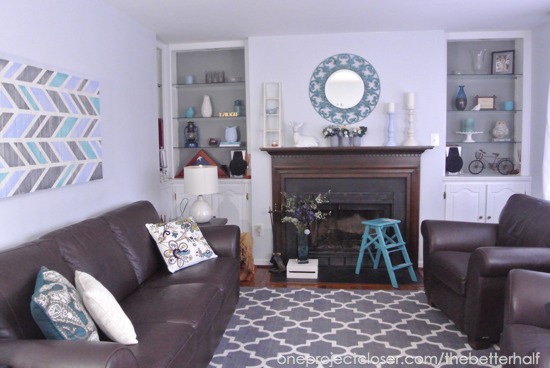 Did you see the Reindeer DIY Canvas I made last week? Once I finished that I had the great idea of making a gallery wall with it, to fill in this space. I used all supplies I had leftover from previous projects, just sitting around including the canvases and wooden frame and letters! If all bought new, it would have cost maybe $30 – still a bargain for custom art.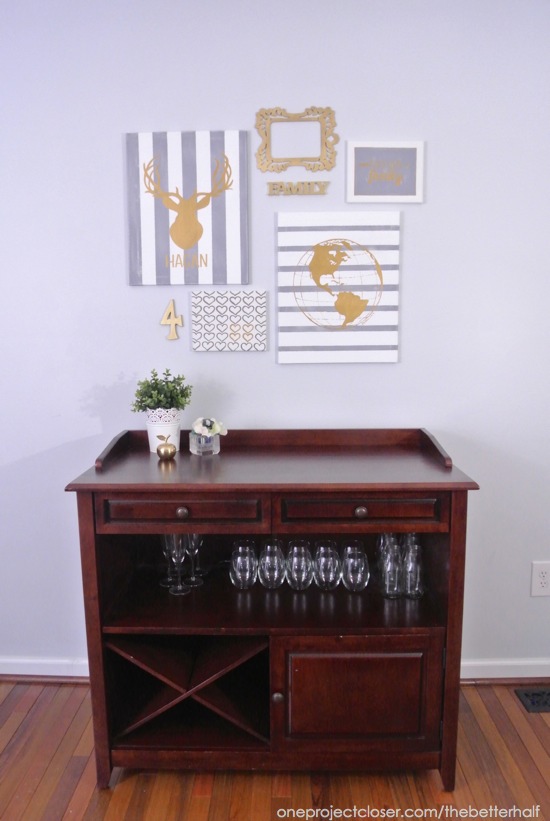 The globe was the most work of all the pieces. I traced a print-out onto the canvas using carbon paper, then painted the gold. It took hours!! Fortunately, I had this season of Downton Abbey to watch on the computer, so I was happy.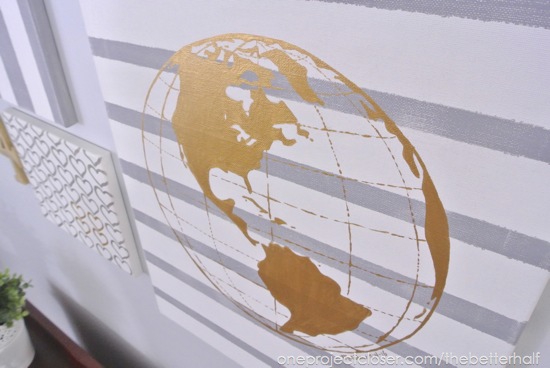 I added the bible reference, Matthew 5:14-16, "You are the light of the world. A town on a hill cannot be hidden. Neither do people light a lamp and put it under a bowl. Instead they put it on its stand, and it gives light to everyone in the house. In the same way, let your light shine before others, that they may see your good deeds and glorify your Father in heaven."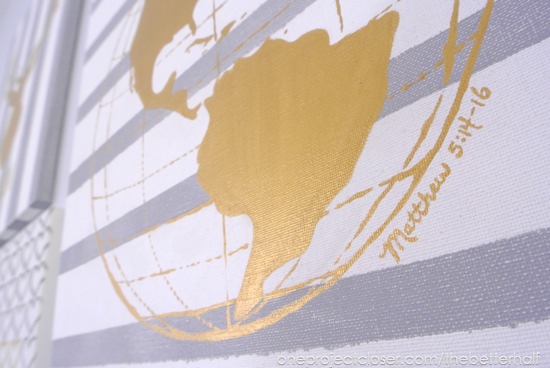 When Ethan saw the "4," he was like, "what's that about?" lol. oops, I guess not so obvious. But we have four people in our family, so the number four and four gold hearts on the canvas.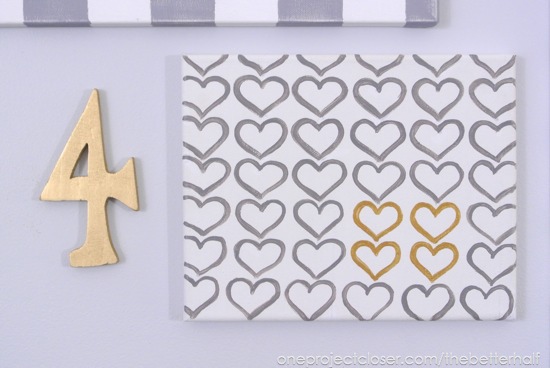 And I had this empty wood frame sitting around from when I found it on clearance for $0.25 (crazy, right?!?) and spray painted it gold along with the word family.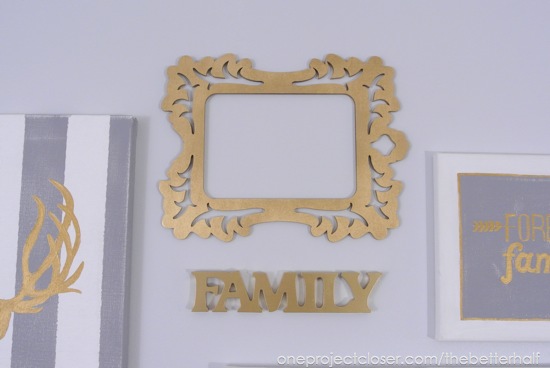 And here it is all together, one last time, in case you can't get enough, like me! 🙂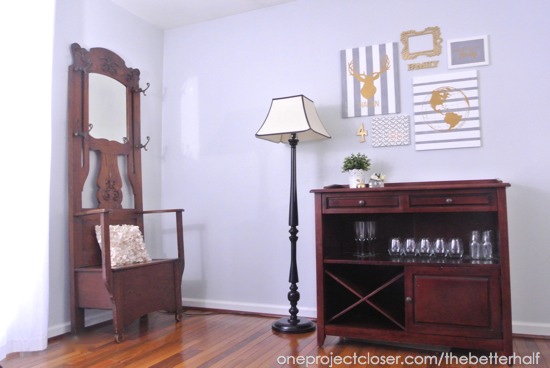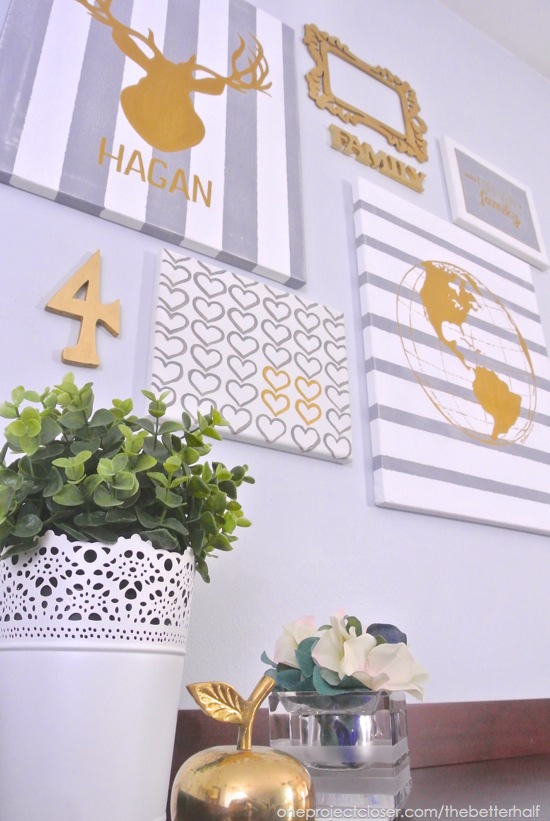 What do you think? How do you create wall art on the cheap?
As always, thanks for reading along with us on this gray and gold gallery wall!