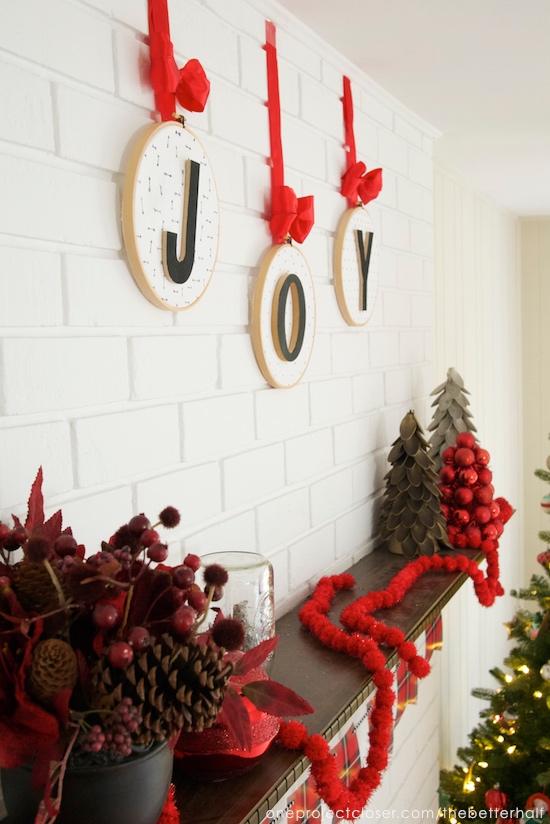 I am so excited to team up with Hometalk.com and CountryLiving.com for this Home For Christmas Blog Hop, featuring new projects and decor from tons of wonderful bloggers! Be sure to continue to the bottom of the post to see all of the other wonderful Christmas DIY projects and home decor.
These Embroidery Hoop JOY ornaments are my favorite part my Christmas mantel this year! They are different from the typical wreath, but colorful, easy to make, and pretty inexpensive. And if you didn't notice, they are upcycled from my BOO Halloween Wreath! #jocieforthewin
Materials Needed
Most of the supplies I used I bought at Walmart and I think I spent around $15, give or take. You could also pick up these supplies in any craft store.
3 embroidery hoops
3 wooden letters (J, O, Y)
Embroidery fabric, two packages
Black Acrylic paint
Red Ribbon with wire
Hot Glue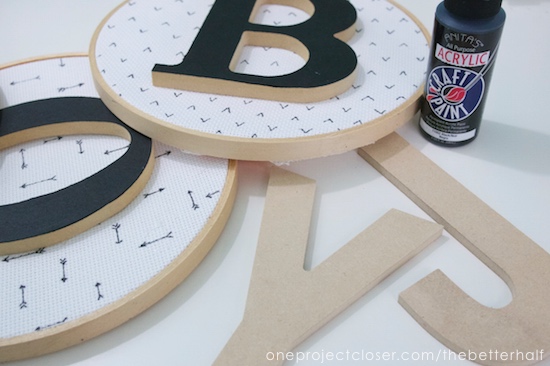 Step 1: Paint the Letters
I used a foam brush to lightly paint black just on the front of the letters. I liked the idea of having the side wood exposed, highlighting the exposed wood of the embroidery hoop.
Step 2: Sharpie Design
Probably the most difficult step for my was putting the embroidery fabric into the hoop. Seriously not easy. haha Then, after I had trimmed the fabric I realized that the lines of the fabric were not lined up straight with the fastener of the embroidery hoop. So take it from me – do that first!
Once the fabric was in the hoop, I free-handed some simple geometric shapes with a fine-tip Sharpie onto the fabric. It was by no means perfect, but way easier than sewing the design.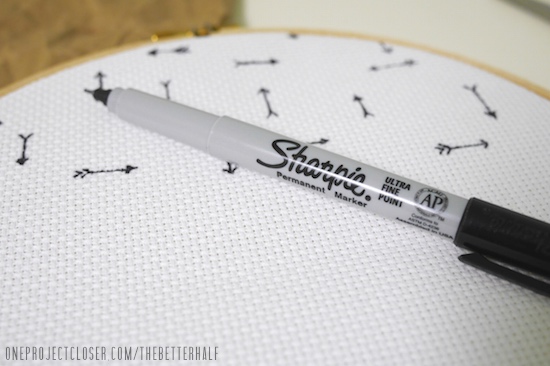 Step 3: Glue
Next I glued the letters onto each hoop and the red ribbon onto the back. I cut the ribbon extra long and then trimmed any excess after I hung them. About 2 inches above the embroidery hoop on the ribbon, I glued a bow, just to make it a little more festive and bright.
Step 4: Hang & Enjoy
Super simple, right? Maybe you didn't need that step by step since it was pretty self-explanatory, but I thought why not show you just how easy it is!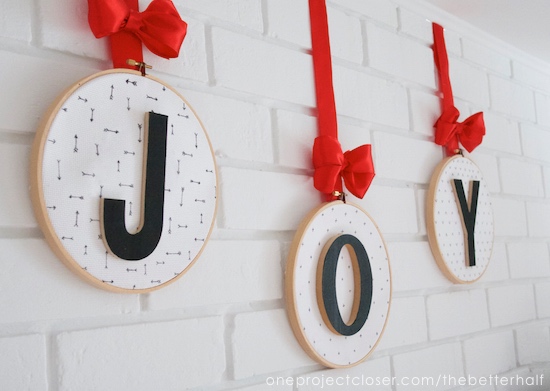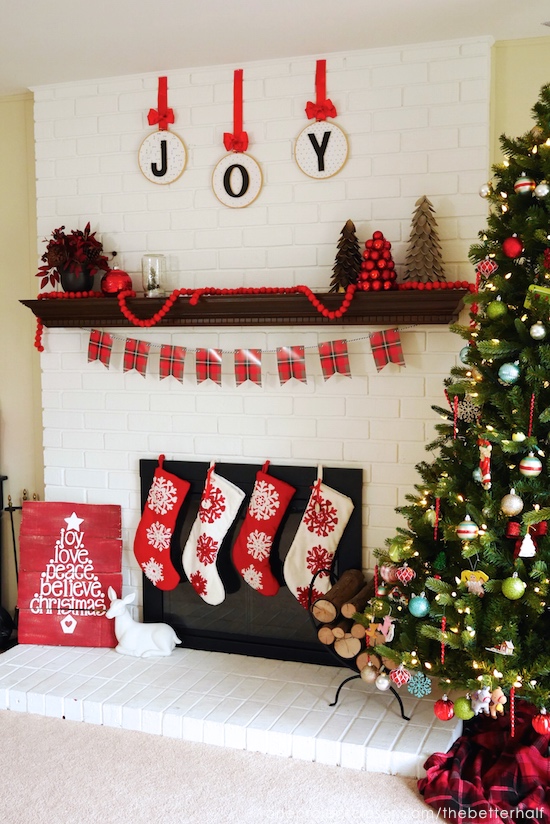 Just to highlight a few of my favorite elements (and old favorites too) – this year instead of my white and gold tree skirt, I found some cheap plaid fleece that I wrapped around the base. It's not as polished as a typical tree skirt, but I love the color! You may also notice my hand-painted DIY Christmas Pallet! To tie the plaid into the Christmas mantel decor, I found that cute paper bunting at Target for under $5! LOVE that.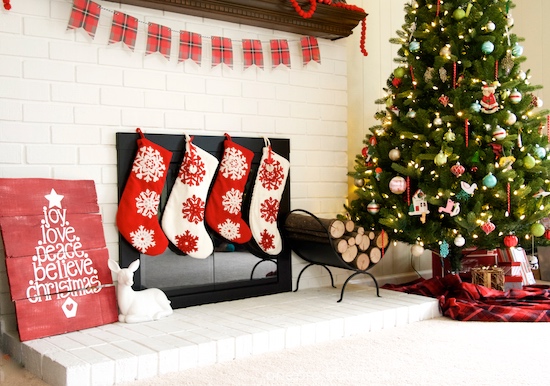 My mini-pallet was a SUPER easy DIY – I bought the pallet already assembled and stained from Michael's and then affixed the Merry & Bright wooden sign! BOOM! It cost in total $5 and looks so cute.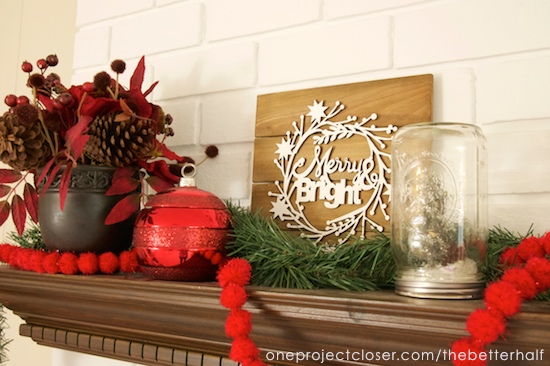 When my kids were little, I loved my perfectly decorated and themed tree. And I still love all my beautiful vintage-style bulbs. But I have really enjoyed looking at my kids hand-made ornaments or gifted ornaments that bring back so many memories. I feel like this is the first year I really understand the joy my grandmother always had in looking at her ornaments. We like to continue my grandmother's tradition of finding the bird in the Christmas tree. I think you can even see it in some of the pictures, so whoever finds it get 1 million cool points!
And finally, my all time favorite project – my plastic spoon Christmas Trees!! They have been popular beyond what I could have imagined and I am so thankful for all your kind words. 🙂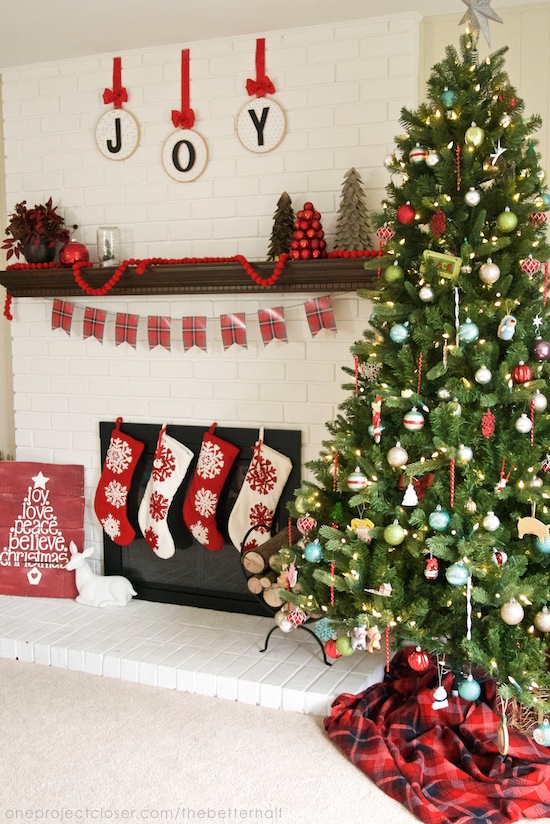 Home for Christmas Blog Hop
As I said, I am so excited to be a part of this wonderful group of bloggers and hosted by Hometalk.com and CountryLiving.com. I hope you enjoy yourself as much as I have! xoxo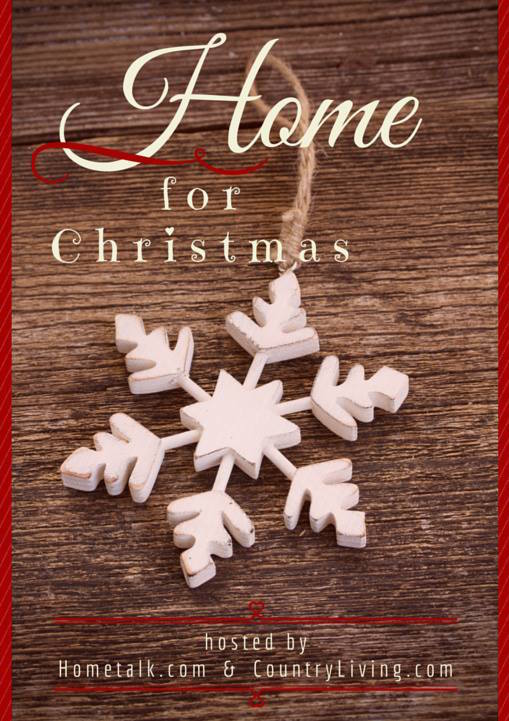 I hope you feel inspired and have loved my Christmas Mantel and JOY Embroidery Hoop Ornaments.
Wishing you a wonderful Holidays!

Don't forget to check us out on Facebook, Instagram, & Pinterest!