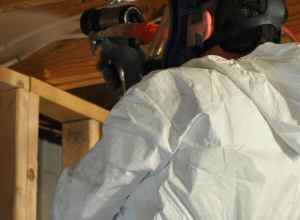 Back in October, we told you that we had selected closed cell spray foam to insulate our basement.
We chose closed cell spray foam for it's high R-value, moisture resistance, and ability to completely seal crevices, creating a full vapor barrier.
After deciding on spray foam, we set out to find a local foam contractor who would give us a good price on the job and who we could work with to video the spray foam installation to share with you.
Choosing a Spray Foam Installer
We decided to go with Hottel Energy Solutions (HES), a relatively new Maryland spray foam insulation installer looking to gain some additional exposure for their work.
We also happened to be good friends with one of their owners and installers, Pat Riley.
Our Experience with Hottel Energy Solutions
Pat came to our house a few weeks before the job and surveyed the unfinished basement. He gave us tips for how we could best prepare the space for spray foam (pretty easy: move everything to the middle of the room), and for what to expect on the day of the job (the smell would be nuisance for up to 24 hours).
On installation day, Pat and his assistant showed up promptly at 7:00am and quickly started working. Our basement, which has about 1000 square feet of wall space, took Pat and team about 10 hours to complete, and that included spending time with us to put together the spray foam video we published back in December. The bulk of the time was actually spent on prep.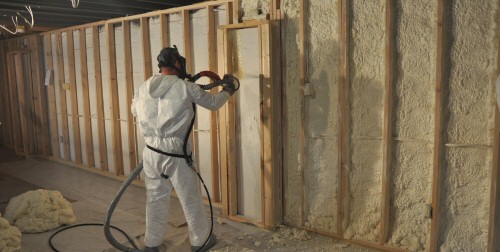 Review & Results
The results are outstanding, and we're not saying that just because Pat's a good friend, or because Hottel gave us a good price on the job.
Prior to the spray foam installation, our basement had no insulation whatsoever (just bare concrete walls). All last Winter, the space was freezing! Since the installation of the spray foam, we've had one of the coldest winters in the last two decades here in Baltimore, Maryland, with temperatures in the single digits at the end of December.
The basement has only two HVAC vents. After the installation, we decided to open both vents to keep the space warm. With both vents open, the basement became the warmest spot in our whole house. In fact, it was so hot that we decided to close one of the two vents! The transformation was truly amazing, with a complete stop of all drafts flowing through the space.
We saved our energy bills from last year so we could compare them to the results from this year. We're going to share that soon and will update the post when we do. We're confident that the bills will show a significant reduction in heating costs.
How to Contact Hottel Energy Solutions
Hottel Energy Solutions serves the Maryland, Washington D.C., Pennsylvania, Virginia, and Delaware areas. They provide a number of spray foam installation solutions for basements, walls, attics, and more. You can reach them at:
Hottel Energy Solutions, Inc
6650 Longbeach Ct.
New Market, MD 21774

phone: 301-882-7233
Their web site is also up and running at HESfoam.com.