At the 2011 Milwaukee Tools Symposium in July, I saw a ton of cool tools like their new hand tools and fluorescent bulb tester. Another offering that caught my attention was a 4-1/2″ cordless cutoff / grinder. The specifications on this grinder are nothing new: paddle-switch; 9,000 RPM; tool-less accessory changes; etc. Even so, none of the competition has a grinder with the same combination of features. Milwaukee sent me their cordless grinder (catalog #2680-20) a couple months ago. Read on for the full review.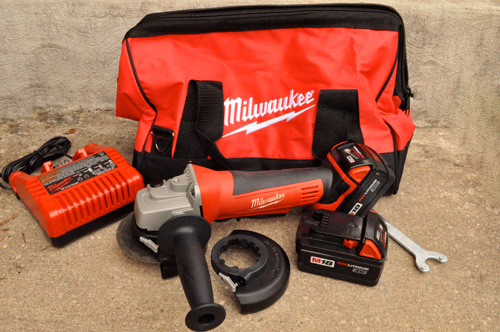 Paddle-Switch
If you start looking around in the world of small angle grinders, you'll see more and more paddle-switches because they are very comfortable to use in a variety of positions. Plus, by positioning the switch farther down the body, you gain better control. Paddle-switches also eliminate the need for a lock-on button which is much safer. If you ever accidentally drop the grinder or lose control, the switch disengages as soon as it leaves your hand. On their website, Milwaukee states that they offer the "only cordless cut-off /grinder in the market with a paddle switch design." So far I think that still holds true.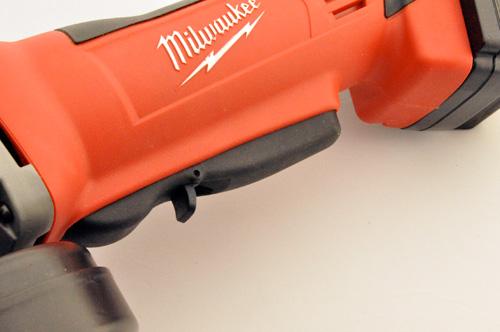 The trigger prevents you from accidentally pressing the paddle-switch
Tool-Less Accessory Changes
I'm a huge fan of tool-less accessory changes. I hate grabbing a spindle wrench or an Allen wrench especially because I usually lose them after about a week. To remove the accessory, press the wheel lock and pull in the same direction it spins. You can also move the guard through a handful of detents with the press of a lever. To swap out the guard, just line up the arrows and it slides off.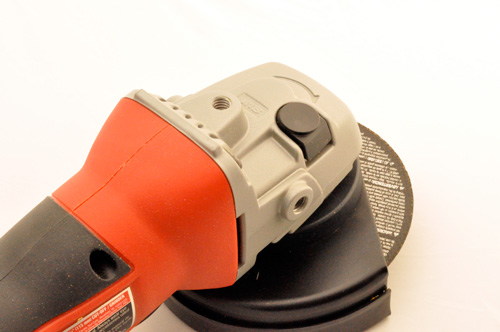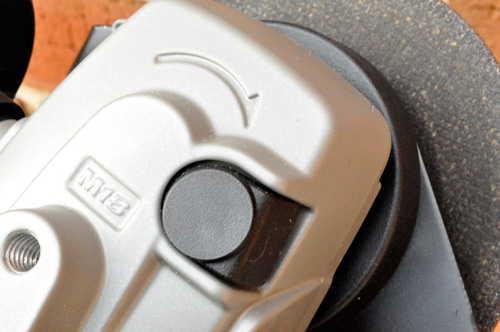 Wheel lock button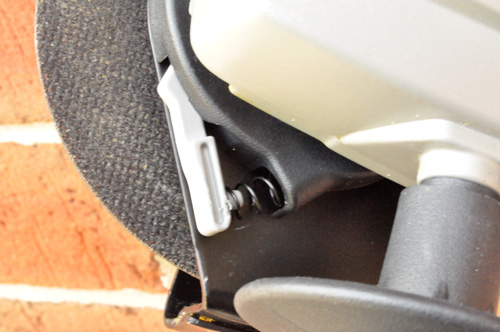 Guard adjust lever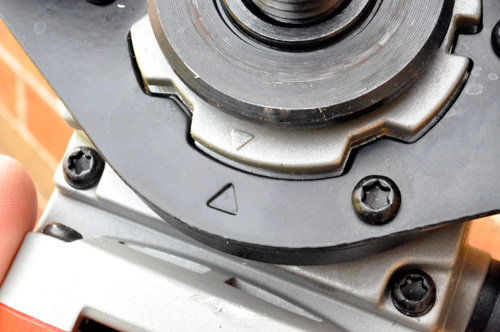 Line up the arrows to remove the guard
Here's a short video demonstrating quick and easy accessory changes:
Performance
Grinders are great for welders, metal workers, masons and other professionals, and they're commonly used for tasks like cutting rebar, polishing metal, tuckpointing, and more. For these demanding applications, Milwaukee included a 4-pole motor that delivers 9,000 RPMs (no load). I tried out this grinder for cutting copper pipe and threaded rod, and removing some brick mortar. It performed admirably every time.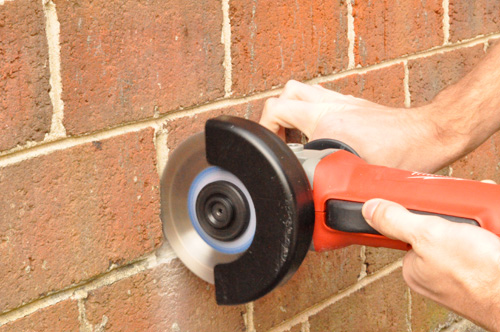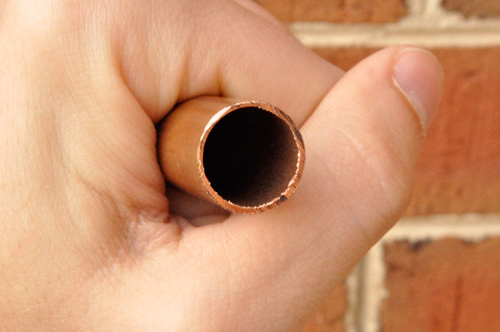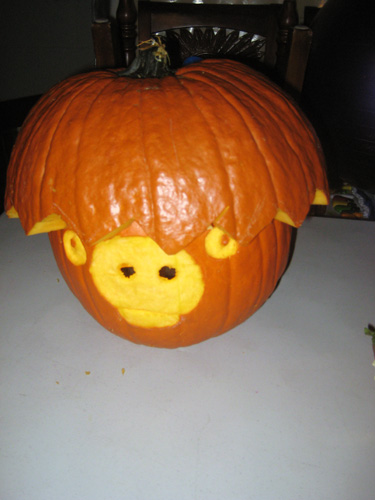 I also used this grinder to help carve my Angry Birds pumpkin
What Else
There are a couple odds-n-ends I wanted to mention. First, I appreciate the 3.0 amp hour M18 batteries because they put out a lot of juice. Second, Milwaukee included overload protection so that this grinder doesn't burn out in "abusive situations." It's almost a standard feature for grinders, and I wanted you to know it's there.
Specifications
To see all the product information, check out the details on the Milwaukee site.
Voltage: 18V
RPMs: 9,000
Paddle Switch
Tool Free Guard
Large Button Spindle Lock
3 Handle Positions
Tool Weight: 5.9 lbs
Shipping Weight: 13.25 lbs
Includes
2680 4-1/2″ Cut-off Grinder
(2) M18™ XC High Capacity RED LITHIUM™ Batteries
1-Hour Charger
Type 1 Guard
Type 27 Guard,
Type 1 Cut-0ff Wheel,
Spanner Wrench
Side Handle
Contractor Bag