Milwaukee Tools has given the go-ahead to reveal some more cool developments they shared at the 2011 Milwaukee Tool Symposium. Between the new hand tools and fluorescent bulb tester, they're lifting embargoes about once a month (which sounds like good marketing to me). I normally stay away from press released but once again, Milwaukee is doing something I think is worth sharing.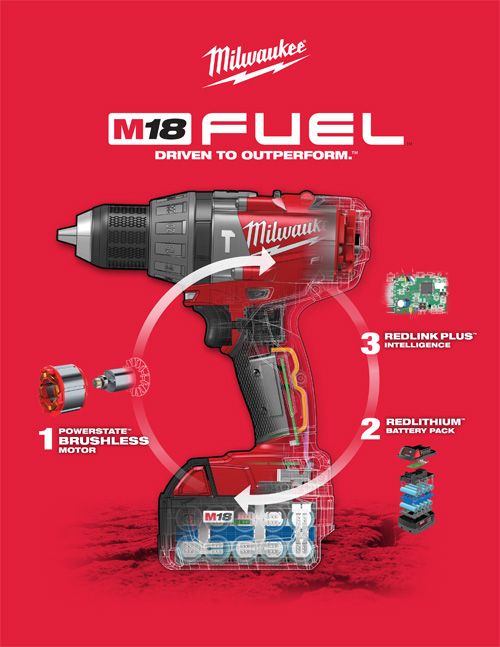 New Milwaukee M18 FUEL
At the tools symposium, Milwaukee temporarily confiscated our cameras and blindfolded us before going into a super-secret portion of the facility. OK that's not true, but they did walk us behind a very large curtain before unveiling a new cordless drill / driver. M18 FUEL is a new line of "extreme performance cordless power tools." Milwaukee makes this claim because they've integrated three important technologies: the POWERSTATE™ brushless motor, REDLITHIUM™ battery technology, and REDLINK PLUS™ Intelligence. Of the three newly incorporated technologies, the brushless motor is what I think will have the biggest impact, and here's why.
In simple terms, brushed motors utilize a number of "brushes" that make a physical connection to transfer power to the motor. This design carries some inherent flaws because it relies on friction between the brushes and the commutator, some energy is lost as heat and brushes will wear out over time. I'll bet that if you open up most of your cordless tools, you'll find a brushed motor.
To address these issues, brushless motors were created, and they're different because they use a computer chip to regulate the rotation of the motor and eliminate the need for a physical connection. This results in a more efficient tool, less noise, less heat, and longer lifespan. Even better, brushless motors are more compact which means Milwaukee can make their tools smaller.
Milwaukee isn't the first manufacturer to take advantage of brushless motors. In fact, Festool and Makita are a few years ahead on this front. You can expect the M18 FUEL line to be available in the spring of 2012, and from what I've heard will carry a similar price tag to their current line. Here's the press release:
11/14/2011 MILWAUKEE, WI – Milwaukee Tool continues to revolutionize cordless power tools with the introduction of M18 FUEL™ –an exclusive line of extreme-performance cordless power tools designed, engineered and built by Milwaukee® to deliver unmatched productivity. As the clear leader in cordless tool development, Milwaukee has integrated three ground-breaking technologies: the POWERSTATE™ brushless motor, REDLITHIUM™ battery technology, and REDLINK PLUS™ Intelligence, to provide a new class in durability, run-time and performance for the professional tradesman.

"With advancements in the battery, electronics and motor, the new M18 FUEL™ products represent game-changing innovation for our entire lithium ecosystem that will provide unprecedented improvements in productivity for the user," says Steven Richman, president of Milwaukee Tool. "M18 FUEL™ begins with the best components, and maximizes their performance using world-class engineering and job-site testing."

The new POWERSTATE™ brushless motor works harder and lives longer than all leading competitors, while reducing noise and cooling more rapidly to deliver years of maintenance-free performance. Milwaukee POWERSTATE™ brushless motors convert energy into power and torque more efficiently resulting in superior application performance.

Milwaukee REDLITHIUM™ batteries provide significantly more run-time, power and recharges than any other Lithium product on the market. REDLITHIUM™ also delivers best-in-class performance in extreme job-site conditions. With Milwaukee® durability built into each pack, the REDLITHIUM™ battery operates cooler and performs in climates as low as 0°F/-18°C with fade free power.

REDLINK PLUS™ Intelligence hardware and software is the world's most advanced system of cordless power tool electronics that will maximize performance and protect the user's investment. REDLINK PLUS™ Intelligence is a best-in-class system that integrates full-circle communication between tool, battery and charger, and constantly monitors this internal network to maintain ideal conditions.

Available in the Spring of 2012, Milwaukee will launch the M18 FUEL™ system with the introduction of a new line of drills that offer breakthrough performance in a smaller and lighter size than all of its leading competitors. More information on the new M18™ FUEL™ Drill/Driver and M18 FUEL™ Hammer Drill/Driver will be released in January 2012. For more information on M18 FUEL™ in general, please visit www.milwaukeetool.com/fuel.

About Milwaukee Electric Tool Corporation
Milwaukee Electric Tool Corporation, a Brookfield, Wisconsin-based subsidiary of Techtronic Industries Co. Ltd. (TTI) (HKEx stock code: 669, ADR symbol: TTNDY) is an industry leading manufacturer and marketer of professional, heavy duty power tools and accessories. Products include the legendary SAWZALL® reciprocating saws, M12™, M18™ & M28™ LITHIUM cordless tools, HOLE-HAWG® drills, portable band saws, circular saws, driver drills, hammer drills, rotary hammers, grinders, sanders and a line of Test & Measurement and Hand Tools. Accessories include SAWZALL® blades, SWITCHBLADE® self-feed bits, BIG HAWG® hole cutters, THUNDERBOLT® drill bits and SHOCKWAVE Impact Duty™. For more information on the full line of Milwaukee® power tools and accessories, please call 1-800-SAWDUST or visit www.milwaukeetool.com.