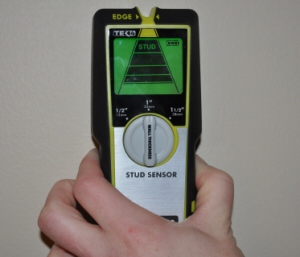 We've written a good amount about Ryobi's Tek4 line-up over the past year. If you haven't heard of Tek4 or read our reviews on the various products in this line, I would suggest starting with our Ryobi Tek4 digital camera review. That article gives a good overview of the concept behind the Tek4 products. You can also see our digital multimeter review and our IR thermometer review for more tools in this suite.
In brief, the concept behind the Tek4 product line is to create a group of small handheld tools that share the same long-lasting, 4V lithium ion rechargeable cell. Think of any tool you might need double-A batteries to operate, and there's a good chance Ryobi has a Tek4 version (or will soon…)
Ryobi recently shipped us their Tek4 stud finder for test and review. We used it for a few recent projects, and here's our take on this latest entry in the Tek4 line-up.
Ryobi Tek4 Stud Sensor Review
The Highs: Accurate stud finding capability; stud depth adjustment; alternating current detection; ergonomic, rugged design.
The Lows: No pinpoint AC detection; lacks laser-pointer for middle stud location that some other brands feature (but mitigates with a pencil groove location on top); a little pricey.
The Verdict: Another good reason to consider the Tek4 line for multiple tools.
Performance Review
There's not a whole lot to say about stud finders in general. They either work or they don't. In the case of the Tek4, we're happy to say it does indeed work. Perhaps the nicest feature on the Tek4 is the depth adjustment setting which allows you to increase the sensitivity of the finder to look for studs at 1/2″, 1″, and 1.5″. We tested the Tek4 primarily on 1/2 inch and 5/8 inch drywall, and in this environment, it pinpointed studs with ease.
The Tek4 includes an alternating current detection warning system. If the stud finder detects AC, it flashes a warning indicator on the face of the finder. It's a nice feature to help you avoid accidentally driving a nail through 110v AC wire, or to avoid demolishing a wall when live wires are still embedded.  On a few other stud sensors we've used, we've seen a pinpoint AC feature along with the stud sensor. We'd love it if the Tek4 offered this in a future generation of the tool.
The rugged, ergonomic design is a nice plus, especially if you're working in an area that's likely to put a beating on tools. All the Tek4 tools are designed to be impact, dust, and water resistant, and the stud finder is no exception. We dropped it several times during our test, and aside from the battery cover popping off, there was no permanent damage.
Ryobi claims the stud sensor can run 10,000 scans on a single charge. All we can say is that we didn't run out of charge during our test, and wouldn't expect to for the next year or so. Of course, since this is a Tek4 product, the battery can be harvested for other tools in the line-up if you're in a pinch.
Overall, we really like the whole line of Tek4 products and are happy to add the stud finder to the mix. We recommend looking at the line if you're in the market for a stud finder or other small battery powered tools.
Comes With?
Stud Finder
4V Li-Ion Battery (usable in all Tek4 tools)
Battery Charger
Instructions & Warranty Information
Price and Where to Buy
The Tek4 stud finder retails for $39.99 exclusively at the Home Depot.