You may have heard (what with my constant talk on FB and in recent posts) but we had our very first Baltimore Bloggers Holiday Party this past weekend! It was so fabulous!
The idea of a holiday party came to me in November, not long after I had quit my day job to blog full-time. I was really struggling in leaving a job with so much interpersonal connection to blog. I love blogging and I love connecting with readers and other bloggers online, but it is very different from the face-to-face interaction I was used to. In all honesty, I was feeling lonely and kinda sad.
Them I realized that maybe other bloggers maybe felt the same way and that I could help connect us, and what better way than a PARTY!
The Guest List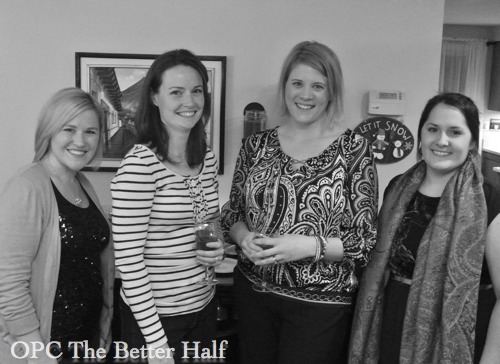 Jocie (me), Kim (The Better Half), Megan (Our Pinteresting Family), Jessica (Dear Emmeline)
Once I started looking for other bloggers in the area, I was shocked to see how many there were – many of whom I was already connected to, just didn't realize how close they were geographically. Here are the 11 bloggers I know of in the greater Baltimore area, in no particular order. Feel free to check the out and show some love!
Unfortunately, a bunch of people got sick and were unable to come, but we were honored to have Megan, Jessica, and JB with us!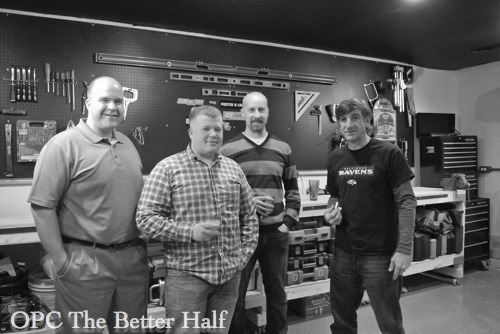 Fred (OPC), Josh (hubby of Dear Emmeline), Ethan (OPC), JB (Building Moxie)
The Invitation
Ethan made a simple and elegant e-card to invite our bloggy buddies – we didn't do snail mail since we're all bloggers who seem to prefer electronic communication. I also edited out the address since we had the party at Fred and Kim's house.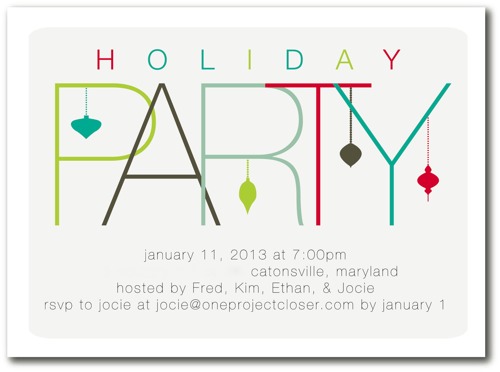 Signature Drinks
I've been pinning, researching, and enlisting the help of our readers to come up with great food and drink ideas for the party. After taste testing literally over 30 drinks, we landed on two.
OPC Cider Punch
The first was a Bourbon based drink. The original idea came from Martha Stewart, but we made some major changes to the recipes and LOVE it! I also soaked pear slices in bourbon and cider for 24 hours before the party (almost like sangria). It is very smooth and sweet drink without being too much of a girly drink. Here was our variation.
4 cups pear nectar, chilled
2 cups apple cider, chilled
2 cups ginger ale, chilled
1 cup bourbon whiskey, such as Knob Creek
1 Bosc pear, unpeeled, cored, and cut lengthwise into 8 wedges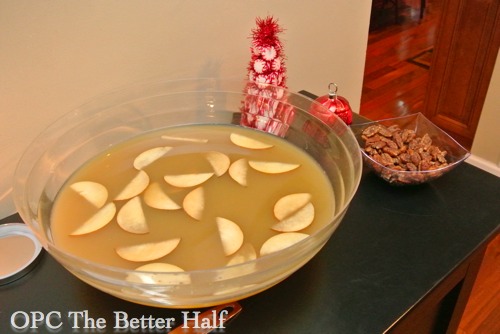 Pomegranate Champagne Punch
Champagne is always my drink of choice and this was a group favorite, even amongst those who don't love Champagne. Another Martha Stewart recipe, but we increased the pear nectar by half. Here was our recipe:
1 1/2 cups pomegranate juice
1 1/2 cup pear nectar
1/4 cup orange-flavored liqueur, such as Grand Marnier
1 bottle (750 ml) Champagne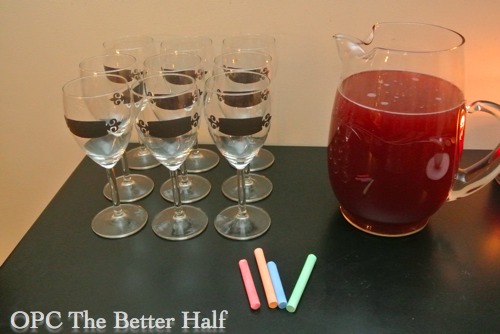 As you can see, I also made chalkboard vinyl labels for the wine glasses so people were able to identify their glass. They turned out really beautiful!
The FOOD
I spent about 3 weeks planning the food, grocery shopping, baking and freezing for in advance, and then cooking and preparing fresh that day. By the time the party came around, I was definitely ready for a drink or two, for sure!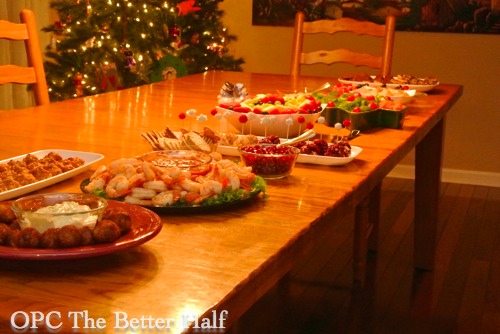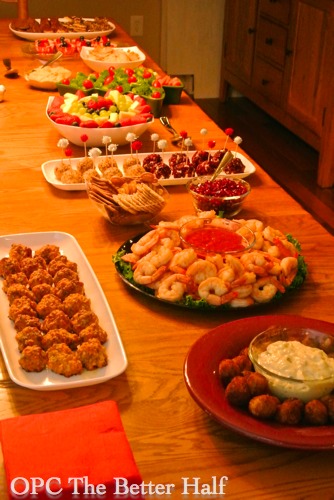 Eat your heart out guys, I know we did. lol! I have tried to link to all the recipes I used so you can try what tickles your fancy. Everything really was amazing!
I prepped anything that would freeze ahead of time, starting the cookies. I actually made most of them before Christmas.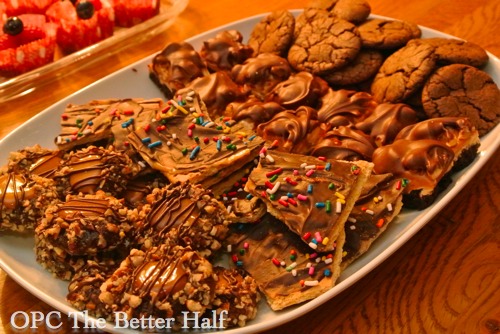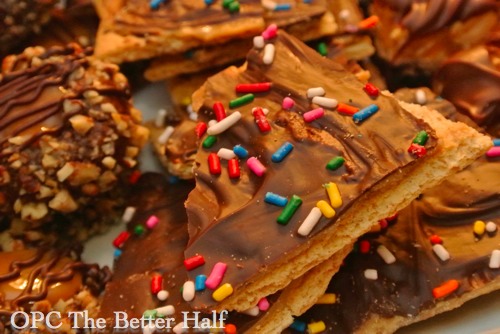 My mom's Graham Cracker Treats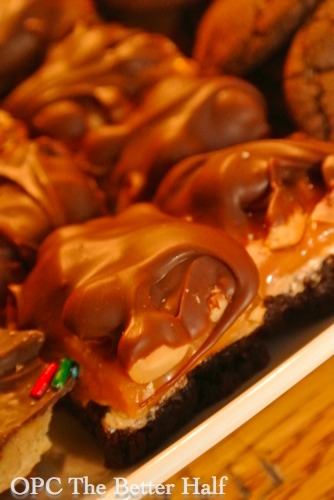 Snicker Brownie Bites from the Domestic Rebel – my personal fave of the night!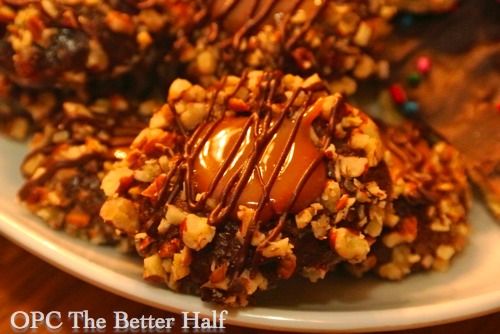 Turtle Thumbprint Cookies from my friend, Trish over at Mom on Timeout
Anther from my mom's kitchen – Chocolate Mint Cookies
Healthier Mini Cheesecakes from SkinnyTaste, topped them with fresh fruit just before the guests arrive
In the way of fruit, I also prepared a layered fruit bowl that added a lot of color and diversity to the table.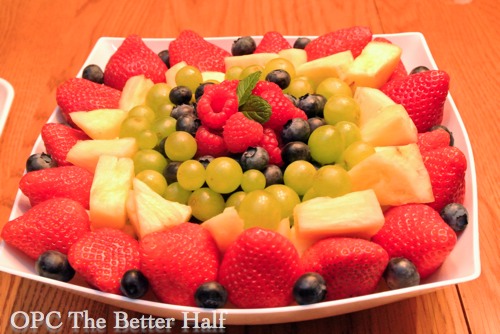 And in case you missed it on FB, here is my veggie Christmas Tree! This may have been the prettiest thing on the table!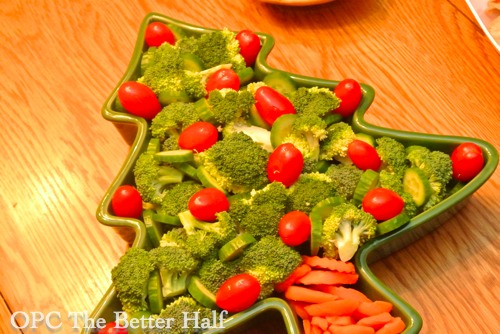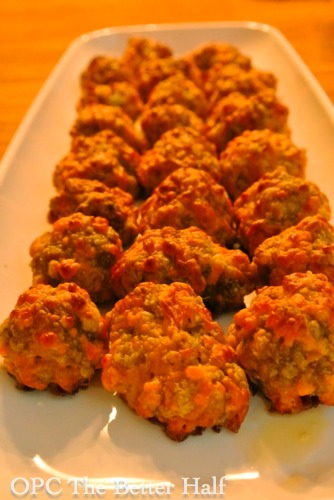 Sausage Cheddar Balls from Martha Stewart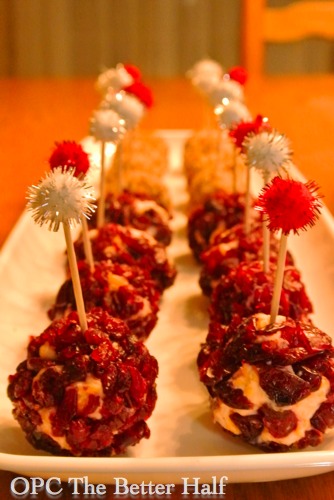 Cheese Balls from Martha Stewart
While I used Martha's recipe, I used a melon-baller to make mini, individual cheese balls and added a sparkly pom to the top of a toothpick for added color and glam! I also made the Blue cheese ball and thought it was gross, so we didn't put that one out for the guests. lol.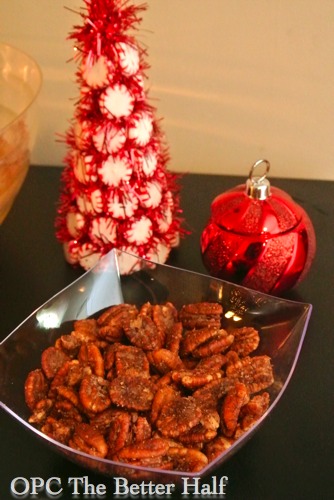 Spiced Pecans from Food.com
And while I didn't make these myself, boy were they good – Shrimp Cocktail and Crab Balls from a local seafood market!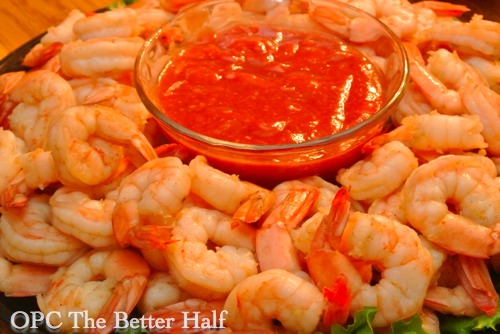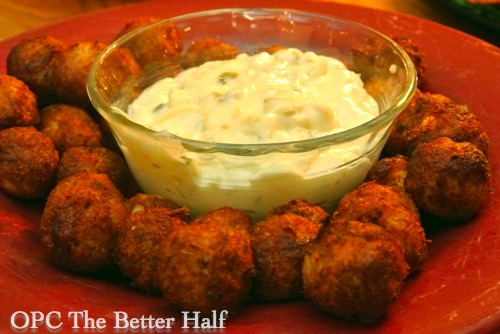 Games!
Okay, maybe not games…one game and some door prizes.
When we invited all the bloggers, we told them we were going to do a homemade White Elephant gift exchange. In case you haven't heard of this, it s pretty simple game – each person brings a wrapped gift. Then each person who bright a gift draws a number (if there are ten people playing, the numbers would be 1 – 10). Then starting with the person who has the number 1, a gift is opened. Number 2 can either steal a gift or open a new one. This continues for all the numbers and then number 1 gets to have one last turn.
I know not everyone loves party games, but we are all crafters, so I thought it would be a fun way to show off our victories or failures. haha I don't remember who ended up with what gift but here are a few of the highlights.
JB opened Ethan's homemade bottle opener and a Christmas CD of songs played using tools! haha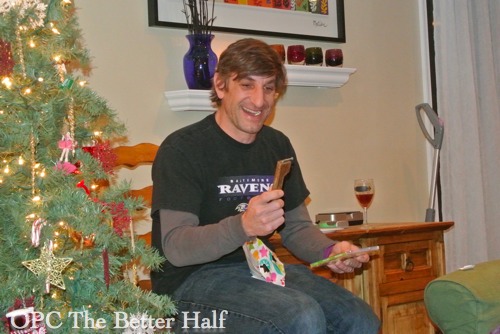 Here is Jessica opening another Ethan original – a homemade Cribbage board.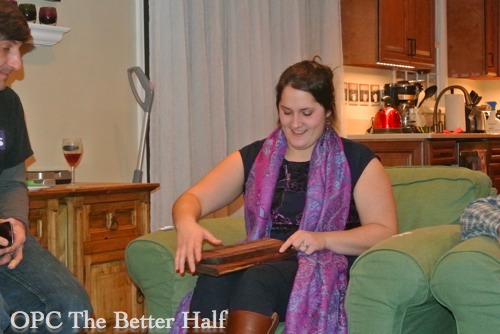 And Ethan opening Megan's jewelry holder. I was pretty happy about this and Ethan could at least admire the handiwork!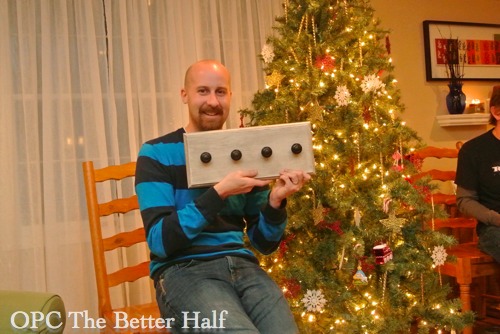 Ethan must have had this stolen because here he is with Jessica's homemade lazy suzan! It is really amazing and made from an old cheese box lid. I was lucky enough to come home with it.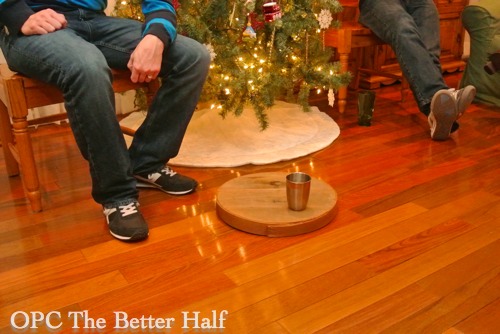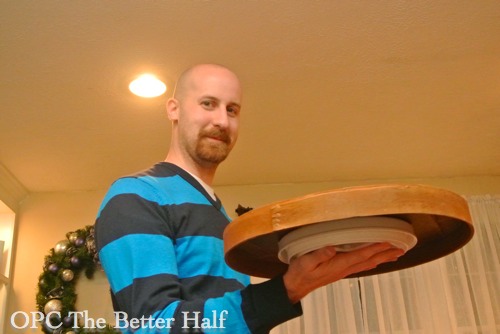 Fred loves his cheese box lid chalk board from Jessica. Word is that it has been put up in his office already!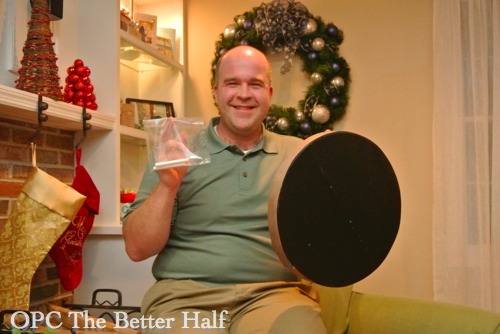 Megan was stoked to get a bird house from JB. I would have stolen it from her but she kept saying how much her daughter was going to love it. Sure Megan, play the kid card! haha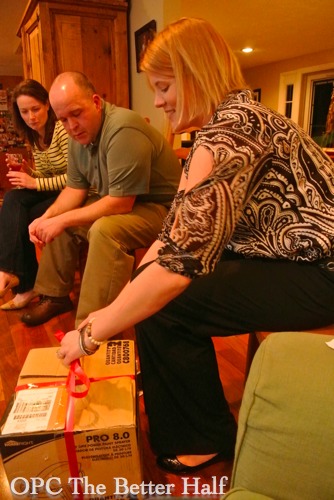 This wasn't a great picture because it was taken from across the room, but it was such a funny gift, I had to share! Poor Josh opened his gift to find "50 SHEDS of Gray." At first, he thought it was "50 Shades of Gray" but that made it even funnier. Kim even built a popsicle stick shed to house the book. But, consider yourself warned, I hear there are sheds in many compromising positions – some even bare! lol!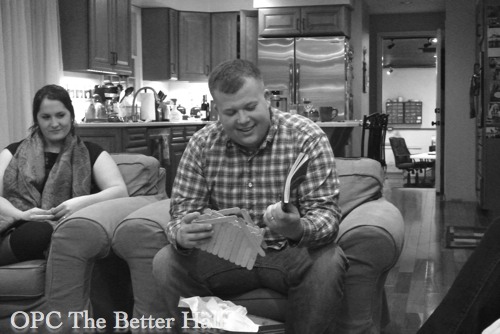 Well, that was our holiday party! We had such a wonderful time and made great friends with our local bloggers. I'm hoping to have more events in the coming years in hopes to build a strong and supportive community for each other.
Thanks for all your support and shared excitement as I was preparing!
What do you think? Any pointers for our next big party?
As always, thanks for reading!