I'm so excited to share with you the love and family history of this Dining Room Makeover! Thank you so much to Minted for providing the new artwork. All opinions are 100% my own.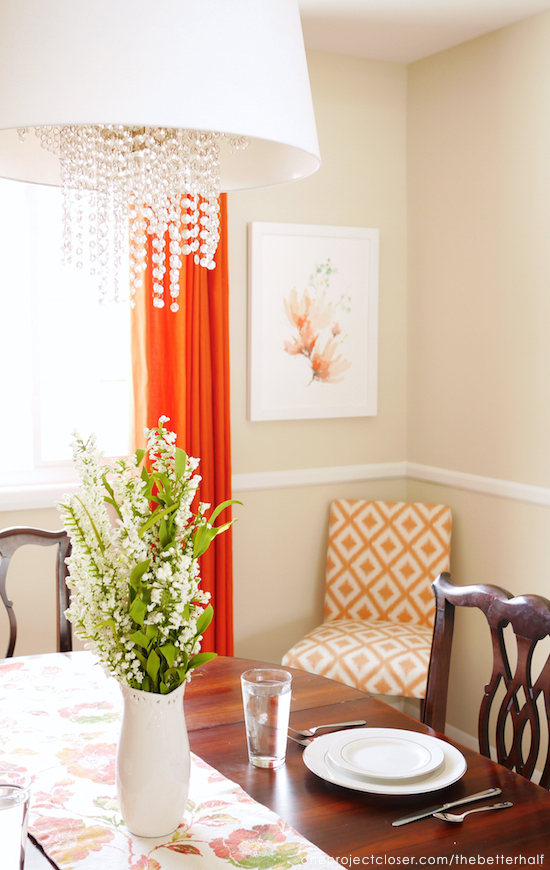 Our family spends a lot of time in our dining room. We eat all our meals here. Play games. Do art projects. Its where I do all my watercolor and hand lettering. In a lot of homes, the dining room is reserved for special gatherings, but I love being in this room and using the space that we've put so much love into.
You may remember that a few years ago, Ethan built a farmhouse table and I refinished the chairs Ethan's grandfather built? I loved that table. I mean, really loved. I loved that it was sturdy, could take a beating, and I didn't think twice about pulling out the art supplies. It was so practical and beautiful. But the veneer on the chairs kept peeling and the table needed a few repairs.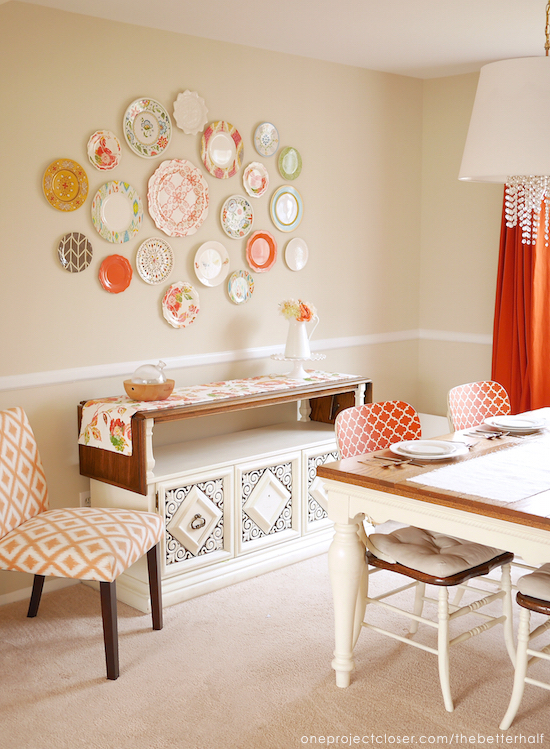 Then, recently my grandmother moved into nursing care and wanted her dining room table, chairs and buffet to stay within the family. Cue the Dining Room Makeover. It was really hard to say goodbye to the farmhouse table. Really hard. But I LOVE the new buffet, and while the table and chairs are a little more formal than I would chose, I love sitting down to dinner and remembering the years spent eating tacos, playing games and laughing at my grandparents home with the whole big family. In the end, family wins!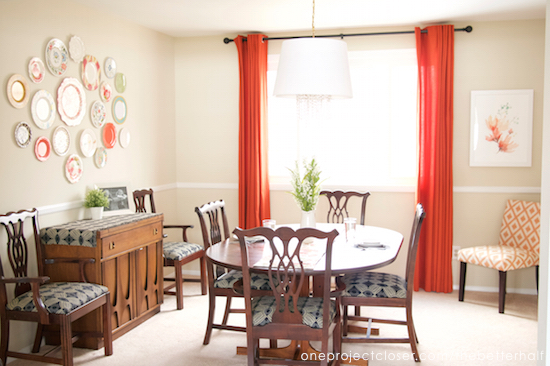 Within 24 hours of getting the furniture, I went to Joann's and bought new fabric to reupholster the chairs. I'm in love with this fabric – its heavy duty and dark enough to hide the stains my kids will inevitably cause. The fabric is a beautiful navy blue with cream dots, and brings the the orange and dark wood together perfectly. I also love how it all goes with my plastic plate wall. Did you know my trick for hanging the plates wall, quick and easy?
My new favorite piece of art in my whole house is this Blush Blossoms Art Print by Kelly Ventura (with premium white wood frame) from Minted.com. I don't think the pictures can do it justice – it is soooo beautiful! I know I've been talking about Minted a lot lately but I am just blown away by how amazing their collections are – and now they offer so many home decor, art and textiles! I'm a bit addicted.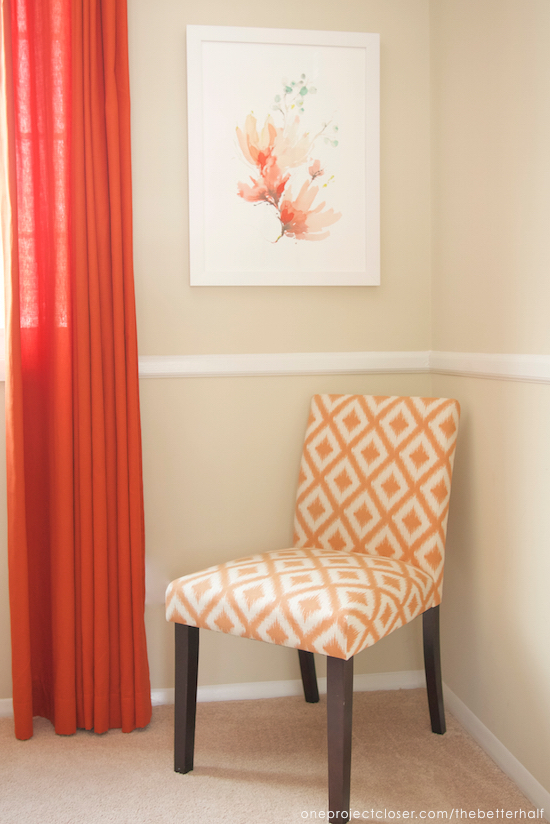 I should also mention my chandelier! Feel free to check out the full DIY chandelier upgrade story, but it is still such a statement in our dining room – elegant, with a little sparkle (pretty much my personal goal in life). 🙂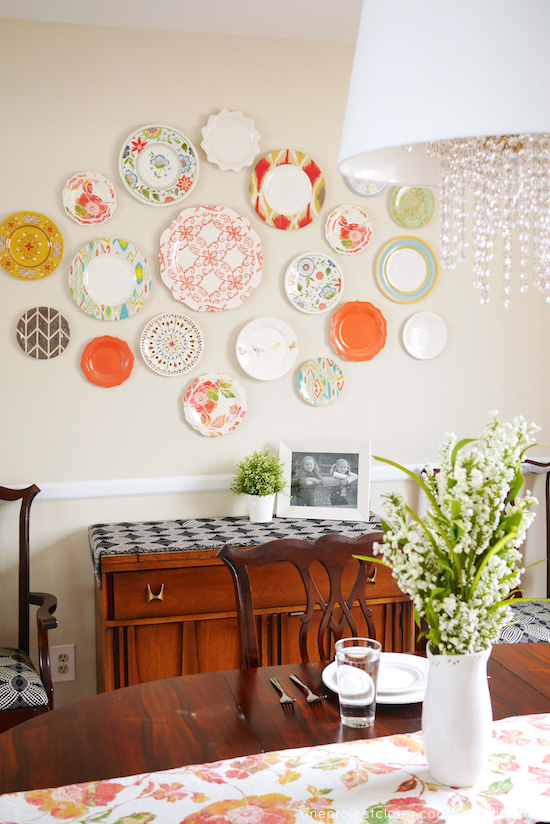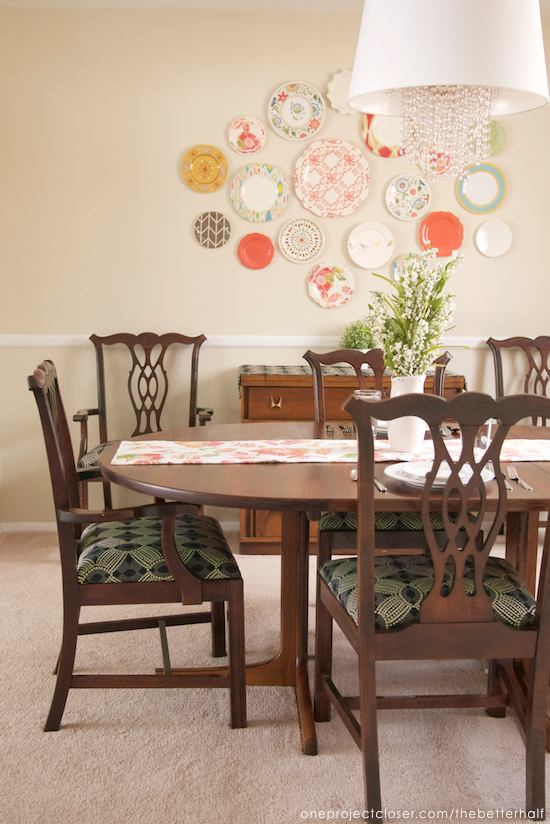 What do you think? Are you a fan of the new or old Dining Room Makeover?
As Always, thanks for reading!

Don't forget to check us out on Facebook , Instagram, & Pinterest!