We're finally nearing the end of our do-it-yourself first floor remodel! Do you remember everything we've done so far? (We'll assume you don't. So here's the Reader's Digest version with a few links to some of the good stuff…)
First, we gutted the entire first floor, including tearing out several non-load-bearing walls. We hired a contractor to put a doorway in one remaining load-bearing wall. Then, we installed 3/4″ Brazilian Walnut (Ipe) floors throughout the entire space. We selected and installed Closeout Cabinet's beautiful Society Hill line of ready-to-assemble cabinets for the kitchen. Then, we installed Kichler's Design Pro LED under cabinet lighting in preparation for the countertops (turned out to be a great move for these counters!). We installed a Frigidaire wall oven, purchased a Bosch cook top, and then turned our attention to the kitchen countertops (where that Bosch cook top will live)… which brings us to this article!
The Before Picture
Before we get started on the new countertops, it's worth taking a look at where this kitchen started 14 months ago, in the midst of the remodel but before we had taken out the cabinets. Aren't the white cabinets and laminate dust-covered butcher block endearing?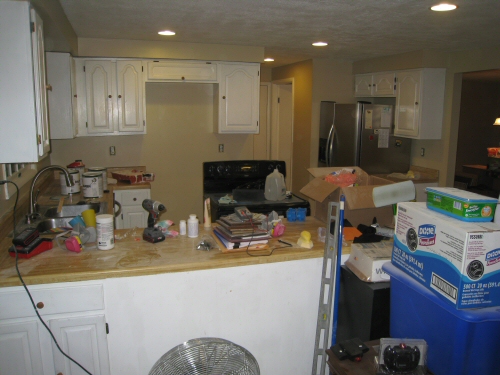 Kitchen Countertop Selection – The Options Are Plentiful
We are fortunate to live in the 21st century when the number of countertop material options alone exceeds what can be counted on two hands. There's laminate, granite, marble, soapstone, quartz, stainless steel, concrete, butcher block, solid surface, recycled glass, and the list goes on and on. Then there's an option for every style, function, and budget. You can select bright, vivid colors, neutral earth tones, patterns, flat look, high gloss, low gloss, or even no gloss. For most surfaces, you can also choose one of a dozen different edging options, from basic bevel to exotic waterfall triple pencil. Yes… the options truly are endless. But for us, we knew exactly what we wanted in our kitchen, so most of those options just melted into the background.
To give you some background: in our first home, we had DuPont's Corian countertops. We loved them. We purchased a neutral tone with the over-sized integrated sink. They made our aging late 80s cabinets look brand spanking new. As you're probably aware, Corian is a synthetic material manufactured by DuPont, and because of its non-porous design, it is both easy to clean and resistant to micro-organisms (like those found in uncooked meats). It really was a great maintenance-free countertop that served us well. But, DuPont's Corian has just one drawback: it isn't high heat resistant. If you accidentally set a hot pan on the counter surface, it can deform the surface, so you have to be careful. DuPont offers integrated heat resistant rails to help mitigate the risk, but in this home, we wanted the "perfect" surface — one that has zero drawbacks — and we found that in DuPont's ZODIAQ quartz surface countertop.
DuPont Zodiaq Countertop Overview
We think DuPont Zodiaq countertops are hands-down the best option for counters on the market today. Zodiaq is a quartz-based composite material designed to meet every demand of the modern day kitchen. Zodiaq counters are:
Non-porous like their Corian counterparts, meaning they won't promote bacteria or mold growth.
Extremely hard; while DuPont doesn't recommend it, they will actually dull knives if you cut on the surface.
High heat resistant; again, while DuPont doesn't recommend it, Zodiaq will handle up to 400 degrees without a problem.
Very sturdy; with a surface feel that resembles granite
Maintenance free; unlike granite, you never need to seal your countertop.
And it comes in a variety of great looking colors that range from neutral….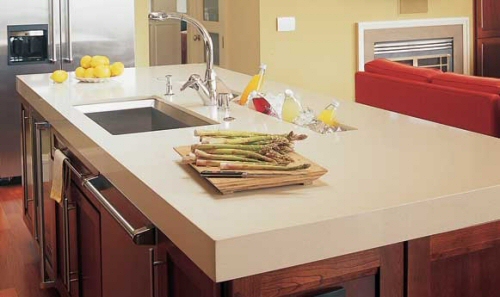 …to bold…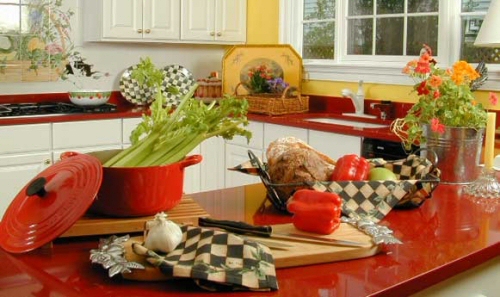 But, you say, no countertop is perfect, right?
It's true. Zodiaq does have a few limitations. First, if your contiguous countertop space is too large, Zodiaq cannot be installed completely seamlessly. But, DuPont has started manufacturing Zodiaq in very large slabs — 63″ x 120″, meaning that many countertops can be installed seamlessly, as ours was. The alternative for a completely seamless countertop is to go with a manufactured solid surface product like Corian.
And, Zodiaq must have an over- or under-mount sink, unlike Corian which offers a completely integrated sink. Of course, under-mount sinks are very attractive and have become commonplace in modern design, so this isn't too much of a drawback.
How We Selected a Zodiaq Installer
Once we knew we wanted Zodiaq, we worked with DuPont to identify a couple of fabricators in our area. DuPont has setup a tool on their web site that will point you to a few retailers local to you.
We got three quotes on the job that ranged by as much as $1,000 for the same job. We ultimately selected a local fabricator called Creative InCounters in Mt. Airy, MD who offered the best price.
The Measurement Process
You can obtain quotes on a countertop job using a simple measurement (length x width of the counters). For installation purposes, a very detailed, 3D measurement process is needed to ensure the material is cut to account for imperfections in walls. This is especially true if you plan to install a tile backsplash rather than a more traditional countertop-based backsplash. The countertop-material based backsplash is usually a little thicker than the tile, and would cover some of the imperfections between the countertop and the wall.
Here's several of the pictures of the measurement process. You can see that as the installer takes measurements with the FARO 3D measuring tool, the computer builds a 3D model of the actual kitchen.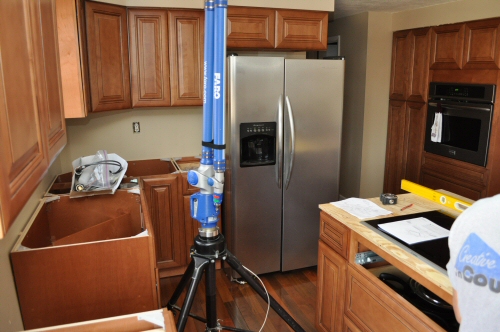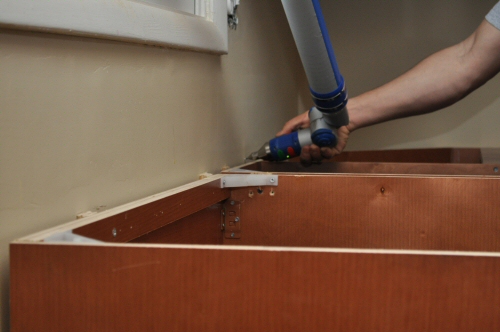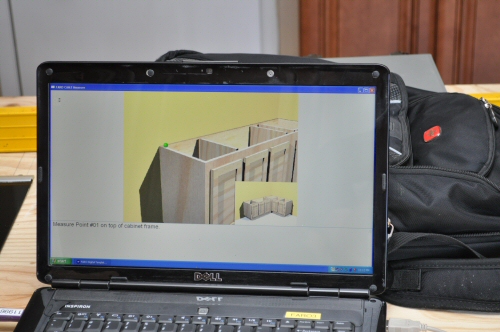 With the template measured to the exact dimensions of the kitchen, the Zodiaq counters can be fabricated to exactly match our kitchen's "nuances".
Installation Day
Thanks to great measurements, installation day went off without a hitch. They brought two large slabs of Zodiaq pre-cut to fit the L-shaped countertop and island in our new kitchen design.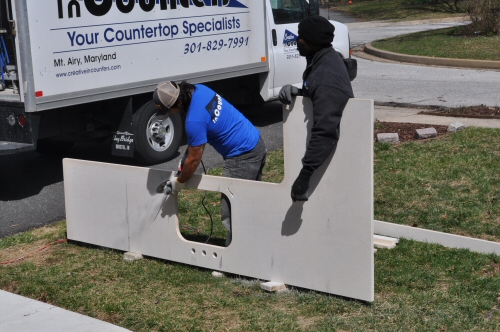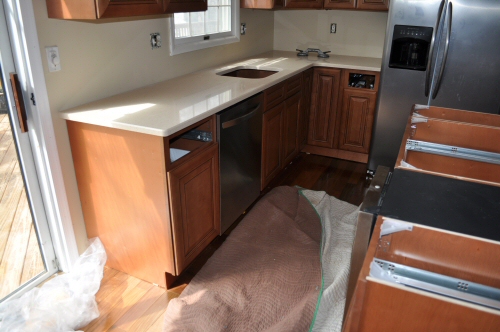 They field-cut the hole for the cook top to avoid potential breakage during shipment. Here you can see the preliminary holes cut at the factory.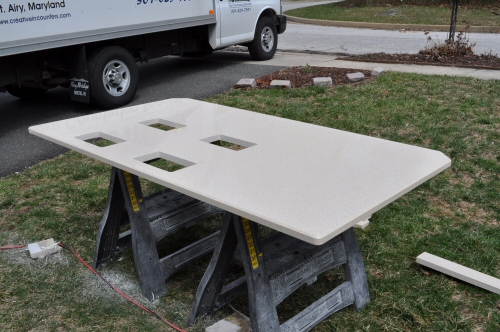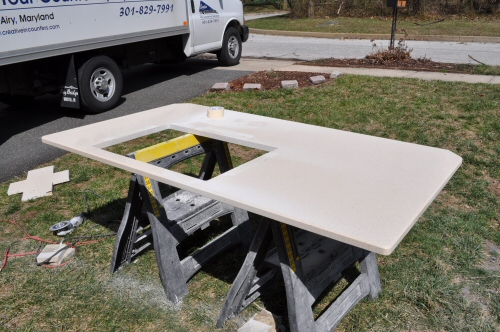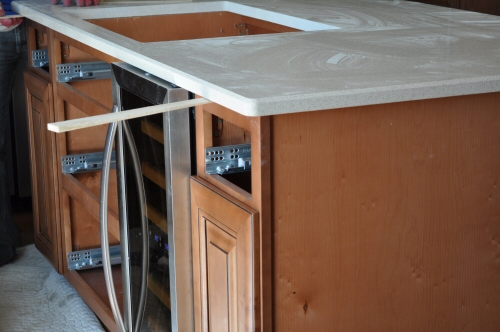 Once installed, the installers finished up by mounting the sink and the cook top.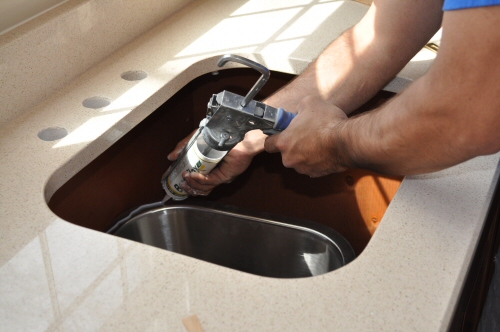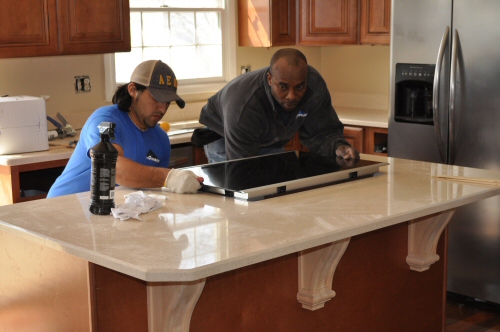 The After Pictures
The color of the Zodiaq we picked is a neutral called Cygnus Pearl. It's very clean, crisp, and uniform, and brightens up the kitchen space that has a back drop of Brazilian Walnut floors and mocha-stained maple cabinets.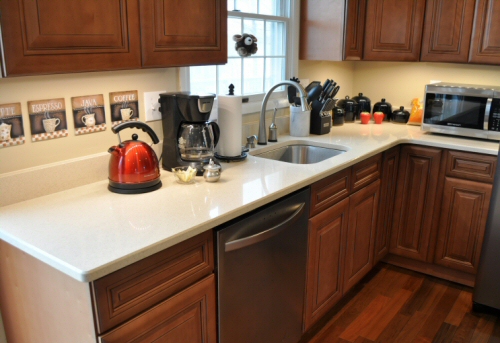 And here's an up-close of the Delta ToucH20 faucet installed on these counters. You'll notice we had this Delta faucet in our old kitchen in preparation for the day we could move it to this one. The Zodiaq makes the faucet look so much better.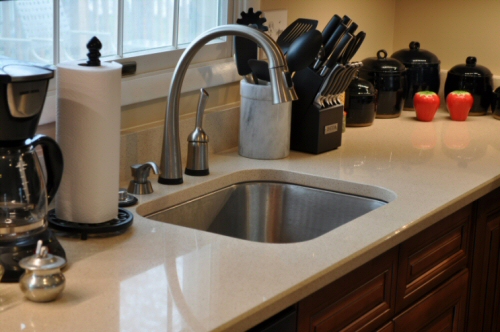 And from a little further back, here's the kitchen with the entire island. We installed a very large overhang (15 inches) requiring corbels. The maximum unsupported overhang for Zodiaq is 9 inches.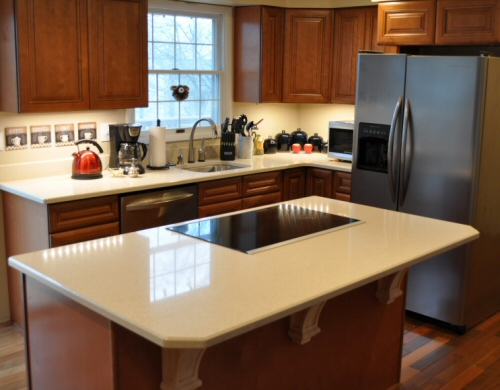 And here's an up-close shot of the Cygnus Pearl in natural daylight. You can see how the color changes a bit depending on the warmth of the light.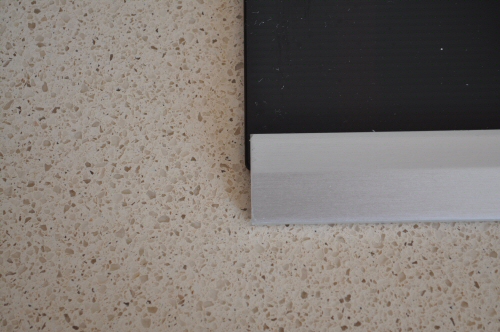 Frequently Asked Questions?
Feel free to leave questions in the comments and we'll do our best to answer them (and potentially update this section). Here are a few of the questions we started with when we were shopping for Zodiaq.
What's the largest size countertop you can install without a seam? Zodiaq slabs ship as large as 63″ x 120″, meaning the largest seamless installation is about 5 feet x10 feet.
Can you set a hot pan on Zodiaq? DuPont says that Zodiaq is "heat-resistant" but not "heat proof". Our experience is that you can sit a hot pan down; however, you may be creating stresses in the material that could lead to a fracture. It's not likely to happen on the first time, and if the pan is only relatively hot (say around 200 degrees F) it probably won't be a problem. Setting down a 500 degree pan on a thin spot, however, could create damage.
What colors are available? You can see the complete line of colors on DuPont's web site. When looking at colors, we recommend looking at the "sample" pictures as opposed to the up-close of the grain. The grain pictures are highly detailed and don't give the best impression in our opinion.  Once you narrow down your favorite two or three (or just one, if you're that decisive!), click on the sample images and order small samples to be shipped to your home.  It's worth getting to see them in your space and to be sure you're ordering exactly what you want.
What's the largest unsupported overhang for Zodiaq? Our countertop fabricator said they will only do an unsupported overhang of 9 inches. [We prefer our 15 inches for comfortable eating.]  If you want to go longer, you'll need to install braces or corbels to reduce the maximum overhang to 9 inches.
Does the color run all the way through? Yes. Although the underside is not polished by default. You would have to pay extra for that, we suspect.