Sometimes it's hard to believe that we've been running One Project Closer since 2008. It was early January when Fred told me he wanted to start up a blog about home improvement, and asked if I would join him. We both loved working on our homes, and it sounded like a fun time. I remember when manufacturers started asking us to check out some of their tools, and Malibu Lighting sponsored our very first giveaway with some battery-powered LED path lights. In those early days, I never believed that three and a half years later this would be my full time job.
Fast forward to today. One Project Closer is humming along, and could easily keep two people (or more) busy all day, every day. Until you run a website, you don't realize how much goes on in the background. Fred is a genius programmer and is responsible for most of our site design. Kim runs the finances and keeps us honest. If you ever see a picture of us wearing OPC swag, it's because Jocie designed it. And you know what I do all day… hang out at Panera Bread and try to look busy while doing most of our writing from weekend and evenings projects.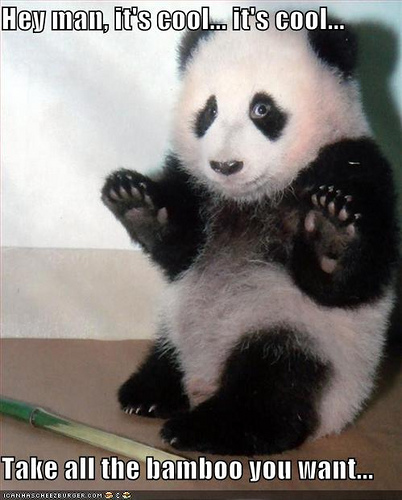 The Panda Update
So what does any of this have to do with Pandas? If you keep up with tech news, you may recall that Google made some changes to how they serve up search results in February of this year. If you search for "Google panda update," you'll see plenty of reading material on the topic. Anyway, they called this update "the Panda update" because Navneet Panda is the name of the Google engineer that spearheaded the effort. The update was designed to improve search results when somebody enters a query at the google.com search prompt. If you've ever searched around for something like "how to build a brick wall" and found a thin article (i.e. one that says "Step 1: Buy Bricks, Step 2: Build a Wall"), you know how frustrating it can be when you find a sub-standard answer to your question. The Panda update helps get rid of junky content so that all the results are relevant and helpful. At least that was the plan. Unfortunately, Google's algorithm isn't perfect.
Before Google rolled out the change, some of our best content was getting a lot of visitors from Google. People wanted to know how to install hardwood flooring, and we served up one of the very best guides on the web (in my humble opinion). If someone was considering spray foam insulation, they might visit our video about a spray foam installation in our basement. For folks curious about applying weed & feed on their lawn, we had them covered with an in-depth article of the ins and outs of weed and feed.
But after the Panda update, many of our hits to those articles dried up. In fact, our entire site was (and still is) losing out.
How We're Getting Better
Needless to say, we decided it was time to make some changes, and many of the recent site developments you see here were spurred on by the Panda update. To make our site the best user experience possible, we cut out about half the advertisements. We took a hard look at our content and deleted anything that wasn't useful, current and well-written. We set up the OPC Facebook page and Twitter handle to connect with readers outside our website. We rolled out Project Rewards because we really value your time and want to thank you for reading.
Frankly, we've taken dozens of steps to improve our rankings in the big G. (For a real technical side of this story, take a look at my guest post on ProBlogger). We've seen some improvement on some articles, but we're a far cry from where we had ranked.
For example, if you search for "Dupont Zodiaq review" on Google today, you'll see a site that stole Fred's article reviewing DuPont's product ranking two spaces higher than OPC. That makes our site look less legitimate, because readers might assume that *we* stole the article from them. They used a special program called a "scraper" to automatically harvest it from our site. It's a dirty tactic, but one that apparently works in Google's new Panda update.
We Need You!
What does any of this have to do with you? Our readers are the lifeblood of One Project Closer. Without you, OPC wouldn't exist, and we need your suggestions to continue making improvements.
Here's three specific ways you can help us out:
Way #1: The best way for us to grow is for other people to visit. If you like our site, tell your family and friends to check us out.
Way #2: Have you seen that new

button? Click that to tell Google that we're doing a good job. Share our articles on Facebook and Twitter if you think they're worth sharing. As people click our "+1 button" it tells their friends that "this article is worth a look" when they're searching. If every one of our readers clicked "+1" on our best articles, that would be a huge help.
Way #3: If you don't like some aspect of the site, shoot us an email. Did our article miss the mark, or did we leave something out? Leave a comment telling us how it could be better. Feel free to suggest a good topic, and if I write about it, I'll give you 20 more Project Points for the idea! We truly want your feedback. We're thick-skinned and we love constructive criticism.
We work hard to be up front and transparent with our readers. Although today's post isn't about home improvement, I thought it was important to keep you in the loop. As always, thanks for reading!
Photo credit: wakefeilddavid