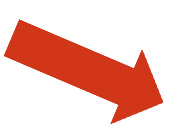 A lot of the popular design sites like to give you a tour of their house as an example of their creative talent. Well, I'm not going to do that. Instead, I'd like to show-off the official OPC workshop, because it's awesome. Plus, it's been a few months since we gave you an update.
If you're a regular reader, you've probably already seen elements of our shop like these hardcore workbenches, the wall-mounted lumber storage rack, and the epoxy paint floor coating. If you're not a regular reader, you should be, and here's a giant arrow directing you toward our subscribe options. Subtle right?
When I'm not out harassing following contractors, I'm usually in the workshop plugging away on my laptop or piecing together a project. Here's where the magic happens.

That's my desk in the middle. It's surrounded by four workbenches including the dedicated miter saw workstation. The workbenches provide the bulk of our tool storage, and it's crazy how fast they've filled up. Eventually, I plan on putting up a whiteboard, and the area below the mini-split seems like a good spot (see the mini-split being installed).
We have 16 recessed lights and a few rows of track lighting. Even so, it's still a little dark for pictures, and more track lighting is on the to-do list. We ran all of the conduit, and I love how the red, surface-mount boxes look (more details on that here).
We've exhausted our pegboard hooks, and that leaves a few hand tools scattered about when I'd rather have them up and organized. Eventually, Jocie is going to stencil One Project Closer along the top of the pegboard, and I've started a small collection of manufacturer's logos in the middle. You might not be able to see it, but we have 9 different battery chargers setup.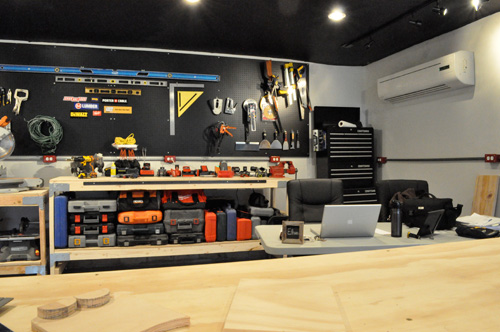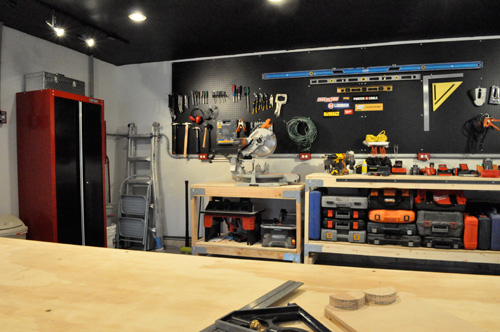 This Craftsman vice is probably the oldest tool in the shop. I estimate it was manufactured in the 60's, and it's still going strong. It's the one piece in our shop that just screams Americana. Fred loves it.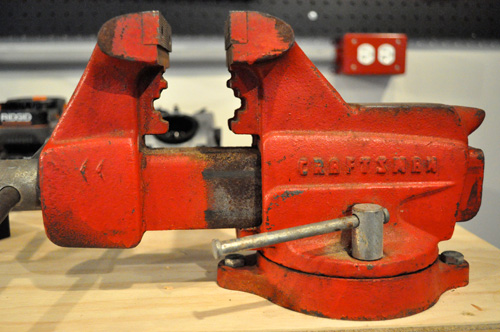 Another creature comfort we have is that TV mounted up on the wall. Fred insisted we purchase one, and I'm glad he did. I use it to play Pandora all day long. Right now I'm listening to Bob Segar's Old Time Rock and Roll. I get a little concerned about sawdust + electronics, and that's why dust collection and shop air cleaners are the next items I'd like to add. I was thinking about cutting holes in the ceiling and mounting the air cleaners in the attic space above the shop. Anyone else use an air cleaner? Anyone ever make their own?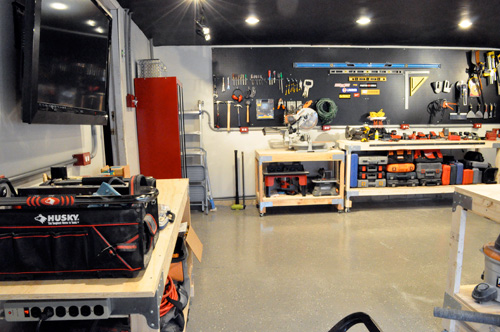 The Steel City table saw is a recent addition, and I'm still undecided on whether I like it or not. It took forever to assemble and calibrate. Then the belt came loose and SC had to ship me a replacement. That wooden sawhorse makes for a great out-feed support though. Another future project is to drop electric nearby so I don't have to run extension cords on the floor.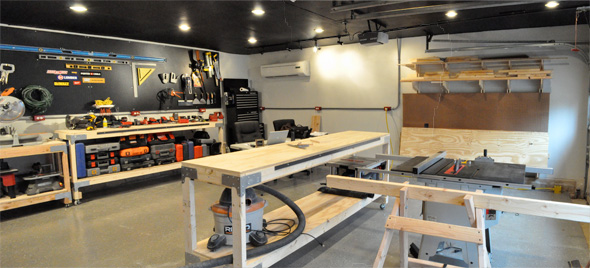 Other than the things I mention, what else should our workshop include?