It's finally time to close the book on Fred & Kim's basement remodel. I've been holding off on this recap because a few minor elements were on back-order and have just now been installed. In case you weren't with us when we started this Pro-Follow, Fred and Kim hired Joe Bianco, professional contractor and president of SDG Home Solutions, to finish their basement. Joe has been involved in a number of Pro-Follows, tackling projects ranging from bathroom remodels to kitchen makeovers and more.
All of our Pro-Follows are created by showcasing the work of an expert contractor with years of experience in the field. Their knowledge and expertise is an unparalleled resource for completing home improvement projects the right way. If you enjoy our Pro-Follows, become an email or RSS subscriber and never miss an update!
This basement remodel included some very interesting aspects like checking the basement with a mold-sniffing dog, replacing an exterior door and flashing an already-built deck. It also provided the opportunity to create a very comprehensive guide for how to install a tile floor. I hope you'll follow those links for the full articles.
Finishing the Basement
Fred did most of the framing and electric himself (with help from a licensed electrician). The basement is very well insulated with closed-cell foam, and you can learn more about that by watching our video about Installing Spray Foam Insulation. Here's how everything looked when Joe began work: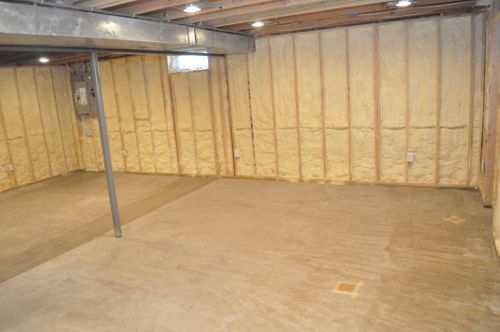 Fred also installed over 1,000 sq. ft. of electric radiant heat and embedded the wires in self-leveling mortar (SLM) throughout the entire basement. When the radiant flooring is turned on, the basement gets nice and warm very quickly.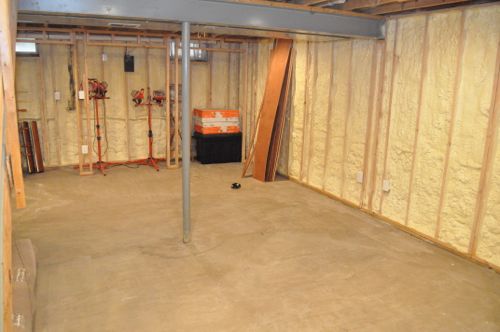 Joe brought in Russel from ETC Electric to tackle a short list of electrical odds-n-ends including some track lighting and junction boxes.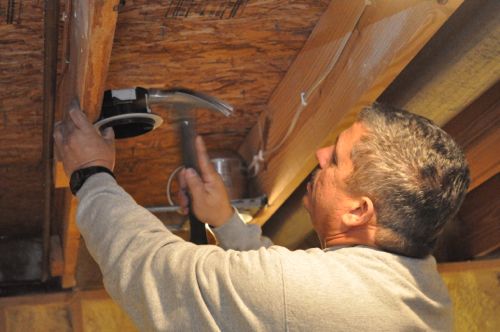 The plumbers from Drain Relief relocated a few valves, replaced some hose bibs and ran a new line for the refrigerator water supply.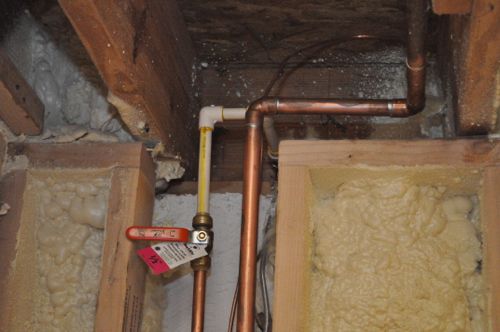 The framers didn't have too much rough framing to complete either. Joe had them frame around a bulkhead and stairs, frame in support poles, ensure drywall nailers in all the corners and frame around some plumbing.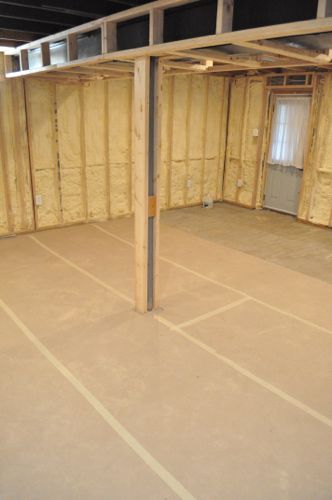 Soon after the framing was completed, Joe brought in Dave Marcelli from Mold Trackers, LLC to determine if there was any mold in the basement. Fred and Kim were concerned about a leaky ledger board, and they wanted to address any mold before covering the walls with drywall. Fortunately, Dave (and Sam) didn't find any mold problems.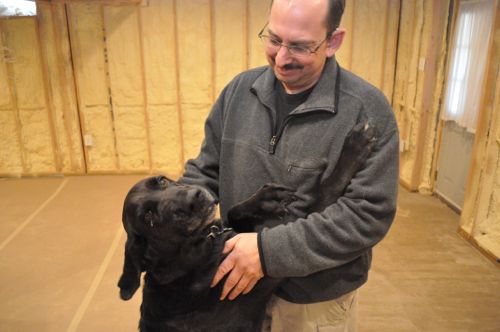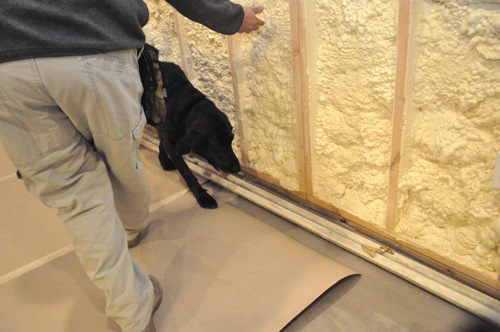 A deck ledger board should be flashed (waterproofed) when it is first installed so flashing an existing deck is no easy task. I thought Joe's solution to flash and install a PVC "baseboard" was a good one.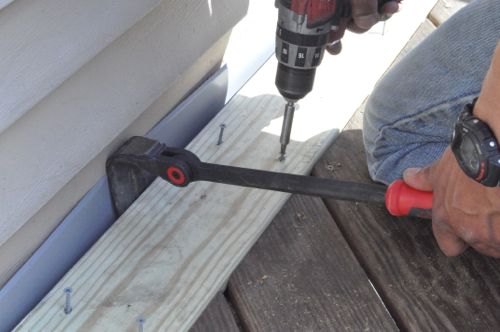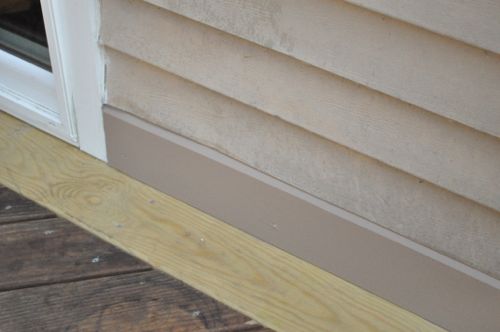 I think the best part of this Pro-Follow was partnering with Jim and Rich from Diamond Tile to show how they laid the tile floor. The guide I developed from working with Jim and Rich is very detailed and walks you through every step for successfully installing a tile floor. Bookmark that article if you're ever planning on installing tile.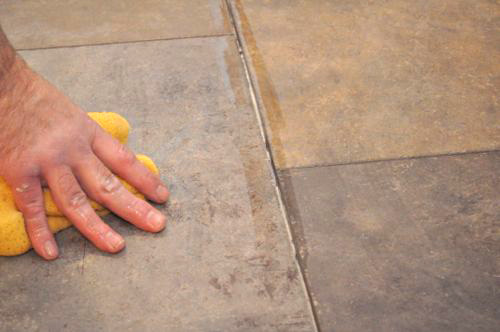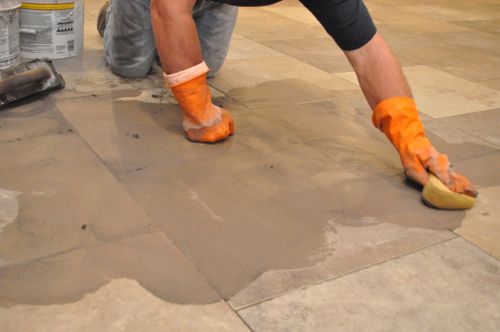 Finished
Here's a look at the completed basement remodel. It looks really good, and Fred and Kim were very impressed with Joe's attention to detail. I know they're very ready to start using the space.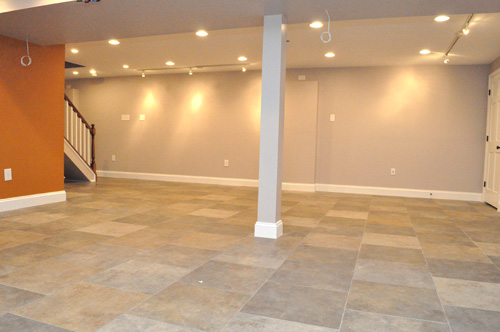 Those dangling wires are speaker wires for whenever Fred and Kim decide to setup a TV area, and that door in the background is actually the access to the electrical panel.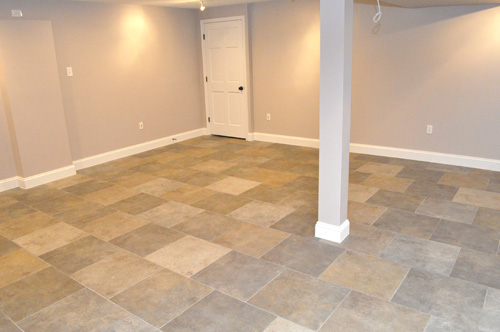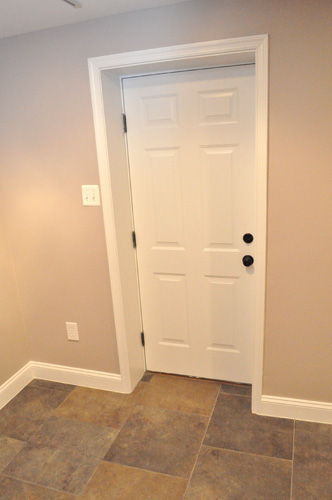 Fred and Kim love central american artwork, and the track lighting will enable them to better show it off.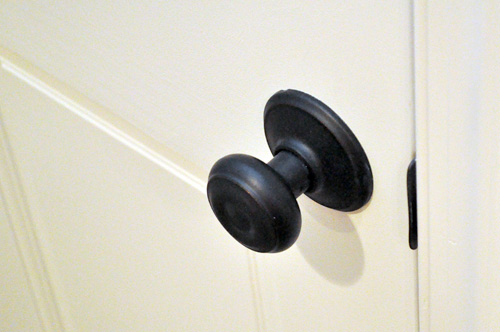 The foosball table is already setup and ready to go.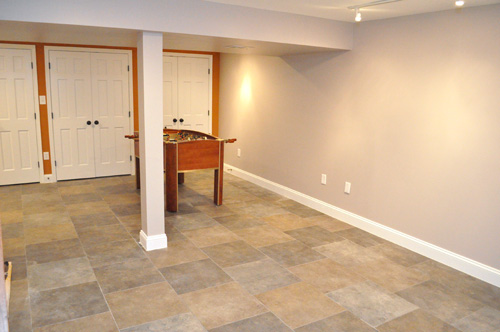 Previously the basement was used for storage, and Fred and Kim incorporated some closets to keep a little bit of that storage space.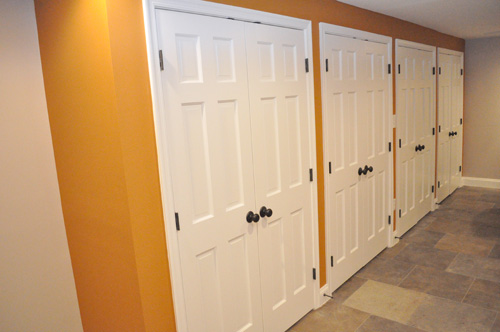 The HVAC unit and water heater are situated in the middle of the room and two sets of doors provides plenty of access.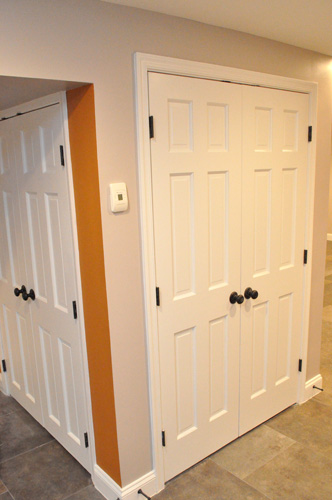 This is one of the thermostats for controlling the radiant flooring.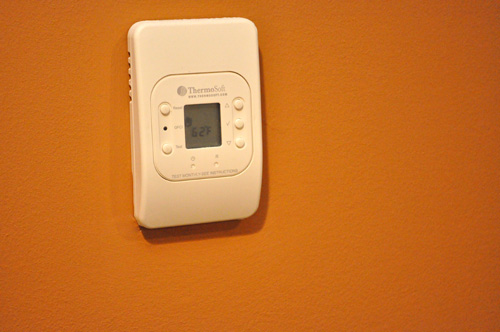 Here's a look at the stairs. The rail and newel post were one of the last things to be installed.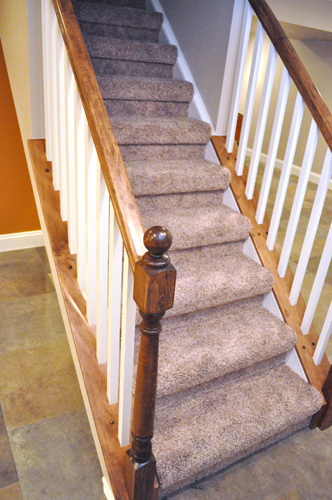 The stairs are the original stairs to the basement, but you wouldn't recognize them with all the work that's been done. The treads have been padded to meet height requirements and extended to create that slight overhang. Risers were added, and either side of the staircase was framed out to support the railing. Joe stained, painted and installed the railing himself.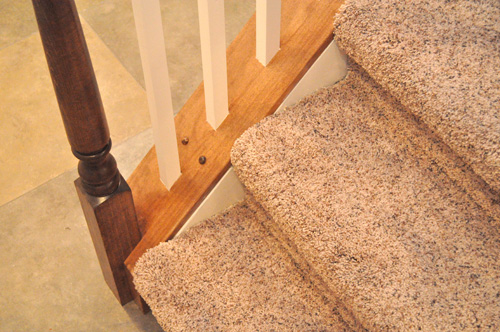 I hope you've enjoyed this Pro-Follow series. I don't have the next one lined up yet, but look for more to come this summer. Next week I'll be out of town, and I have some excellent guest contributors lined up.