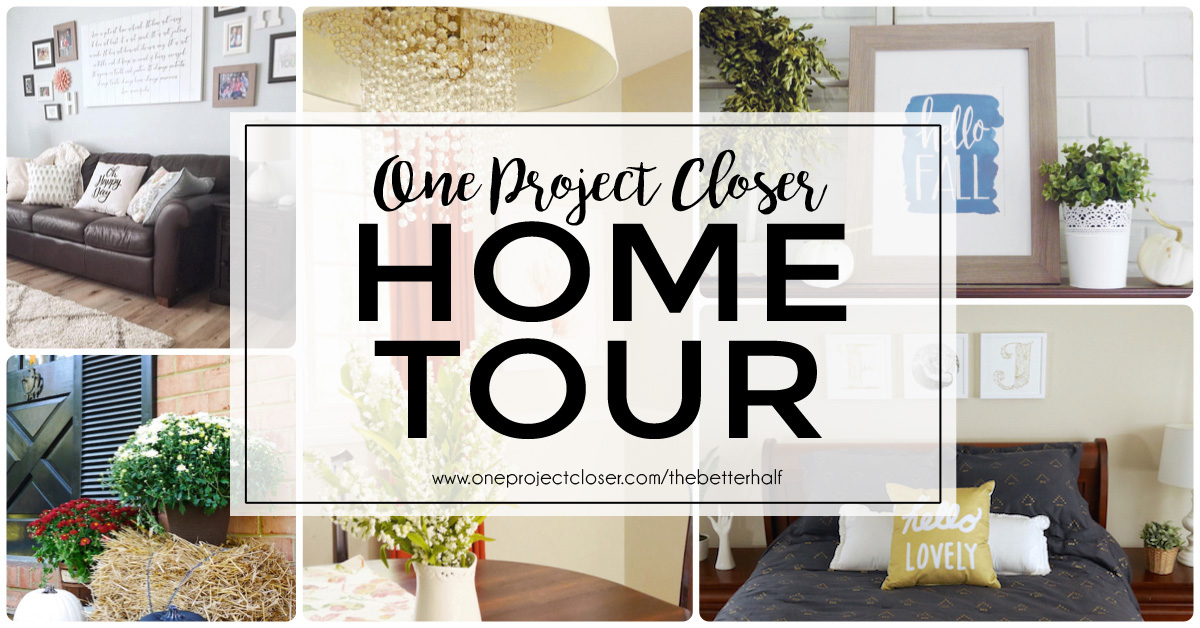 We've living in this house 3 years now and I've never shown you the house all together! Can you believe that? It only took us new floors to do it!
When we moved in, the first floor was a combination of linoleum, carpet, and slate. The carpet and linoleum were new (slate original) and good for the short-term. While not my first choice, they certainly made the house livable while we worked on other projects, like our master bath and laundry room. The carpet very quickly was destroyed by my children, particularly in high traffic areas like the entrance to the dining room and between in the kitchen and bathroom. No matter how much we steam cleaned, the stains kept coming back.
I began looking into getting new flooring for the entire first floor, weighing the pros and cons between luxury vinyl and hardwoods. In the process, we had another company willing to send us hardwoods to review. But at the end of the day, I really wanted ONE continuous flooring throughout the entire first floor and I did not want hardwoods in the kitchen and laundry room. So I reached out to CaliBamboo about an amazing new product I saw a press release on – luxury vinyl. More posts are coming about the product and how to install, but we loved that it is waterproof, durable, should last 50+ years, and gorgeous. Okay, so maybe that last part was the most important to me. But we are so excited to finally share with you what a HUGE difference this luxury vinyl flooring has made in our home!
Of all the projects we have done, this is the one that has made the most difference for me in how I feel about our home. I loooooooove it so much!
First, a few before pix….
As you can see, it's not AWFUL…but its also not amazing.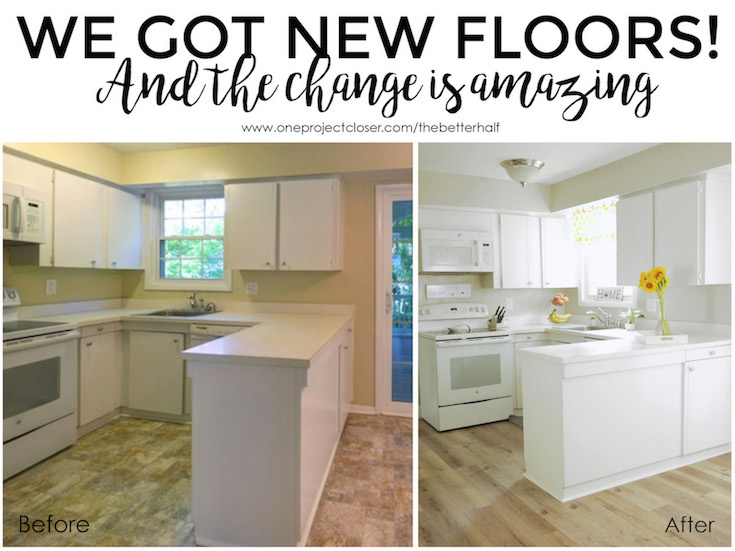 But the after…..totally amazing!
First up, the family room. Or maybe its the living room. I don't really know which is which. Either way, this is the room we spend most of our time as a family. Reading in the evenings, playing UNO on the floor, hanging out with friends. You will notice, we purposefully do not have our tv on our main living floor because we want to be as present as possible with each other. 🙂 Also, we don't have a dog, but we were dog sitting my mom's dog, Sophie and she was kind enough to sit and smile for some pix. haha
For flooring, we chose the color Aged Hickory which I liked in the sample but LOVED it even more once it was installed. It blew my expectations out of the water. It's got gray and tans in the faux-wood grain, so it goes with anything, even as the styles change.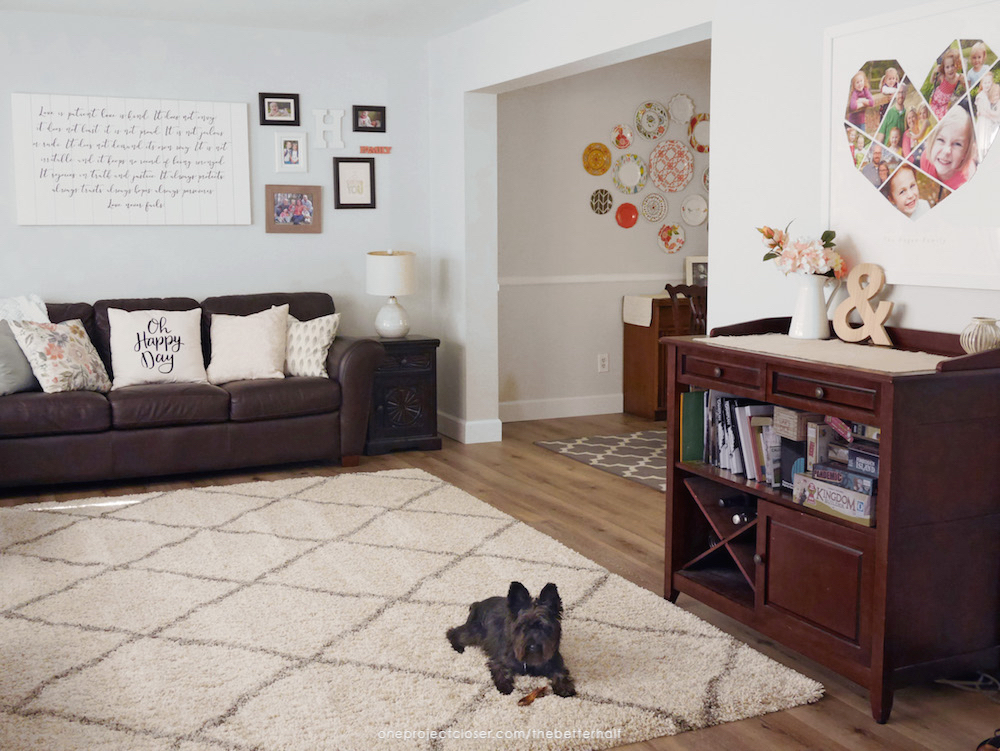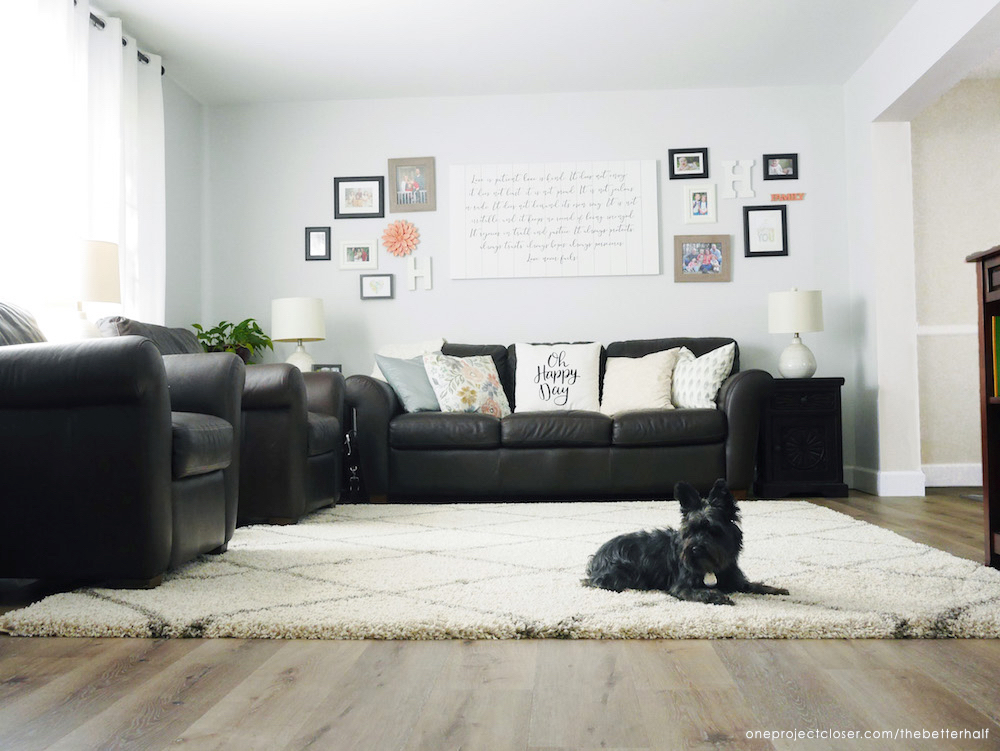 Directly next to the family room, to the right, is the dining room. Once upon a time we had a table Ethan built and I painted, but then we replaced it with my grandmother's dining set. I'm not sure we'll keep it forever, but I'm enjoying it for now!
Working around the house in a circle clockwise, next to the dining room is the kitchen. We would love to eventually replace the cabinets and countertops, but for now we're making due with what we have. At least they are white! But those linoleum countertops stain sooo easy. It kills me.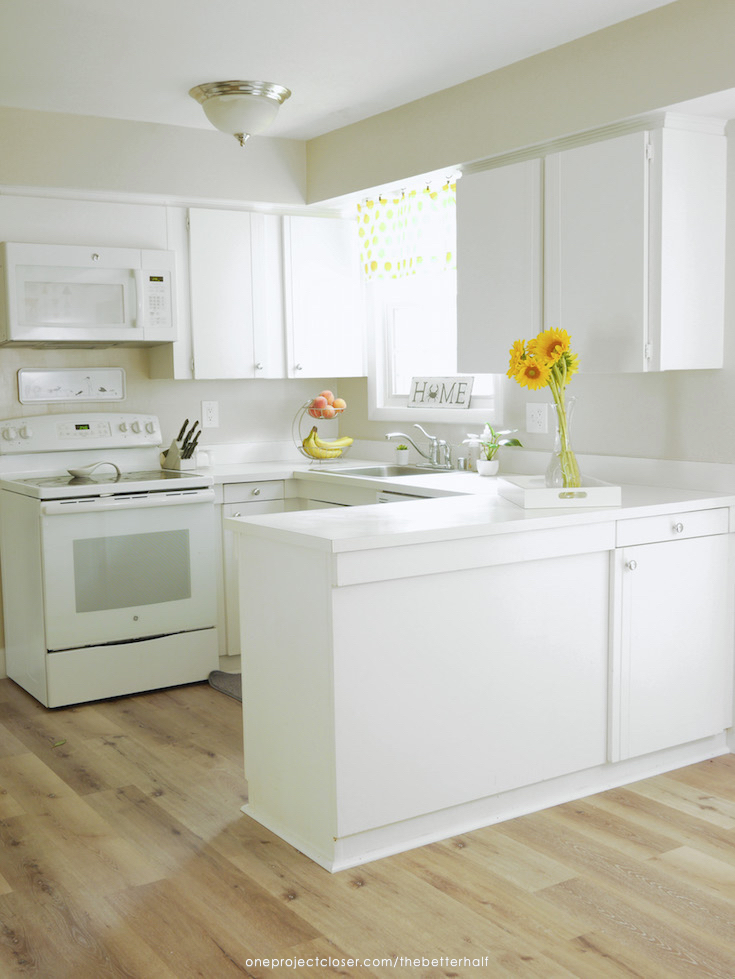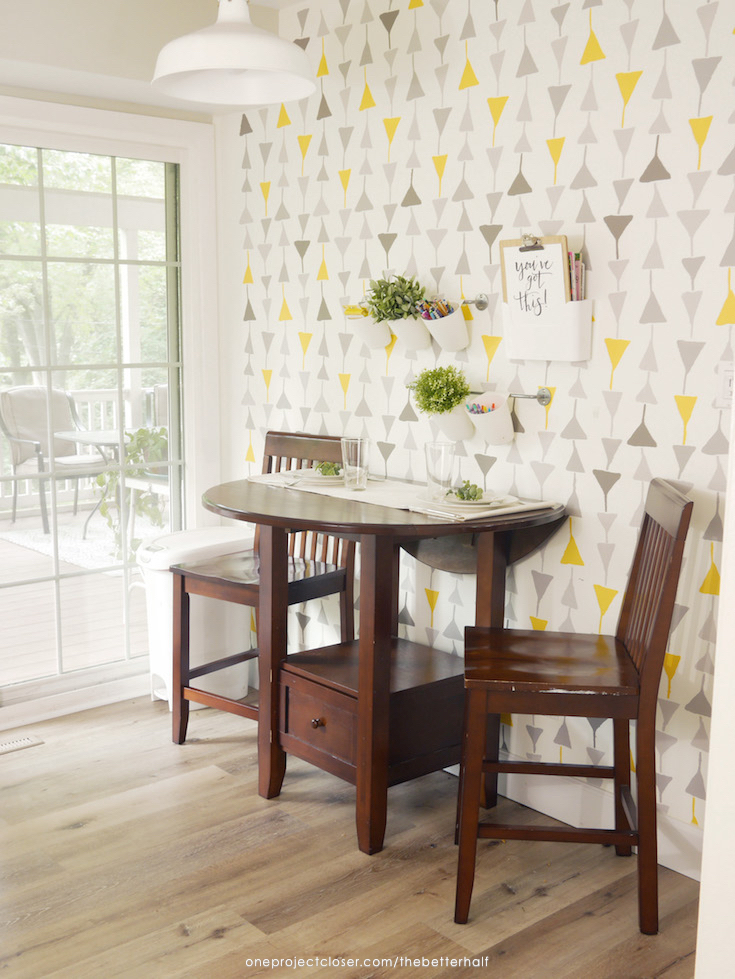 Next to the kitchen is the living room, and behind that is the laundry room and powder room. We remodeled the laundry room earlier this year and it is a huge improvement, especially now with the new floors!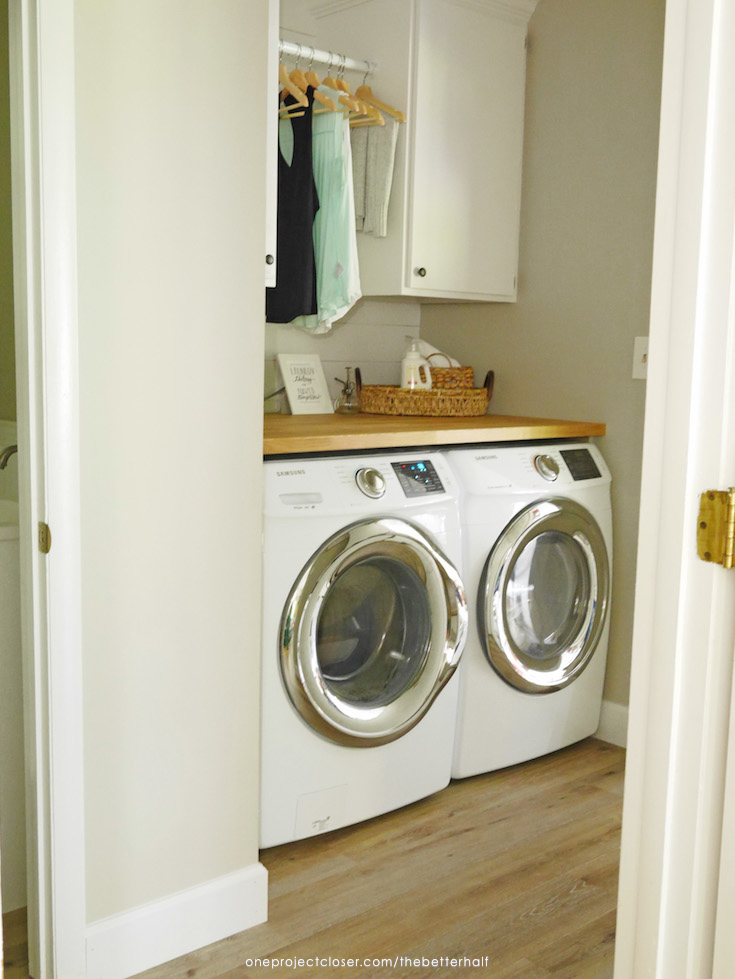 When we put new floors in and the old vanity had to be reinstalled, we realized all the plumbing and parts were bad. Oh shoot, we HAD to get a new one and replace the *gorgeous* old shell pedestal we had. HAHA please read that as intense sarcasm, because it was truly very ugly. We didn't have a ton of choices given the narrow space and that we also needed a somewhat tall sink to cover the previous pedestal marks, but I really like how it turned out.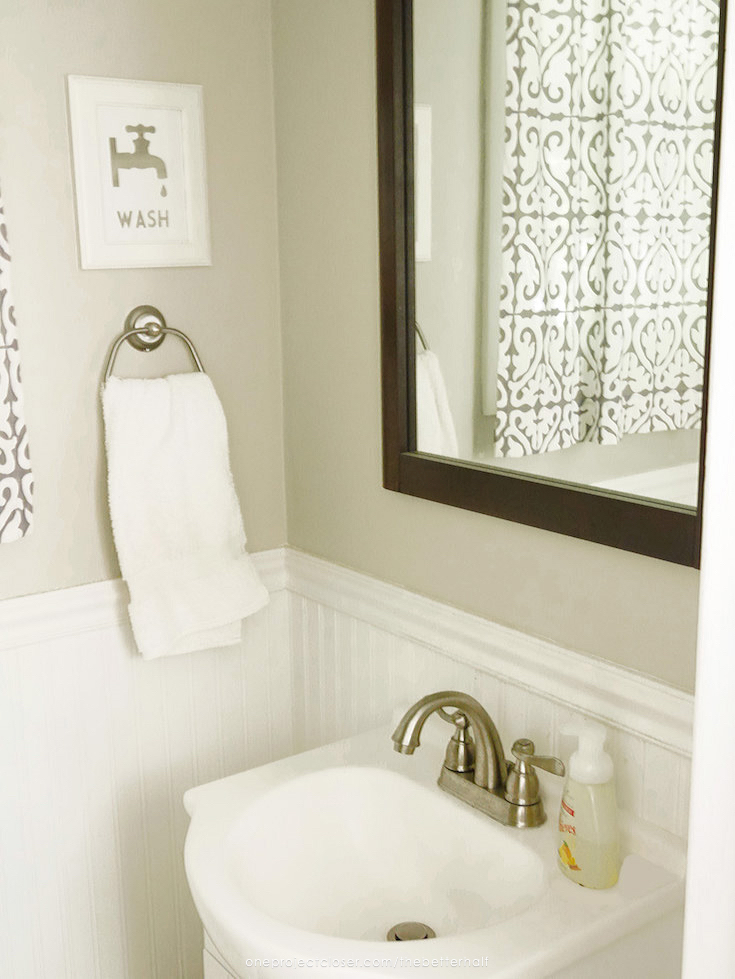 And now the living room….or family room…LOL. The fireplace is probably one of my favorite places in the house, and I love decorating the mantle, BUT we haven't really done much with the room. In fact we don't even have furniture. One day…. But in the meantime, I still smile every time I look at the floors and fireplace together!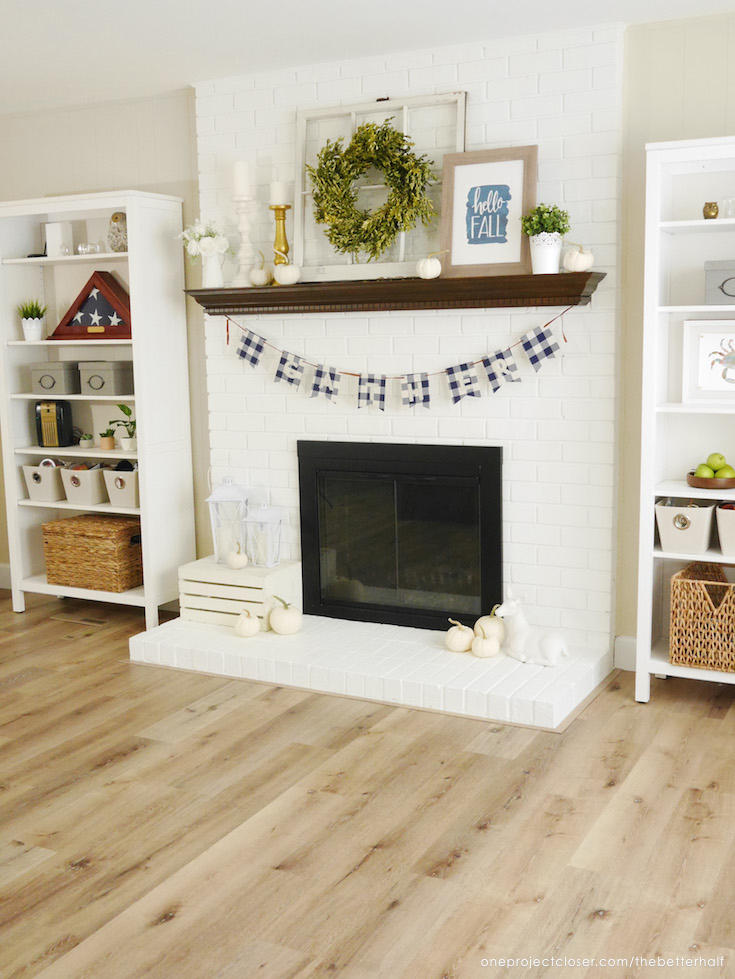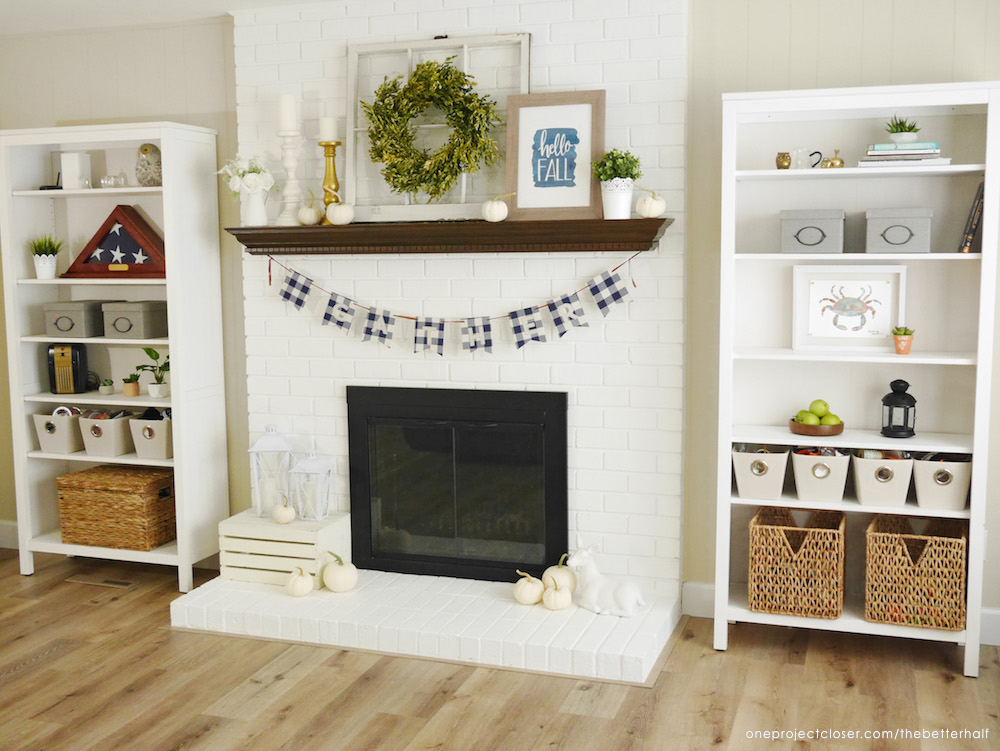 I added a new printable this week too, that I'm sharing as a part of BIG fall printable hop. So go get your free printable today!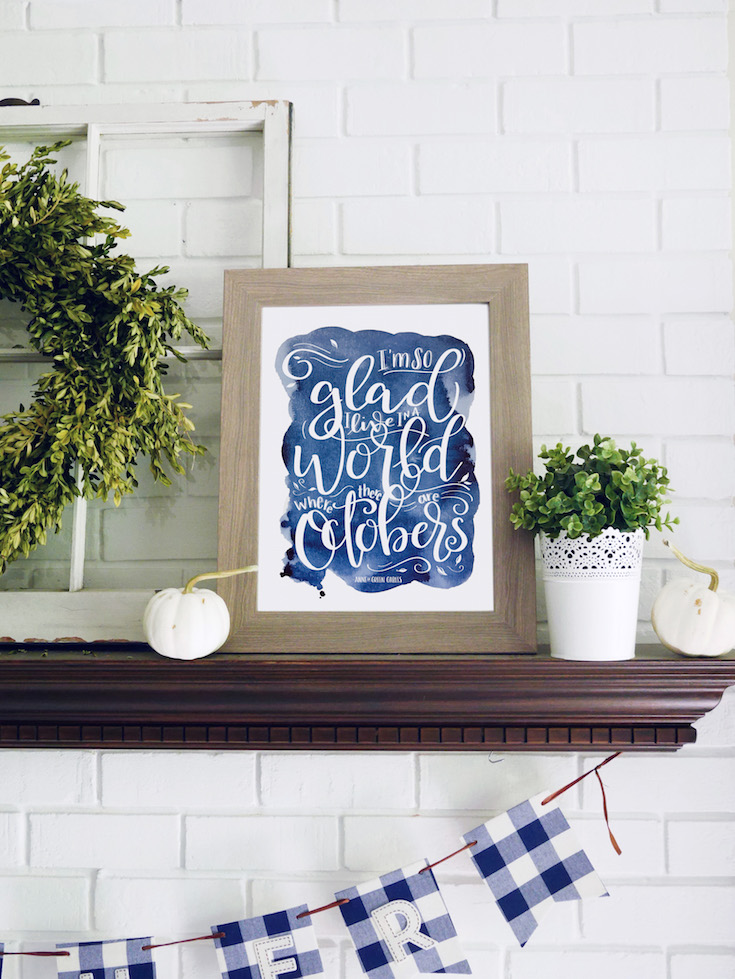 Don't you just LOVE it?
That's the entire first floor, and here are some other rooms we have redone over the past three years!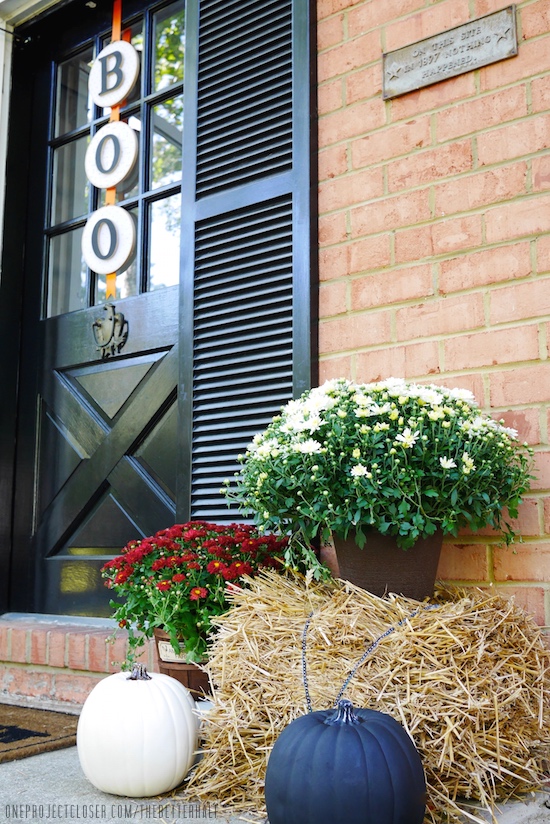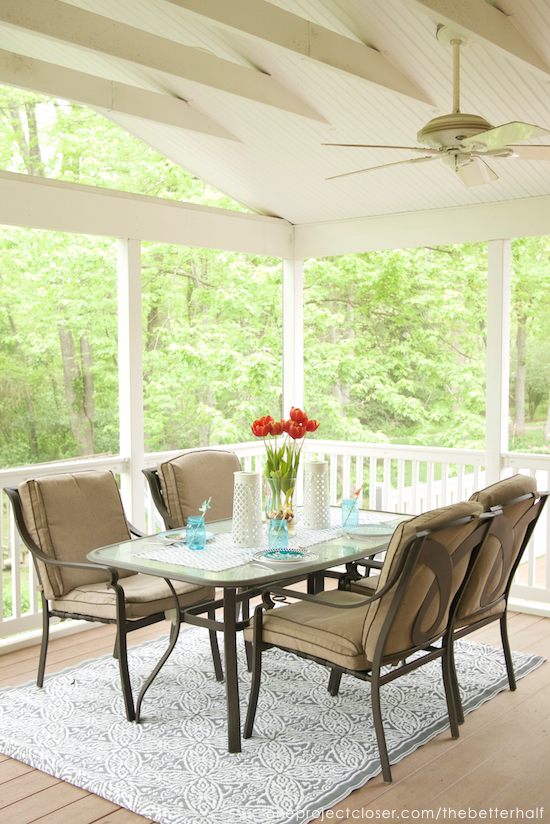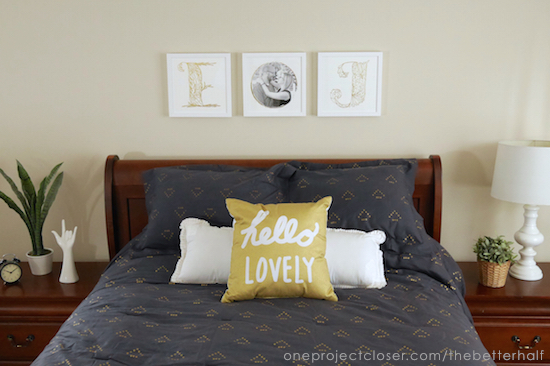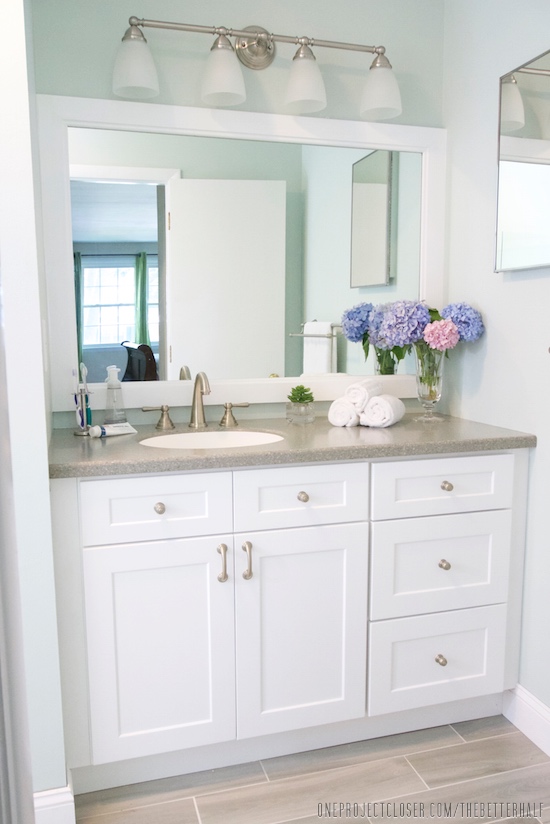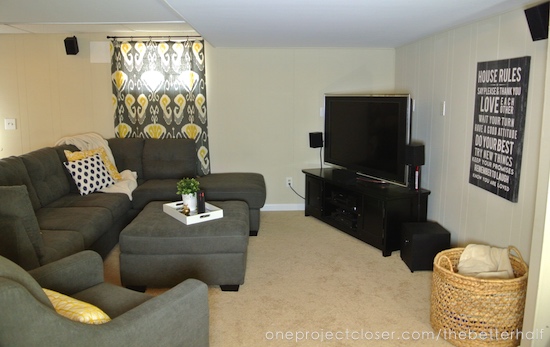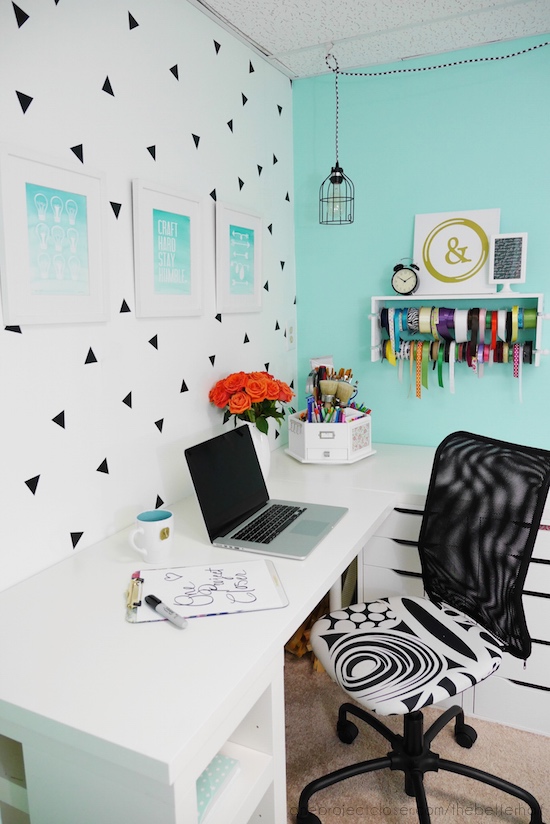 And there it is! (Almost) the whole house, not including the kids rooms – one day they will be clean enough to photograph. LOL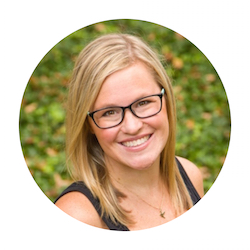 Jocie Hagan
One Project Closer
Jocie (pronounce jah-see) is an editor at One Project Closer. A blog almost 10 years strong, OPC is a DIY site for the whole family, sharing everything from how to refinish your had wood floors, to DIY necklaces and home improvement coupons. Jocie lives in Baltimore with her husband and blog partner, Ethan and their two super cute (and a bit crazy) kids, Isabella and Lucy. Blogger by day, mom by night, she enjoys crafting with the kids, beating everyone she knows at cards, and practicing hand lettering to relax.
Come say hi on Facebook, Instagram, & Pinterest!