Wow, how is November already done? Thanksgiving came and went so fast. This is by far my favorite season of the year – not so much the actual Thanksgiving and Christmas day, but the entire season of family, gratitude, celebrating our faith – I love it all! We had another wonderful month here at the Better Half and OPC, making some cool projects and hanging out on other blogs too. Here were the highlights in case you missed it the first time around.
Giveaway & The Humble Brag
Our link parties are still going strong and this past week was our biggest yet, with 60 link-ups. If you aren't up with the blogger lingo, a link party is a place where you can add the link of your own blog along with a small photo. It is a way of sharing your content with a bigger population and getting inspiration from others. If you aren't a blogger, but you are doing cool projects at home, feel free to shoot me an email with some pix and I will make sure to feature you too!
In addition to giving away free ad space to one link party-goer each week, we are also in the midst of giving away a Silhouette Cameo! Its pretty much the coolest crafting gadget out there – its like a printer that will electronically cut out letters,designs, etc. on a variety of mediums – paper, vinyl, fabric, felt, and more! It is AH-MAZ-ING!! If you haven't entered, you totally should! If you already have entered, you can get MORE entries by sharing the giveaway on FB again or coming back on Friday to link up more projects.
On The Web
We at OPC and The Better Half have been featured on some pretty cool sites and have really, really appreciated the love! Did you catch us on any of these blogs?
Probably our biggest guest post yet – Ethan wrote 15 articles for Bob Vila on the best tools of 2012.
I shared my lampshade makeover with Kelly at View Along The Way. Yes, I am obsessed with fabric flowers! lol.
Then I hopped over to Inspiration Cafe  and Plucky's Second Thought to introduce The Better Half to their readers. 🙂
I also visited Sweet Benanna&Sam to share my Ballerina Barrette Holder as a part of Lisa's 15 Days of Homemade Holiday Gifts.
At the end of the series, people voted on their favorite project and The Better Half WON! Pretty awesome, right? She's also running a giveaway of all sorts of crafty goodness, so be sure to check it out.
My clay ornaments and gift tags were featured as one of many very cool homemade ornaments at Cheap Crafty Mama's Craft and Share. You can also link up your own ornament ideas!
Finally, Ethan shared how to make a cribbage board over at Art Of Manliness. By the way, if you need great gift ideas for the man in your life, Art of Manliness is a great place to start. They also have a great Pinterest board!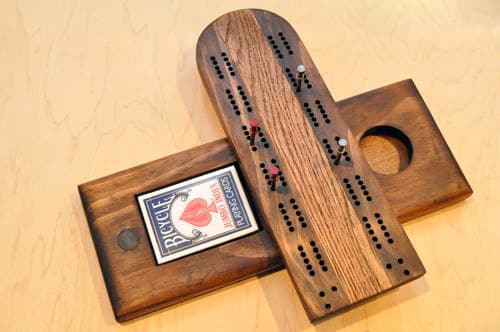 The Projects
With the holidays approaching, I mostly took a break from the kitchen and living room redesign, and made and shared seasonal decor. To start out the month, I made a Sisal Rope Vase from under $20 using a cardboard concrete form.
And then I used it to make a Thankful Tree! It would have made a great place to hang ornaments for Christmas, but I ran out of space.
In continuing the prep for Thanksgiving, I made glittered pine cone place card holders that went so beautifully with my grandmother's china. I have kept them to use for my Christmas decor, too.
Then, I shared my family's Thanksgiving – the family, the food, the drinks, and the decor. This picture doesn't really tell you about the post, but I love it the most! By the way, you may have read about my sister's apple cider shots…we went to her house Sunday night for the Ravens/Steelers game and had some of the leftovers and apparently they get better with age! Woah – we are totally making some. 🙂
In the way of non-holiday related projects, I made a quick pallet sign for over our spice rack. I free-handed it, so I'm not entirely happy with it, but it does look authentically hand-made! 🙂
We also went to a Sesame Street birthday party that was too cute not to share!
Yes, even though Thanksgiving had not passed, I started work on my Christmas decorations. Crazy, I know! I made a felt Advent Calendar to upgrade last year's paper one. It love how much color it adds!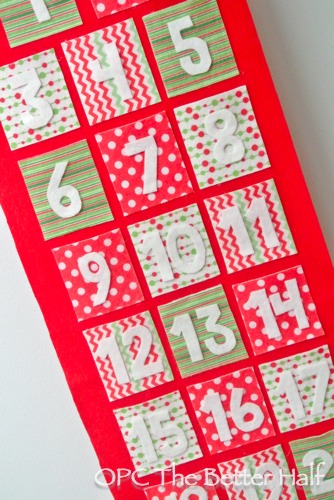 And finally, I made 4 Christmas Trees from Dollar Store materials, each costing $2 – $6 to make. They are all super cute but my favorite is the plastic spoon tree. I am also super honored that the trees have been featured on several sites: Dollar Store Crafts, Mom on Time Out, Create Craft Love, Doodles and Stitches, The Wilderness Wife , and Bless My Nest.
What do you think? What did you do in November? Any recommendations for December?
As Always, thanks for reading!