Trustworthy tool reviews and news direct from our workshop and the contractors we follow.
Edited by: Fred (email Fred)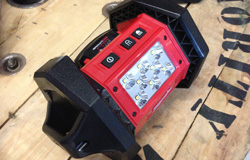 Last week I had the privilege to attend the Milwaukee Tools 2013 New Product Symposium. If you're not familiar, just about every year, Milwaukee gathers online and print media from all over the world to check out their most recent innovations. This year was a top-notch event with a lot of cool tools and accessories. To get real-time updates from media events like this one (and the JET / Powermatic event coming up), be sure to follow OPC on Twitter. I'm constantly tweeting pictures and info about what users can expect to see...
More Recent Tool Reviews:
See Articles by Brands: