Trustworthy tool reviews and news direct from our workshop and the contractors we follow.
Edited by: Fred (email Fred)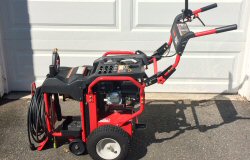 Late last month, Troy Bilt reached out to us and offered a sample unit of their new Troy Bilt FLEX Yard Care All-in-One System for our review. The concept behind the FLEX system is straightforward: use one engine system to power a number of large yard tool attachments (e.g., lawnmower, pressure washer, snowblower) instead of owning each of these tools as standalone machines. The FLEX's value proposition is two-fold: (1) save space and reduce clutter in your garage or shed by storing attachments (which are mostly smaller...
More Recent Tool Reviews:
See Articles by Brands: